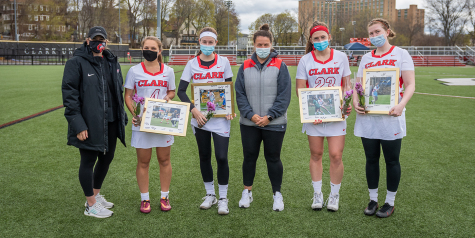 After a long and unorthodox year, the Clark University Women's Lacrosse Team finally closed out the Spring 2020-2021 season last week. Although the game was competitive, Clark was narrowly displaced by the Springfield Women's Lacrosse Team leading to a 21-2 final score that favored Springfield College at Granger Field.
Although the game was considered to be a loss for the Cougars, many members of the Women's Lacrosse Team got their chance to shine in their final game of the season, including first-year player Greer McCarthy, who set a single-game career high by controlling two draws in the contest.  "I can tell you now that I am very appreciative to have ended the season with an accomplishment," McCarthy ('24) stated. "I am so excited to see what next season has in store for us!"
This final game also honored the graduating seniors within the Women's Lacrosse program, those being: Erica Pellegrino, Sarah Byrn, and Hannah Favaloro. According to Erica Pellegrino, the team experience of competing with classmates played a big role in shaping the latter years of her time at Clark. "I feel like I was a freshman a week ago, so that fact that I'm graduating this Spring is almost unbelievable", Pellegrino ('21) stated. "Regardless, I wouldn't trade the experience I had for anything. I didn't start playing lacrosse until I tried out for the club team my sophomore year, so I guess if I take anything away from my experience as a Clark University Women's Lacrosse (CUWL) player it would be to try new things because you might end up loving it."
The final game was also significant for highlighting the abilities of many of next year's emerging Senior players, including: Hailey Parsons, Erin Perez, and Sophie Phelan, all of whom came up with 3-ground balls for the Cougars.
Meanwhile the game also gave many sophomore and first-year players the chance to reflect on the Women Lacrosse Team's first competitive season. Sophomore player Kiley Simmons spoke to the Scarlet about the challenges facing the student-athletes during the 2020-2021 Spring season. "I think that the circumstances of our inaugural season, and then this one, made it really difficult for us to hit the ground running," Simmons ('23) stated. "This season was extremely hard for me, I won't lie. Week after week we were put to the test and it was not easy to maintain a positive attitude. Looking back on it now though, I see just how much progress we were able to make in only the five weeks we had to play, so I can only be excited now about what is on the horizon for us when we (for the very first time ever, hopefully!) have a full, traditional season."
While the aspect of competition remains a pillar for a successful athletics season, many of the players also considered having an atmosphere of kindness to be pivotal in the experience of a student-athlete at Clark. "I also take away the importance of being kind. I met so many different types of people while playing, and not only did I gain a better understanding of those who are unique from me, but I also gained an appreciation for such exposure. It's a valuable experience that not everyone gets a chance at," stated Erica Pellegrino ('21).
While the Spring Semester of 2021 was undoubtedly a strange one due to the ongoing COVID-19 Pandemic, however for the Clark University Women's Lacrosse Team the Spring season is an even stranger one since it is their first competitive season. Despite this, the team's resolve and optimism for the future remains undoubtedly intact. "Our team is unique in the circumstances we have been dealt for our first play in the NEWMAC, and I cannot wait to see us use these hurdles and everything it has taught us to do great things next year," stated Kiley Simmons ('23).