Mixed Signals from Clark, Mixed Reactions from Students: The New Rules of the Pandemic
The State of the Pandemic
Indoor mask-wearing and COVID testing will become optional at Clark on March 21, according to an email sent on March 4 by President David Fithian to the university community. The on-campus testing center will remain open through the end of the semester, but will not return next year. Vaccinations and boosters will continue to be required for the foreseeable future. 
On March 18,  following backlash from students, faculty, and staff, another email was sent from the President's Office which clarified the implementation of the new policy changes. The process of lifting restrictions was changed to become "more incremental," according to the email. Through the updated policy, masks will remain mandatory in classrooms and at certain events until at least April 1, at which point the administration will review the safety level on campus and announce what the mask policy will be from then onwards.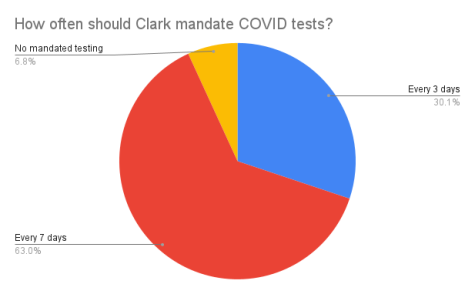 In an online survey conducted by The Scarlet on March 2, before any changes to COVID policy were announced, nearly three-quarters of the 59 student respondents said that Clark should continue to mandate masks indoors. Of those who answered that the mask mandate should be lifted, one said, "Right now at Clark, I feel safe without a mask on and with people around me having their masks off… I trust myself and other students to be reasonable and stay safe."
In response to the next question, which had 73 respondents, just five students surveyed said that Clark should stop mandating tests. Nearly two-thirds were in favor of continuing to mandate tests every seven days, while the remainder believed that Clark should return to mandating tests every three days. While a significant minority is in favor of the changes to restrictions, the majority still believes that President Fithian's actions are premature.
A student who opposes lifting restrictions told The Scarlet: "I'm an international student from Asia where COVID regulations are quite strict, so I don't entirely support the optional use of masks and testing, especially just after spring break. Clark has had 82 new cases in the last 30 days and these numbers will only go up after spring break with students returning internationally." They said that "even though COVID rates in the US are improving, COVID rates in Europe and Asia are still pretty bad and it puts students in Clark at risk."
This is the latest in a series of changes to COVID restrictions at Clark. In February, the university moved from COVID Alert Level 3 to Level 2, and mandated testing was reduced from every three days to every seven days. Clark stopped requesting that non-student-facing staff work remotely. Students have not been required to wear a mask during performances, and athletes are not required to wear masks while actively engaged in their sport. Unlike last year, students had a full week off from classes for spring break, and many traveled.
New daily cases have decreased significantly from their January peak on a statewide, national, and global scale, but they have not dropped to the lows of previous summers. The city of Worcester has ended its indoor mask mandate, and statewide guidance now only advises indoor masking for high-risk and unvaccinated people. On Feb. 13, Worcester Polytechnic Institute became the first Worcester-area university to make masking indoors recommended rather than required. 
Every new stage of the pandemic brings new questions. On Feb. 2, an open forum for students was hosted by a coalition of students and faculty including the Student Council, the Black Student Union, Dean Kamala Kiem, Provost Sebastián Royo, Diversity, Equity, and Inclusion Officer Margo Foreman, and Planning and Strategic Initiatives Officer David Chearo.
In their answers to student questions, the administrators emphasized that students should reach out to the Dean of Students Office (DOS@clarku.edu) with any concerns. Students should contact Dean Jen Plante ([email protected]) if they have conflicts with their professors over COVID policies or grading policies. The form to report COVID violations remains open.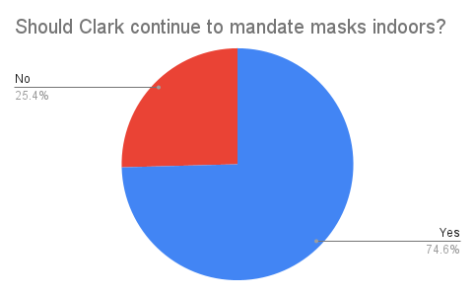 The university's reminders to use official channels to share complaints may be in response to advocacy undertaken by the newly formed, unofficial Clark University Graduate Workers' Union (CUGWU). On Jan. 19, CUGWU stated in an Instagram post that the masks Clark distributed, made by the Sunjoy manufacturing company and falsely marketed as KN-95s, had a 24.3 – 34.2 percent filtration efficiency, according to the CDC. KN-95 masks, by definition, must have a 95 percent filtration efficiency. The administration switched mask vendors but did not publicly acknowledge the Sunjoy debacle until the aforementioned student forum. 
Clark updated the design of the Healthy Clark Dashboard on Jan. 19. The new dashboard displays the positivity rate and new case numbers by week for the previous five weeks. Briefly, the visual graph displaying daily case counts was gone, and CUGWU calculated and posted daily new case counts on their Instagram story for nearly a week before Clark restored the graph to the dashboard. At the student forum, administrators stated that they restored the graph because a student worker informed them of the issue.
Alongside CUGWU, the new disability justice group Access at Clark University has criticized the university's COVID response. On March 8, they launched a petition on change.org titled "Keep Mask Mandates at Clark University." They cite concerns about student travel over spring break, a second strain of the omicron variant of COVID, and the safety of disabled students. At the time of writing, the petition had garnered 305 signatures. Some students commented their disagreement with the petition on Access at Clark University's Instagram page, and the group removed their comments.
In a video message to the student body on March 12, Dean Kiem stated that students who are concerned about their own health should speak with their healthcare providers and the Dean of Students office. Deans will be in the University Center, available for students to speak to, on Wednesday, March 16, and Thursday, March 17 from 12 p.m. to 1 p.m. 
According to President Fithian, the recent changes are guided by the idea that the pandemic now merits "sustainable mitigation efforts as opposed to dramatic interventions." Time will tell if the data, and the opinions of students, validate this philosophy.