A New Modality? The Future of Online Learning at Clark University
Assessing online learning, student demographics, and the administration's perspectives
Online learning has transformed Clark University's approach to education this fall. Since the COVID-19 pandemic began in March, the university has embraced the online modality, a new modality that has changed its traditional approach to the in-person type of education it has valued for so long. Members of the Clark community have adapted to these recent changes, from social distancing to regular COVID-19 testing. However, does the replacement of most in-person interactions provide students with a "watered down" education? Are online classes at Clark a temporary solution to a long-term problem? Or are they here to stay as a permanent avenue and option for students and faculty?
There is a difference between the quality of pre-pandemic (before the pandemic) online classes at other schools and institutions, and the quickly-planned online classes that have resulted from the pandemic. Nevertheless, The Scarlet acknowledges the value of in-person education and in-person interactions that we miss (and may have taken for granted) but also recognizes that—in outlining the student population and demographics at Clark—students' reasons for choosing different modalities are much more complex. While not discussed at length in this article, disparity issues and access in technology for students—as well as marginalized low-income students and students of color—and other external factors like geographic and time zone differences, familial obligations, and personal responsibilities, are elements to consider in challenging the idea of what having a "high-quality" education means.
In assessing the online learning modality at Clark University, The Scarlet interviewed the following department heads in gathering this data: the Senior Associate Dean of Students and current Director of COVID-19 Testing Operations, Adam Keyes; Provost and Vice President for Academic Affairs, Davis Baird; John Ohotnicky, from the Registrar's office; Associate Dean of Academic Services, Jennifer Plante; Director of the American Language and Culture Institute (ALCI), Sarah Lopolito; Director of the International Students and Scholars Office (ISSO), Susannah Marcucci; and Vice President of Information Technology, Joseph Kalinowski. 
Staff profiles can be found here: https://www.clarku.edu/who-we-are/people-directory/
The Rise of Online Learning in a Pandemic-Stricken World
While the world waits for a vaccine or an effective treatment against COVID-19, schools, businesses, and communities alike have taken to video conferencing technologies like Zoom, Google Meet, and Microsoft Teams to mitigate the spread of the virus. Despite the unprecedented challenges this fall semester, some Massachusetts schools have taken on a variety of approaches with institutions like Smith College and Harvard University, holding classes entirely online.
On the other hand, Clark University belongs to the majority of schools which have offered a combination of online and in-person courses, with social distancing and testing protocols in place to further mitigate the risk of COVID-19 spreading on campus. Yet this speedy transition to online learning has had some mishaps. At the beginning of the semester, a Zoom outage prevented some Clark University students from joining their online classes. Eventually, Information Technology Services (ITS) notified the Clark community of this situation, and an outage has not recurred since.
In any case, the general consensus among members of the Clark community and the higher education community at large has been that the university has one of the most vigorous testing regimens in the country. A September article written by Politico called: "Campus life sans COVID-19: A few colleges write the playbook for pandemic success," affirms this. Not only does Politico explicitly mention Clark University as one of the schools listed for its best practices at mitigating COVID-19, but quoted Clark University President David Fithian on the campus' relative safety: "What our case shows is that you can actually manage [the risk] responsibly." As a result of strict safety policies, Clark University has been more successful at controlling and mitigating the spread of the virus on campus compared to other schools in Massachusetts. Since students arrived on campus in late August, more than 40,000 COVID-19 tests have been administered. In the last 30 days as of October 7, there has been only 1 confirmed COVID-19 case.
The Logistics of Reopening Campus
For the first time in its history, Clark University has offered 298 undergraduate courses with 47 percent of all undergraduate courses entirely online. While select graduate courses have been held online at Clark in the past, this semester graduate courses were significantly higher with 64 percent, or 154 graduate courses, being held entirely online.
To ensure the best social distancing practices in the classroom, the university has changed a lot of its spaces across campus. In an interview with John Ohotnicky from the Registrar's office, he recalled the biggest challenge that the university has faced on campus. Some of these classroom spaces needed to be expanded "to (1) ensure social distancing and (2) abide state guidelines. A room that may have held 40 students in the past, may now only hold 18 students."
"What we ended up doing is taking over a variety of spaces across campus that would typically never be used for classrooms," Ohotnicky said. "For example, the conference rooms in the UC. The Dana Commons lounge which is a fairly long space… We spent a large amount of summer measuring these spaces and figuring out where things go… Thankfully we had a great team of people and management and working with the individual departments."
"That's why we came up with the hybrid rotation concept: which is bringing in different groups of students for a given day while never seeing the entire class in front of you. But you would at least get some in-person class time in that hybrid modality," he said.
The hybrid rotation model has been employed by many schools in Massachusetts to limit the number of people in a building at any given time, while also giving people some time in-person instead of online.
Jennifer Plante, the Associate Dean of Academic Services, expressed in an email interview that "The administration has been very thoughtful with the decision to open. I think their metrics for whether or not we should stay open were carefully considered and are very reasonable. Knowing how much work went into the re-opening decision and plans, I have the utmost confidence in the administration's decision." Other staff members, students, and parents have echoed this trust in the decisions Clark University has made.
When asked about the role faculty have taken in these different modalities, Ohotnicky expressed that "faculty have really stepped up in being flexible to students when they can be. We will see what happens in the spring. It is still a question as we are still monitoring the situation."
However, while some learning modalities may serve students better than others, there were some "die-hard faculty who wanted to be fully in-person. How do we do that for the capacity of a class?"
Some students also made decisions that required extra work from faculty to accommodate them: "There is a small percentage of students that we know worked independently with their faculty to make adjustments," he said. Some students may have "…signed up for a hybrid course but really wanted to stay home and not come to campus, so I may have reached out to my faculty… and said 'Hey, are you willing to do this remotely?' In some cases, faculty have said yes. Sometimes they may have said 'no' depending on how they build their course."
Ohotnicky and his team worked tirelessly to create options for students this year, but ultimately, the choices that students and professors made on a case-by-case basis drastically affected the student demographics on campus.
Student Demographic Changes in the Fall of 2020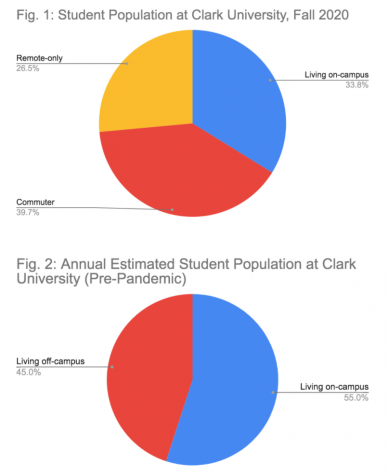 Through the efforts of various department heads, Clark University's administration has gathered the numbers provided in this article by looking at the number of students in the on-campus COVID-19 testing protocol and the number of students registered for different types of classes in the online, hybrid, and in-person modalities. The Scarlet has compiled this data into figures or Figure 1 and Figure 2. Figure 1 shows the current student population at Clark University in three groups: (1) remote-only, (2) those living on-campus, and (3) commuter students. Figure 2 showcases the annual student population (pre-pandemic), with students living on-campus and off-campus (the "off-campus" pool of students in Figure 2 includes commuter students and those living in other types of housing outside of campus).
But what do these charts NOT tell us?
The age, gender, and race and ethnicity of students.
We can assume that these numbers will fluctuate and vary long-term (during the coming Winter Intersession and spring semester of next year, 2021).
In a typical year at Clark University, approximately 1,650 students live on campus and approximately 1,350 students commute to campus. In other words, 55 percent of the student population at Clark University would be living on campus while 45 percent would be living in the surrounding Worcester community as commuter students. By contrast, this year (as of September 29) there are only 1,150 student residents on campus and 1,350 commuter students. Approximately 900 students in the undergraduate, graduate, School of Professional Studies, and non-matriculating programs are currently remote-only, while a total of 2,500 students are using in-person resources ranging from COVID-19 testing to lab facilities equipment.
Students who are not living on campus—remote and commuter students—make up 66.2 percent of the student population, as opposed to 33.8 percent of students who live at campus in dormitories and other housing. Although remote-only students take fully online courses, commuter students and those living at campus take a combination of in-person, hybrid, and online classes (keeping in mind that each student's situation differs and is unique).
Different Needs and Impacts
The number of international and English Language Learners (ELL) students on campus have decreased more significantly than the general student body. While the ISSO is still working to determine how many students they have on campus and abroad, the ALCI, which serves ELL students, has only 8 students on campus and 16 students learning remotely in contrast to approximately 150 ELL students on campus in 2019.
According to Sarah Lopolito, the director of the ALCI, it has been difficult to get international students learning in-person this year. "A large portion of our students come from China or Southeast Asian countries. For China you still can't get a visa appointment in order to come to the United States, so that made it impossible," Lopolito said. "I know that countries like India just started opening up their appointments to get visas very last-minute, so that's one of the reasons for the dramatic decrease."
Expressing her concerns about the possibility of international travel shutting down again also played a role, Lopolito added that "After Clark closed in March, there was a skyrocketing of airline prices […and] there were flights that got canceled. Students didn't get stranded, but they were stuck here for longer than they wanted to be and I think that there's a hesitancy for that to happen again."
Even if international students can travel or are in a place that's conducive to their learning, the obstacles that come with online learning may still hit them the hardest. When asked about the unique challenges her students face, Lopolito expressed that "One thing that has proven to be difficult… for international students and students in general is time management on an online platform."
"Learning online requires a little bit more independence and I think that in conjunction with that independence," she said. "It requires kind of figuring out timing for things, timing for submitting discussion forum posts where you're going to get feedback, you're going to get a lot of dialogue back with you."
In talking about the different learning modalities offered by faculty, Lopolito concluded by saying that Clark "is striving to do that by offering multiple modalities, multiple ways of learning. I know that some faculty have been wanting to meet just in-person but some students are unable to do that, so they opened up their classes to be online. Is it perfect? No. There's so much that you can use online as a learning modality, and I think that Clark's getting there. I think it's really hard to move from being in person to being online. Is there room for improvement? Yes. Is Clark gonna get there? Of course."
Student Challenges and Hurdles
Advocating for raising the profile of international students on campus and getting their voices heard, ISSO director Susannah Marcucci expressed that students who have chosen to study online while living abroad are facing new obstacles to their education. For many, especially those living in East Asia, the 12-hour time difference is a major obstacle to attending classes and office hours at Clark. In addition, the media that professors use to deliver course content can have technical issues when students are living outside of the United States.
Marcucci expressed that "some countries… in particular China, block certain technologies, so it can be difficult to even access course content. There could be governments listening in on courses."
"There are all kinds of challenges with learning remotely from outside of the United States," Marcucci added. "We're actually looking at starting drop-in advising hours that will try to mimic that experience where a student can just walk into the office and ask a question. We're also just really a resource for international students. We're trying to do immigration advising for students with F and J visas… [because we have] immigration knowledge, we will help answer questions for students that have all different kinds of immigration statuses and help get them the right information and resources."
Until recently, the pandemic is not the only barrier to international students entering the United States. "It's a very complicated environment with immigration right now, so there's been regulatory changes and all sorts of challenges that we've faced in recent years with helping students maintain their status," said Marcucci. "And so that they can be successful students at Clark and focus on the things that really matter, which are the student experience and their academics." 
The ISSO serves two populations of international students with very different needs: those who live abroad, and those who are on campus despite the challenges of immigration.
When asked about the challenges for those who made it to campus, she said, "A small number of first-semester students were able to make it to campus, were able to get visas, and are here… [but some students] never left Worcester in March, so they're here either on campus or living in off-campus apartments."
Ultimately, professors and ALCI faculty work together to support these on-campus students. "I've received at least one inquiry from a faculty member asking 'How can I connect my new international student to activities on campus? To make friends?'" said Marcucci. "All of that becomes more challenging for a student who is maybe coming to the U.S. to study for the first time."
New Student Supports Placed
Staff members at the ISSO are going out of their way to meet students' needs living abroad this year. Marcucci expressed that "if we need to get up early or stay late to meet with a student, we'll do that. We have a lot of Chinese students so we'll use WeChat to connect with them on a platform that works for them. We're trying to connect and it's really an iterative process. We're learning and we'll try these drop-in hours, see what works, and if not, we'll try something else."
Domestically, students at Clark face similar hurdles. Lopolito believes that while most online students are struggling with time management, ELL students face more challenges parsing text-heavy documents and instructions than they would get in a physical classroom. They are simultaneously developing their English literacy and digital literacy skills in an online setting that uses Moodle and Microsoft, essential and complex digital tools for academic success at Clark.
Lopolito added that the ALCI "has a dedicated English as a Second Language (ESL) tutor as well as workshops and series that are designed to help ELLs with their English language." For Clark students learning English, the ALCI is hosting in-person and online coffee hours to practice conversation.
Technology Matters, Technology Changes
To help all students and professors with the transition to online learning, Clark University has invested in many new technologies. According to Joseph Kalinowski, Vice President and Chief Information Officer, ITS has implemented "Microsoft Teams, a campus site license for Zoom, professional development around teaching in different modalities and stylus-enabled devices in classrooms.
"In addition, we've deployed 360-degree cameras, document cameras, speech reinforcement and assisted listening technology, increased loaner laptop inventory, and virtual lab software," he said. "Also, the library purchased the rights to significant libraries of digital resources including e-books and streaming video."
"A few professors are really enjoying having OWL as a tool in the classroom," Plante said based on her conversations with professors. "They note that their students who are taking classes remotely feel as if they are in the classroom thanks to this piece of technology." 
Furthermore, Jennifer Plante expressed that "Clark faculty have done an outstanding job learning about online teaching pedagogies and learning how to use the technology to deliver an outstanding 'classroom' experience. Really, I am so impressed with our faculty and their ability to be flexible in their teaching. Though I am not at all surprised by this."
Kalinowski concluded by stating that "To best support the academic and administrative needs of the Clark community, ITS has acquired and implemented multiple technologies since March. These technologies include, but are not limited to, Microsoft Teams, a campus site license for Zoom, professional development around teaching in different modalities, and stylus-enabled devices in classrooms."
The Future of Higher Education at Clark University and Beyond
While most undergraduate students may believe that this marks the first time Clark University has offered online learning, that is not the case. In an email interview with Provost Davis Baird, Baird stated that "Online education at Clark has been growing significantly over the past few years. This is in response to an Online Education Task Force that did its work in 2015. Much of the growth has been with graduate courses in the School of Management (SOM) and the School of Professional Studies (SPS). COVID-19 certainly accelerated this work."
"This year, Clark received approval from the New England Commission of Higher Education for all of the graduate programs offered by SOM and SPS to be 100 percent online," he continued.
COVID-19 testing and mitigation strategies have certainly been essential to Clark University's ability to continue to provide education to its students, but they are not enough to meet the many different needs of its many different students.
"Given the different preferences of our students, we sought to provide the maximum amount of optionality for them that we could," Baird said. 
In addition, the 900 students who chose to learn at Clark remotely are reaping the benefits of that optionality and flexibility. These successes have made the university more accessible and gained the approval of many members of the faculty and Clark community.
"I graduated with a master's degree from the New School in New York that was a complete and total online program," she said. "There's so much that you can use online as a learning modality, and I think that Clark's getting there… I don't think it should completely take the place of in-person meetings, but I do think that using it as a tool to meet students' needs in out-of-the-box ways is a positive thing and should continue, or at least be an offering."
Although many changes have been made to Clark's curriculum and campus, the core values of the institution remain the same. According to Baird, "The University is committed to offering an experience that's consistent with the reasons why students have always chosen Clark, pandemic or no pandemic. Chief among those reasons is the opportunity to receive a world-class education. We know that many students—but not all—wanted a face-to-face classroom experience. Given the different preferences of our students, we sought to provide the maximum amount of optionality for them that we could."
As for the future, Baird remains hopeful: "Higher education will constantly be adapting modalities and offerings to meet the needs of students in an evolving world. I think that holds true in times surrounding a pandemic and otherwise. The pandemic has certainly heightened our collective awareness of where public health vulnerabilities lie and has forced colleges and universities to develop a roadmap that allows us to better navigate substantial, and in this case, historic, health challenges."
On the other hand, Baird thinks that "COVID-19 has reminded the Clark community of the power and impact of face-to-face teaching, particularly for our undergraduate students. While I do see faculty members teaching undergraduate courses making more use of digital tools, I do not see a retreat from the face-to-face residential experience for our undergraduate program."
Generally, those who The Scarlet interviewed expressed conversations about the role of online learning may have for Clark University's future have not yet taken place. As of October 2020, there is still too much planning to be done simply to get students and staff through an online Winter Intersession and then back on campus for the spring. The entire Clark community will have to wait to see what far-reaching effects the pandemic may have on the university and on higher education as a whole.
New Horizons
The changes that will occur on campus between now and March 2021 will probably be as sweeping as the ones that occurred between earlier this year and now. As John Ohotnicky expressed, the pandemic is not the only force for change at Clark University. We are also witnessing the beginning of President Fithian's tenure and a new administration that will lead to potential reimaginings of what Clark University could be.
Whether the university is thinking about expanding, Ohotnicky expressed that he "would not be surprised if we began a new strategic process now that we have a new president… a strategic planning would address that question. In the next year or so, with the brand-new administration."
Optimism and hopes for the future were shared by many members of the staff. "Clark is very committed to fulfilling its mission which is to provide an excellent education and an in-person experience," Marcucci said. "We're one of the schools with a model that is working and I think that students did want to come back and were able to do so and we're making it work."
Lopolito is sure that the long-term outcome will be a positive one for Clark University: "I think that a lot of times in higher education, there's this sense of tradition. And tradition has very positive things to it, but oftentimes I think it also holds people back from being innovative… There's a lot of opportunities here for making Clark an even stronger place for students to go for higher education. I do. Because of our size, because of how great we're doing with keeping the COVID-19 numbers down, that if you tie that in with looking at the innovations that are possible with online learning—I don't know. I'm excited."
Editor's Note
In co-authoring this news story, we would like to thank the following people who have participated in providing their perspectives and those who have worked tirelessly in compiling this data: Adam Keyes, Davis Baird, Jennifer Plante, John Ohotnicky, Joseph Kalinowski, Sarah Lopolito, Susannah Marcucci, and Leah Smith ('24), who provided us permission to use her picture of the iconic Sigmund Freud statue wearing a mask (as he should!). Thank you all for having taken part in this article.
Before I conclude, co-author and colleague Jesse Lowe would like to echo some words central to Clark's core and commitment to higher education:
To "Challenge Convention" means to also challenge our traditional education system and what that means in a world of social distancing. To "Change our World" means not only to transform higher education but to transform the way we think about community and togetherness beyond Clark University's campus. My fellow Clarkies from the class of 2024 are dealing with a lot of changes that feel like they are only for the "worst" during these trying times. But I believe that we will learn to use our experiences to move forward and reimagine a better world.
Luis Santos, News Editor