The Black Student Union Front and Center: Student Organizations LASO, CAIC, and CUSC Join the Fight Against Systemic Racism at Clark University
Discourses on Racial Justice Across A Student Support Network
The fight for racial justice and equity in the Clark community is an ongoing negotiation between the Black Student Union (BSU), their unmet list of demands, and the decentralized Clark administration. While the BSU has strongly advocated for racial justice this year, this fight has been continuing since the student organization was founded in 1945 and their heightened movement during the 1960s.
The Clark administration remains reticent—the majority-white leadership strongly advocates its legacy as a liberal arts institution; a predominantly white institution (PWI) which falls short by meeting some and not all of the BSU's demands, demands which will affect BIPOC students at Clark's campus for years to come. To be explicit should be the norm. Why else would the administration take up arms against its own institutional issues (without explicitly calling it "institutional racism"), except to comply and accept the new wave of changes and transformations of racial politics in America in 2020? To be among other schools and institutions, to be "liberal" is the norm.
In continuing the dialogue of racial justice in the Clark community, The Scarlet interviewed the following people: Sofía Bishop ('23), BSU Education Chair; Edyth Rojas ('21), President of the Latin American Student Organization (LASO); Anabel Riggio ('22), Outreach Co-Chair of LASO; Inonge Kaloustian ('21), co-founder and President of the Clark Athletics Inclusion Coalition (CAIC); Rachel Still ('20), Clark alum and creator of the @blackatclarku Instagram page; and Alexandre Nazaire ('22), BSU Assistant Secretary and Clark Undergraduate Student Council (CUSC) Equity and Inclusion Representative.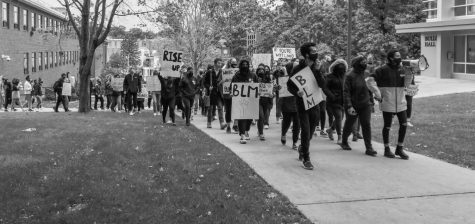 Members of the BSU today are aware and proud of their long history, which stretches back to 1945. Sofía Bishop ('23), Education Chair of the BSU, discussed the first time that the BSU sent a list of the demands to Clark University's administration: "In 1969, the BSU… started off saying that they're demanding at least 30 Black students in the class of 1973. They were responding to a claim from Clark University that there were not enough qualified applicants to Clark, and this was after Black Clark students actually endeavored to find out what these qualifications were… So they were advocating for an increase in Black students on campus, a scholarship fund for Black students on campus, as well as a Black studies fund and a graduate department amongst other things."
The original Constitution of Clark University's BSU and the complete list of their 1969 demands are publicized and available on their website www.clarkbsu.org.
The current size of the student club and the amount of attention they have garnered this year is a recent development: "I've heard from alumni I've met and from people who have been involved in BSU that it really picked up in recent years and was predominantly organized and run by Black women," said Bishop. "It was quite small at that, maybe about 6 or 7… [In the class of ('23)] there were a large number of students who were in [the Advancing Clark Excellence Summer Institute] (ACE) and [email protected]. Our year has been extremely close and so I think that expanded the BSU, as well as other cultural clubs. They've seen an influx of members for sure."
ACE and [email protected] are pre-orientation programs run by the Office of Multicultural and First Generation Student Support (MFGSS). They are open to African-, Latinx, Asian-, and Native-, American (ALANA) students, multiracial students, and students who are the first in their families to attend college. Within these programs, incoming students are paired with peer mentors who, according to Bishop, become not only sources of advice but lifetime friends.
The current political wave of action taken by the BSU began when they released a list of demands to the Clark administration on June 4, 2020. Figure 1, created by Gari De Ramos ('21), shows the progress that has been made towards meeting these demands. The demands were written and released during the global Movement for Black Lives and the first wave of the COVID-19 pandemic. These dual crises upended life for Clarkies but also moved them towards action.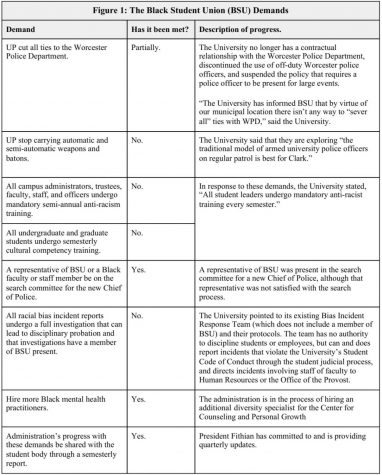 According to Bishop, "I, Ahiela [Watson], Faridat [Dangbe], Kadijha [Kuanda], Inonge [Kaloustian] and the members of the executive board for Student Council had been meeting with the administration from March-April, and maybe the week after George Floyd was tragically murdered." When the BSU released their demands publicly and their change.org petition gained over 8,400 signatures in support, the administration did not act.
In the absence of meaningful and radical change, the BSU and CUSC worked together to develop the Not Your Token campaign, which debuted on the BSU's Instagram account on June 15. The campaign asked all Clark students to have their images removed from all advertising materials used by Clark University until their demands were met. Bishop said, "I think [the Not Your Token campaign] originally came out of frustration because we were tired of being in these meetings and feeling like we weren't being listened to like we were being given the run-around."
"I think it was Eunice [Dollete, the Student Body President] who brought it up and who was like, you know, what would happen if we revoked consent?", said Bishop. "I feel like it came about so organically, where everybody was like 'yes,' let's make a resolution, let's make a media toolkit, let's have everyone send emails out. The Student Council had Model UN help with language… It was just amazing to watch this small, almost [a] snarky comment we were making actually materialize into something that so many people believed [in] and continue to believe in."
Bishop believes that the message of the campaign is "that you can't profit off of Black and Brown bodies disproportionately and send a message that diversity, inclusion, equity are important and not be able to have those tough conversations and really look inward on a systemic level. I just don't think that that's appropriate. It's hypocritical."
Presently, the Not Your Token campaign continues with the support of CUSC and CAIC. Over the course of the fall semester, the BSU has continued to pressure the administration by asking other clubs to boycott the virtual club fair which ran from September 4 through September 6. Eventually, all but three clubs made public statements of support and canceled their events at the virtual club fair. 
The BSU followed up on the boycott with a vigil in honor of Black lives on October 11 and a march and die-in on October 12, both based in Red Square. The organization used the attention their actions attracted to highlight their original demands and ask students to call members of the Clark administration to express their support for the demands. For a detailed timeline of events relating to the BSU's actions this year, see Figure 2.

Two of the BSU's demands that have attracted attention include that the Clark University Police Department (CUPD) disarm themselves and cut ties with the Worcester Police Department. Although Clark University has not met either of these demands and has not indicated that they intend to do so, significant changes have been made to the CUPD this semester. On October 27, President Fithian announced via email that Sgt. Lauren Misale would be the next Chief of University Police. He thanked BSU representative Gloria Anderson ('22) for her role in the selection process; however, student reporter Gari De Ramos wrote that Anderson was dissatisfied with the selection process.
Bishop was not surprised by this episode. "A lot of these calls, task forces, and committees that Clark has with student input can be extremely difficult to navigate, especially if you're the only student there or the only student who has a certain opinion," she said. "I think a lot of us have been fatigued in a sense, just tired, and just mentally exhausted… From our first conversation with then-President David Angel, a lot of things that we mentioned weren't necessarily listened to as they should have been until we really started making noise."
The relationship between the BSU and CUPD continues to be "very tense, but also very quiet," according to Bishop. She acknowledges that there is a cautious hope that Sgt. Misale represents change: "We've made the noise, we've made demands, and we continue to press the administration. And now [there is] this new, almost foreign actor who's arrived [and] who wields power on campus so I think next semester will be extremely revealing on how that relationship will unfold… I want to give her a chance to maybe take this role and make something meaningful out of it, but I guess I'm just very wary and hesitant of that, just based on Clark's history and false promises to us."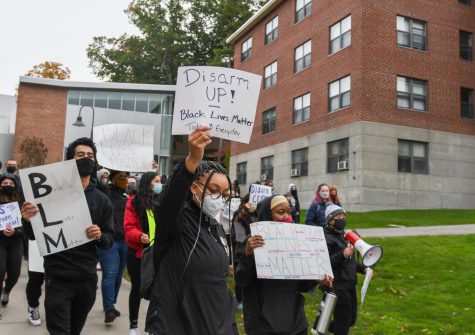 Another source of hope this semester has been the periodic Diversity, Equity, and Inclusion (DEI) updates sent to the entire student body by President David B. Fithian via email. The most recent DEI Update sent on October 29, reported that President Fithian had "formally dedicated $1 million to catalyze DEI activities and progress." He also mentioned ongoing searches for qualified candidates to fill positions related to DEI by "developing a new model of campus policing and security" under Clark Chief of Police Misale and anti-racism training for the entire administration and Clark faculty.
While the leadership of the BSU and CUSC were excited by this news, Bishop said that they are still "waiting to see and anticipating where this money will materialize… I want to see those programs and these promises materialize on campus. I don't want to just get an email. This is my fear, of just getting an email of a million dollars here, [a] million dollars there, programs this, training here, and then we don't really see it… The ball is in their court for a lot of things."
It would be a mistake to see the ongoing conversation about race on campus as an argument between a unified student body and a "unified" administration and faculty. Bishop acknowledged that some Clark students are "not necessarily behind the decisions. Even the demands faced some criticism, which is something that we expected. I was part of that working group that wrote those demands and I think going into it we had an understanding that look, not everyone is going to agree with what we want and at some point, you've got to keep moving ahead."
Inversely, there are members of the Clark faculty and administration who have been invaluable to the BSU's work this semester. According to Bishop, "[Peyton Wu] works in MFGSS. They actually run the Connections pre-orientation program. They were actually sort of serving as one of our advisors for this collective of BSU E-board members and Clark Undergraduate Student Council, so they have definitely been a big point person for us in terms of just saying, 'Hey! We need to have a mental moment and check-in. How is everyone doing?'"
"Another person is my political science Professor Ora Szekely. She was actually on one of the calls we were on with the administration and she was like, 'I want to be here so that I can hold the university accountable, so that it's not just these students here who are left to advocate for themselves,' and that really stood out to me," Bishop recalled. "And Esther Jones! She is Dean of the Faculty, and she has very eloquently advocated on our behalf and participated in these conversations."
The faculty advisors for the BSU, Asha Best and Nicole Overstreet, have their own plans for bringing racial discourses into the classroom during winter intersession by teaching an interdisciplinary course called Black Lives Matter. Bishop said, "They're beyond excellent women in both their respective fields… I think that they want to provide a space that is academic in nature to really have those conversations, right? [Reflecting on] what world are we living in right now and what does that mean for Black and Brown people on this campus?"
As the semester nears its end, Bishop is looking ahead to the future: "Just because it's a new year, and a new semester, doesn't mean that this conversation's over… Stay focused and keep your eyes on us. I feel like we're a mischievous bunch and we're always up to something. I think more things could be coming soon, for sure."
The Support Network: Latin American Student Organization (LASO)
The BSU may be the public face of advocacy on racial issues at Clark University, but it is far from the only organization at campus having these conversations. Overall, Bishop thanked the student club community as a whole for their support: "clubs who were helping us distribute information in terms of Not Your Token… were really also advocating for these hard conversations to happen between us and the university… Ahiela and I sometimes are just like, 'oh my god, there's so much support and it's overwhelming but in a good way.' It just all comes from a place of kindness and a place of love."
A student club that has repeatedly expressed its solidarity with the BSU is the Latin American Student Organization (LASO). Presently, this group is in the midst of shifting its focus on cultural events towards political activism. According to LASO President Edyth Rojas ('21), "We focused more on being a safe space and bonding this semester, but still kept up the educational factor… Next semester we hope to dive deeper into more activism and initiatives that can help various communities."
While they may not have had their own set of demands this semester, LASO was a full participant in the club fair boycott and the Not Your Token campaign in support and alongside the BSU. "We value our solidarity with BSU over our publicity as a club," said Anabel Riggio ('22), LASO's Outreach Co-Chair. "Our commitment to supporting BSU's demands comes before any ties we may have with the University… Clark's administration must step up, sever ties with Worcester Police Department, disarm CUPD, reclaim Dana Commons for BIPOC and first-generation students, and appoint Black mental health practitioners who specialize in multicultural identity-based issues."
Unfortunately, the pandemic has limited and disrupted the usual set of events that student clubs at Clark University would normally collaborate on. According to Bishop, "The Caribbean & African Students' Association (CASA) and BSU would usually do a lot of programming together… I know that last year they had a welcome event with the Black Student Union, Muslim Students Association, CASA was there, the Latin American Student Organization (LASO) was there, I believe the Clark Asian Society was [also] there."
This year, LASO hosted a Welcome Back event without any other clubs, in part due to COVID-19 restrictions and concerns about the over-policing of BIPOC behavior. Riggio said that "LASO has very rarely gathered in-person. During our Welcome Back event… we were certain to be exceedingly careful of COVID-19 policies because of the disproportionate enforcement. We do not doubt for a moment that BIPOC students are most often scrutinized unfairly."
Despite the challenges of the political climate and the ongoing public health crisis, Rojas said that "We will continue to stand by, support, and fight for our Black friends, fellow students, and members of the community… LASO has a lot stored for the coming winter intersession and spring semester."
Bishop emphasized the mutual support that these clubs find in each other, saying, "It's a very tight-knit community where everybody knows each other, and as corny as it sounds, it really is like family. You can always reach out to someone and we try to support each other and the different organizations as much as possible."
The Support Network: Clark Athletics Inclusion Coalition (CAIC)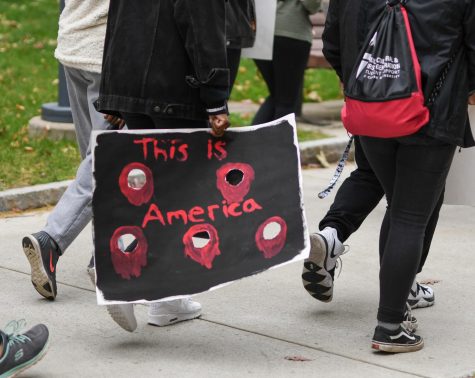 There is a large overlap in membership and goals between the BSU and the Clark Athletics Inclusion Coalition (CAIC). "CAIC has definitely done a lot," Bishop said. "They have really been partnered up hand-in-hand [with the BSU] in a lot of these conversations… They came in and really helped [the BSU] get a lot of stuff off the ground, in terms of resources and manpower."
The Scarlet spoke with Inonge Kaloustian ('21), who co-founded CAIC with current BSU President Ahiela Watson ('21). According to Kaloustian, the idea for CAIC came out of frustration with racial inequality within the Department of Athletics at Clark University. The club was unofficially founded in the fall of 2019 after Kaloustian and Watson "began to have this conversation about the poor retention rates of Black student-athletes within the Clark athletics department… We were just kind of wondering why is it that no matter what the team is, it seems that Black student-athletes don't want to stay on their team, and why there are more student-athletes of color concentrated on certain teams and not on other teams… We originally wanted to do kind of a project, not affiliated with Clark, but kind of for our own knowledge about this topic."
"After having conversations with a bunch of Black student-athletes, current and former, we went to [the athletic director] and said, these are issues that we see in the department…" Kaloustian recalled. "We said, you can fix these things. These are very tangible things that can be fixed. [The athletic director]… said that she doesn't have the capacity to do so… We said, well then, I guess we'll take it upon ourselves, as Black women usually do. That's how the coalition was formed."
Since then, CAIC has gained members and solidified a more clear-cut purpose. Kaloustian expressed that, "Our main goals and strategies have been to primarily increase discussion and discourse within the department both on the side of the athletes as well as the coaches and administrators. This is definitely not an issue that only athletes have. There are grown adults in our department who are ignorant, for lack of a better term."
Kaloustian noted that there is a need for diversity, equity, and inclusion particularly in athletics because "the demographic of the average athlete here doesn't match the average demographic of a Clark student. People come to Clark because of how progressive the campus is, but I would say that most of the athletes here come here because they want to play sports. They don't care about how progressive Clark is. That's why you usually have athletes who shy away from the conversation and who continue to perpetuate these ignorant stances on whatever the topic is. I'm not even talking about just race alone… I'm just tired of hearing things like, 'I like to stay out of politics…' It's just a matter of doing better and actually taking that initiative. A lot of the student-athletes, a lot of the coaches don't want to take initiative, and that's why we're here. To help them in the right direction."
Over the course of the last six months, CAIC has followed in the BSU's footsteps by issuing a similar set of demands to the Department of Athletics over the summer. On September 3, those demands and updates towards achieving them were made public on CAIC's Instagram page. Figure 3 shows the progress that has been made towards meeting these demands. For more details on this list of demands visit CAIC's Instagram post here.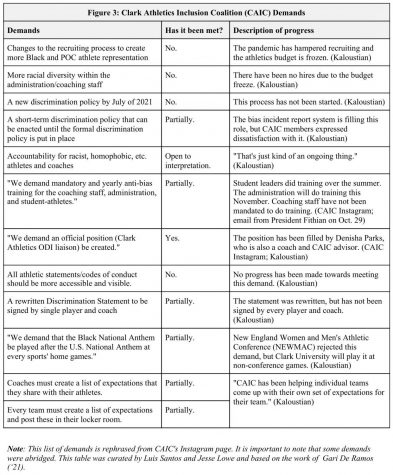 There are commonalities and differences between the demands of CAIC and the BSU. According to Kaloustian, "[Both organizations' goals] overlap in the sense that we are trying to collect more resources for Black students here on campus. That's why we chose to support the Not Your Token campaign, because especially as student-athletes here on campus… Especially because there's not that many Black student-athletes, we find our pictures everywhere, so for us to participate in something like that really makes an impact on the athletics department. In terms of differences, I would say that obviously, the CAIC demands are more focused on how we can be improving resources within the athletics department specifically."
When asked if there was an order of importance to the two sets of demands, Kaloustian explained, "My identity as a Black person comes before my identity as a student-athlete. At the end of the day, if I'm walking down the street, you're going to be able to tell that I'm Black but you're not going to be able to tell that I'm a student-athlete. That's definitely why we find BSU's demands more important." CAIC strategically waited to release their demands publicly to keep the attention of the student body and the Clark community on the BSU's demands when they were first released over the summer.
Like many other organizations, CAIC has adjusted their plans to meet the challenges of the COVID-19 pandemic and will continue to do so for the foreseeable future. "We're only meeting once a month… versus in the springtime and before that when we were doing every other week," Kaloustian said. "We can't exactly plan for events just yet, given the circumstances with the pandemic… We've been facilitating discussions with individual teams. We'll be continuing that through the intersession and probably through the spring semester."
Moving forward, Kaloustian has a request for the Clark student body: "Extend us more grace. I know that seeing us student-athletes on campus, people form their own opinions… I do the same thing sometimes. I see athletes on other teams and I jump to judge people really quickly but I think that they should know that there are people within the athletics department who are actively trying to change it. It's detrimental to be so quick to judge and put all student-athletes in this homogenous group. I would just really like some grace. That's all."
The Support Network: @blackatclarku
Founded on June 15, the Instagram page @blackatclarku was created during a time of intense racial politics in the United States. Initially, Rachel Still started the account "to get people to understand what it's like to be a person of color at a predominantly white institution." Still continued stating, "It was kind of like when we are all really obsessed with social justice—unfortunately, that seems to have really dropped off the face of the earth again—but I noticed a lot of Clark students being very like, 'Clark is good. This is what it is' … I like Clark a lot. I liked my time there. But I think it's not perfect if you're not living in the experience."
Instagram is home to many pages devoted to student clubs and discourses related to Clark University, but @blackatclarku has a unique and centralized purpose. Still advocates that the difference between her page and many others is "the anonymity part… not to brag, but I think I was the first page to do that kind of thing at Clark." Right away, the page attracted attention and currently has over 1,000 followers.
"BSU reached out to me a week after I started the page, asking who was running the page, and if I was Black or not because apparently some pages were made for Black voices by white students, which is interesting," said Still. "They told me that they were also planning to do a similar campaign, but they had planned on doing video entries. So it was good to give students who didn't want to have their face attached—or even their name attached, to their stories a place to talk about what has happened and their experiences without fearing that the other parties to their stories would find out and be upset or that administration would be upset because they were digging them out on the Internet, especially the sports teams."
In being the creator of the Instagram page and posting stories, Still expressed, "I shared some stories on the page and I think that was a cathartic experience in and of itself… I think the page is its own thing, separated from myself. I just sit there sometimes and run it and people send me stuff and I just put it into a picture and post it."
Presently, the only Clark University staff member who directly reached out to Still about the page was Francy Magee, Associate Provost and Dean of Students. According to Still, she "basically asked me to remind the people that follow the page that there is an administrative [and] bureaucratic process you can go through to list these experiences… I appreciated the fact that she reached out to the page about how they are concerned and they want to change things and they can't change things if people aren't coming forward. I did my best to remind her that these are stories of people who have gone forward and talked to coaches and [the] administration and found that nothing happened. People aren't comfortable coming forward, and these stories should be enough for her to figure out what to do. So after that response, she said thank you for responding, in a lot of words, and that's the last I heard from Francy Magee."
While Still has gotten a range of responses on the page, none of them have been blatantly negative. Some readers, Still said, "didn't know that this was happening on campus. A lot of white people said they didn't know that this was happening on campus and it's really nice that now they're being clued into an experience they never had."
"I've had Black students and other students of color say that it's nice to have an outlet to give their story anonymously," Still added. "They feel heard. They feel like even if they can't go directly to the person that they're talking about or the instance they are talking about, and take back the agency or take back the conversation… [and] respond in a different way, it's nice to be able to have that space that people are reading that. You know that your voice is being heard."
Many people and student organizations on campus have actively worked to support and collaborate with @blackatclarku. According to Still, "A lot of clubs followed the page and shared the page's stuff. I talked a lot with BSU about formatting the page… When BSU reached out to me we tried to regenerate the page and all the graphics on the page. Full credit to BSU on making the template, the cute little design thing, the profile picture… I think it spruced up the page a little bit, a little bit more color in there."
Although no employee and faculty at Clark University has currently made a public comment on the Instagram page, faculty-run Instagram pages have subtly reacted. Still said, "I know that they are aware of it, I know that they are reading it. I know for a long time that the page sometimes would get untagged, especially from @clarkathletics. They would untag themselves sometimes but I'm relentless, and I go back and retag them. The last time I checked they're all still up there, so it's nice to know that if anyone goes to @clarkathletics or @clarkuniversity the Instagram pages, if you go to the tag section, those stories are there, which I think is important. Not to bash the school or anything, but I think that people should be aware."
Still hopes the future of @blackatclarku will be "more submissions and the administration taking the page more seriously. I think they haven't taken BSU demands seriously, so why would they take the page seriously? I don't think that they're impossible and I don't think that administration is taking as seriously the experiences that are being listed. So I hope there are more stories so that the administration has to take it more seriously. Mostly the future is just posting more. Maybe I'll hit up Francy Magee and say, did you forget that you said you were going to do something? I think that's the future."
The Support Network: Clark Undergraduate Student Council (CUSC)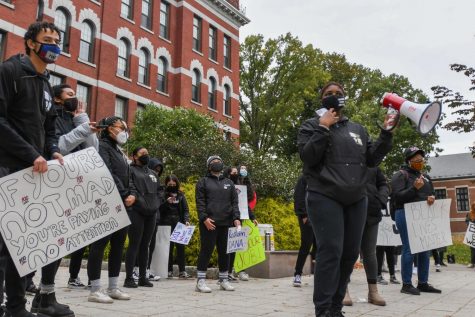 In order to explore the close relationship between the BSU and the Clark Undergraduate Student Council (CUSC), The Scarlet interviewed Alexandre Nazaire ('22). He is the Assistant Secretary of the BSU and one of five Equity and Inclusion Representatives within the Student Council. Nazaire expressed that the role of the Equity and Inclusion Representatives is to advocate for minorities as well as the many underrepresented populations on campus, "It could be international students, LGBTQ+ students, multi-cultural, first-generation."
Nazaire's work on the Student Council frequently intersects with the work of the BSU. "Throughout the summer, I really noticed that [the] Student Council and Black Student Union really would pair up to have our voices heard." He recalled, "I feel like especially right now, the CUSC relationship with BSU is really strong… In terms of presenting the demands, publishing them on Instagram, Facebook, just having the community hear about it, the protest, the vigil, the group on campus… that has been second to Black Student Union in terms of just sending it out there…."
In his view, the largest obstacles to equity and inclusion at Clark come from the most powerful people in the administration. "First of all," Nazaire said, "it has to be sort of the way the administration at the school is kind of slow towards just answering the demands. So it starts with the higher-ups with how the administration is not really answering the call to the demands."
In discussing the Clark administration's delayed response to the BSU's demands, Nazaire expressed that "…they really are reluctant towards meeting any of the demands, that's personally what I believe is going on. But in all fairness, I don't know what's going on all the way up at that level. We're just students and we don't know what's going on behind closed doors in that building… It's like they're just following a wave. It's just what other schools are doing, let's do it, but they're not going to step too far out of their comfort zone to actually meet demands that a lot of students are in need of."
Other issues come from the spaces and resources available on campus—or lack thereof. According to Nazaire, "Last year and the year before we had a therapist of color… FOCUS is a space for male-identifying students of color and I remember he would always be facilitating the meetings, and now he's not there anymore and from what I know, nobody has really come to replace him, so that's made it a lot harder for underrepresented populations, particularly students of color. Aside from the Multicultural First Generation Student Support [Office], which is kind of a smaller space, which is really good and everything, I feel there aren't really too many spaces where all students can feel at ease."
At a recent CUSC meeting, several students pointed out that COVID-19 policies are being disproportionately enforced against BIPOC students and not white students. Nazaire shared that he and other BIPOC students have had multiple experiences of being called out by staff members while white students are ignored and excused when they behave the same way.
"I feel that it could be looked at as a microaggression but it's just happened so often it's almost just literally blatant racism," Nazaire said. "So I've been sitting with just four other students of color, and I remember a couple of times the head of the—I'm not sure, of Sodexo or the head of the cafeteria, comes up to us and says 'oh, there's too many students.' No matter what happens, we're always the first ones to be called out."
"Sometimes other groups… have huge tables of around 7, 8, maybe like a full table… I feel like that doesn't make any sense," he continued. "You see a whole entire table of predominantly white students, if not all white students, just sitting around a table, with a lot more students than us, and they don't get called out at all, and they just go about their day. Especially for first-year students, you get the real picture. Clark is basically showing what they are about."
Another incident that has sparked anger among students took place at the library, where BSU members had gathered to take a picture together. According to Nazaire, "We all had our masks on and we weren't touching each other or anything but there was this lady, who walked right in between us, didn't even walk around us, walked right in between us, and said, 'social distancing, people.' To me, honestly, after what I've seen in the cafeteria, after what I've seen at Clark, it doesn't surprise me, but what did surprise me was [that] she walked right past, a table to her left and a table on her right, with was a bunch of people not social distancing at all… she didn't say anything about social distancing or anything at all."
At another recent Student Council meeting, a student working in Admissions said that parents of prospective students had called her office with concerns that the BSU was going too far and "oppressing white students." Nazaire rejected that view of the situation, saying, "the demands that BSU presents, in no way are they just in favor of Black students… It's beneficial for everybody. That's what equity is about."
"Racism has to be recognized," he continued. "It's not blatant like in the '60s or the '50s. But if you pay attention to it and you go through it all of your life and you see it happening at Clark as well and this school is portraying itself as a 'liberal non-racist institution,' demands like this should be met. This is not the first time demands have been presented to administration. The commonality is the fact that they have never been met by administration. The Black Student Union has put forth demands, and there have been protests for them to be met in the past, not just the one that happened a month ago."
Despite the frustration that members of CUSC and the BSU may have for the administration as a whole, they have found allies in several staff members. Nazaire thought of Alice Valentine first, saying, "I believe she's one of the people searching for the Co-Dean Chief of Diversity and Inclusion. She's brought it up to me that 'if there's anything you believe we should be looking for, please let me know.' She'll be in contact with the Black Student Union."
The Scarlet asked Nazaire what the future holds in the ongoing negotiation between student organizations and the powers that be at Clark. "Well, there has to be some sort of push to the demands," he said. "Whether it be in our generation or whether it be a couple of years later, I think what is most important is until those needs are met, to be stressing out the importance for the next year and the next year… The executive board particularly has been making such a strong push for racial justice. They're all seniors and they may not see true justice and equity being served during their time at Clark… so it's really important that that be met."
Nazaire concluded by asking students to "lookup or ask some people about the history of the school because this is not the first year. Even though it might feel like it because the push is so hard, this is not the first year that the Black Student Union has been making a push for demands."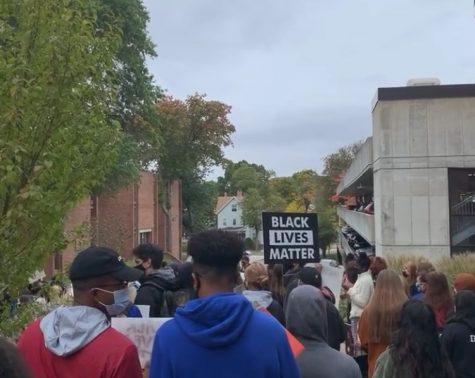 La Pollera y El Congo: A Clarkie-Curated Podcast by and for the Afro-Latinx Community
Bishop and Watson have also collaborated on fostering conversations about race beyond their work within the BSU. Watson created a podcast called La Pollera y El Congo in November 2019 and invited Bishop and their peer Ale Perez ('23), to be co-hosts. To date, five episodes are available on Spotify. The trio also runs an Instagram page with the same name which mixes promotion of the podcast with conversation and education by and for Afro-Latinx people. Each co-host plays an important role in making the podcast a reality. According to Bishop, "[Watson] handles a lot of the editing. Ale is really good on the distribution side and I do a lot of the social media."
Although there has not been a new episode of La Pollera y El Congo since September 25, Bishop told The Scarlet that "we're actually going to record a new episode on the aftermath of the BSU protest and where we all stand on campus as we prepare hopefully, if it's safe, for a new semester. We're definitely trying to keep it going."
"Between the BSU protests, the election, and recent developments in COVID-19, there's just so much going on," Bishop continued. "I know I can speak for Ale and Ahiela when I say we want the podcast to be a space where people can not only observe what we're saying but just feel like there's someone else there who's going through an experience that is somewhat similar to their own."
Editor's Note:
To the students who shared their heartfelt stories to make this article possible, thank you for being brave, honest, prioritizing the truth, and sharing your inspiring journeys full of struggle yet fueled with hope. It is a privilege and an honor to be among you, as a student of color myself who has faced microaggressions at Clark's campus and the reticent treatment and policies of the Clark administration as a transfer BIPOC student. We acknowledge the students with similar experiences whose stories have not yet been shared and we hope for their sake that Clark University becomes a more transparent place of learning as a PWI. Thank you to Sofía Bishop ('23), Edyth Rojas ('21), Anabel Riggio ('22), Inonge Kaloustian ('21), Rachel Still ('20), Alexandre Nazaire a.k.a. Nupt ('22), and other students for participating and sharing your stories with The Scarlet. May we continue the fight for racial justice, for our future, and the newer generation of students to come into the Clark community.
Luis Santos,
News Editor