Clarkie of the Week: David Henriques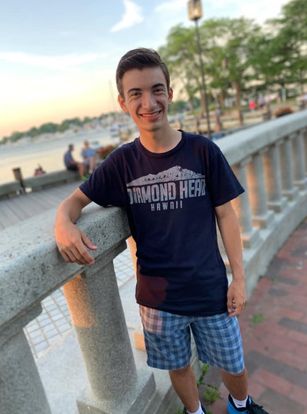 David Henriques ('22) is a junior and Environmental Science major (completing the Earth Systems Science track) with a minor in Geography (GIS specialization) at Clark, who is planning on completing a fifth-year accelerated master's degree in GIS after he graduates. David runs for the men's cross country team, is the treasurer of CUGA (the Clark University Geography Association), and will become the vice president of the new chess club on campus. He also takes part in Outing Club events, is a passionate environmental advocate, has amazing knowledge of old-school hip hop, and is an awesome friend. I had the pleasure of interviewing him as the Clarkie of the Week this past weekend!
Scarlet: Thanks for taking the time to talk with me, and congrats on being nominated as Clarkie of the Week! First off, can you introduce yourself and tell us three fun facts about yourself?
David: Yeah, so my name is David Henriques. I teach golf lessons to kids in the summer. I'm involved in a Dungeons and Dragons campaign, and I recently have been starting to get into chess.
Scarlet: How did you first find out about Clark, and when did you decide that it was the college for you?
David: I found out about Clark University when I was a sophomore or junior in high school. I knew somebody who went to Clark, and he said a lot of great things about the school. So that's how I found out about Clark; then I toured Clark, and fell in love with it.
Scarlet: What have been some of your favorite courses, projects, and/or professors at Clark? How have they helped you in your academic journey?
David: For courses, I would have to say Forest Ecology was a great class. It was the class I always wanted to take, but I just didn't really know it existed until I took it because it's an Earth System Science class. As a segway, Professor [Dominik] Kulakowski is probably one of my favorite professors at Clark. I've had him three times and he's just a fantastic professor. For projects, being involved in a lot of GIS classes, I've gotten to do some cool stuff. For my remote sensing project, I looked at an area of land in my hometown that was potentially going to be developed; I created several maps, and actually showed them at the town meetings.
Scarlet: Could you tell us some fun memories from your time at Clark so far?
David: Thinking back, there's a lot of things to do in Worcester. Freshman year, I went to a hockey game in Worcester because one of my friends had a bunch of tickets. We saw the Worcester Railers, and that was a fun time. Also, being a part of the cross country team, going on the meets are always some of my favorite times, because we always cheer each other on and it's a fun experience to run for Clark.
Scarlet: Going off of that, how has your experience as a varsity athlete on campus been? What is your favorite college cross country memory so far?
David: My experience, it's kinda everything I envisioned. In a sense that it's a really good atmosphere because, being a D3 sport, we all take it seriously but at the same time we aren't trying to compete for spots; so there is a lot more of a team element. Always, each season, I look forward to running with the team and cheering everyone on. I wouldn't say it's my favorite memory, but the most memorable thing that happened was a meet we had when I was a sophomore. There were a lot of wasps around that course, and about a mile into the five-mile race, I got stung. Other people got stung too, one of my teammates got stung in his throat. When I got stung, it hurt a lot, but it just made me run faster! It was funny, cause I ended up going super fast, and getting my personal record because I got stung by a bee! After the race was over, we came to find out that a lot of our people on our team got stung. We were always joking about it, it was a fun thing that we always talked about.
Scarlet: As a junior who plans on studying here for a fifth year, you still have some time to work things out regarding what you will do after you leave Clark. However, what goals do you have for your future career, and how have you worked for them so far?
David: After Clark, honestly I don't have a clear plan, but I have an idea. I definitely want to be in the field of GIS. I often think about possibly going into a federal agency like USGS or NOAA, or even a state agency. The great thing about GIS is that there are so many opportunities within it. If you kind of just go with the flow, an opportunity might arise. I'm going step-by-step right now, but definitely working for the government is something I think about as a potential goal. With the classes, especially the GIS classes, I try to make my final projects something around real world issues, but also trying to incorporate a community aspect. As I mentioned before, with the project I did about my town, I managed to relate back to a community service element, giving maps to town and local residents. I also had a class at Clark University's Hadwen Arboretum, and I still volunteer there to work on trails and other projects. And it's another way of giving back to the community, and I think that's important. Also, for work ethic, reaching out to folks. And that's how you get connections as well, connections are very important.
Scarlet: The pandemic has led to setbacks and disappointments in all of our lives, and you missed out on both a competitive cross country season and study abroad due to it. What strategies have you used to cope with these upheavals? And what are some things that you really want to do once it's safe enough?
David: For me, I tend to go with the flow, I don't complain. It stinks, but it is what it is. One of the strategies I recently have been taking up is something called the Wim Hof Method. It involves three pillars: deep breathing, cold therapy, [and] meditation. And it's a way to focus on the present with mindfulness. It has definitely been helping me through all this the chaos caused by the virus. And with missing certain opportunities as well, it helped me through that as well… although the showers are cold! For me, I would love to, honestly, just hang out with my friends, just kind of like what we did [during] freshman year. We went to sports games, ran in a local race, a half marathon. Anything like that would be nice to get back to a little bit of normalcy. I'm not a big beach person, but the beach would be nice.
Scarlet: I have always been enamored by your knowledge of old-school hip hop. What do you think this style of music has to teach our current generation, and what is one song that you would recommend for Clarkies to listen to?
David: With the particular conscious style that I listen to, with what happened over the summer as far as a racial reckoning across America, a lot of those old-school conscious hip hop songs have a lot to say about structural racial issues with everything from mass incarceration to environmental justice issues as well. By going back to songs from the 1990s, 30 years ago, it kind of teaches [us] about what's going on today. A song that really was so ahead of its time, that unfortunately still relates back to this day, is a song called "Mathematics" by Mos Def. And that song, in particular, talks about a lot of the details of racial issues. And I think if Clarkies would listen to the lyrics closely, they would definitely see comparisons between the racial issues talked about in this song and what happened this [last] summer. He's a great rapper too, the beat is very good.
Scarlet: Thank you so much!
David: Thanks, I enjoyed doing this!