Clarkie of the Week: Gyani Wasp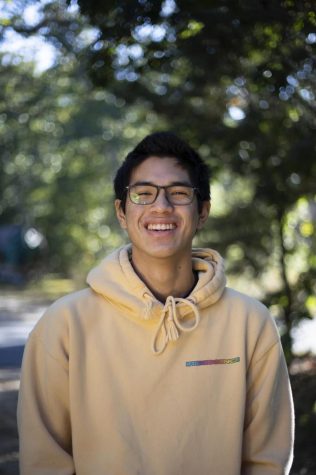 Gyani Wasp ('24) is one of the most talented, kind, and enjoyable people you will ever meet. He is just one of those people you always want to hang out with. His love for film, food, and culture are impressive, and speak volumes to the kind of person Gyani is. Coming from Sikkim and Mauritius, Gyani has found his home at Clark, and cannot wait to see where his education and future take him. The Scarlet was honored to sit down with Gyani and talk about his life and interests. 
Scarlet: I just wanted to begin by thanking you for taking the time to talk with me, and congratulations on being nominated for this week's Clarkie of the Week. We have heard a lot about you, and we are thrilled to be getting to know you.
Gyani: Thank you so much for this opportunity.
Scarlet: So Gyani, tell me a little about yourself, and where you are from?
Gyani: I'm Gyani Pradhan Wong Ah Sui (my full name), but most people call me Gyani Wasp. I'm a filmmaker and photographer, and I'm majoring in Screen Studies here at Clark. I'm from Sikkim, which is a small Himalayan state in northeastern India, but I'm also from Mauritius, which is an island-nation in the Indian Ocean off the coast of Madagascar. It's funny because I went to high school in Beverly, Massachusetts.
 Scarlet: What made you come to Clark? What is one class you have taken at Clark that you absolutely loved?
 Gyani: The first time I visited Clark was in the fall of my senior year of high school, and I remembered thinking that it seemed a lot like my high school with a smaller student body, a focus on the liberal arts. Also, just the overall vibe of the people at Clark drew me here. I didn't want to go down the film school route because of the immense costs, and the inability to take classes in other disciplines like Sociology, Geography, Philosophy, and others. Taking these classes have helped me think about the world through different lenses, and to be inspired by what I am learning. One class that I absolutely loved was SCRN107, Intro to Digital Filmmaking, where we were assigned three films over the course of the semester; learning and incorporating the techniques we learned along the way. Having the structure and guidance of Soren Sorensen (now my advisor) really helped me bring my creative vision to life.
 Scarlet: Where do you see yourself in ten years?
 Gyani: I think that that's a very tough question to answer. There are a million ways things could go over the course of the next ten years. I'm really not sure where I would be living, perhaps in the United States or somewhere else, but I know that I'd like to be making films that I want to be making without compromising my ideas. I want my films and my ideas to engage with people in meaningful ways. I also would like to be happy, wherever I am.
 Scarlet: That sounds amazing. What is something you are looking forward to?
 Gyani: I'm looking forward to the future no matter what it may hold for me. I'm excited to travel again, eat food… which I wouldn't usually eat. I would also go to places I wouldn't usually go and discover things I wouldn't normally discover. I'm thinking of studying abroad my junior year. In particular, I'm thinking about going to Japan because of the wealth of culture, art, and natural beauty that exists there. I'm a huge fan of the Japanese New Wave and Japanese directors like Akira Kurosawa, Yasujiro Ozu, Hirokazu Kore-Eda and Sion Sono. 
 Scarlet: Going off of your love for food, are there any places near Clark that you would recommend people to try?
 Gyani: I've gone to Saigon on Main Street more times than I can count, and I can't say I've been to any other place as many times. Their pho is the best I've ever had; the broth itself is full of flavor and they make a great banh mi too. Also, their prices are very affordable which is a bonus. For me, they're the best place to get food and the fact that they're right around the corner from Clark makes them irresistible. 
Scarlet: Could you tell us about some fun memories from your time at Clark so far?
Gyani: The entire time I've been at Clark, I've had the best time being with the people I've become close with. Being around those people has made mundane activities feel so much more significant and meaningful. At the beginning of October, my friends and I traveled to New York City for the weekend to attend the New York Festival. We watched two films that I loved: Vortex, and The French Dispatch. Traveling with friends is one of my favorite things to do, and although we spent less than 24 hours in the Big Apple, it was the highlight of my semester so far. 
 Scarlet: Tell me about some of your hobbies or activities you enjoy doing beyond your studies?
 Gyani: I like to play volleyball a lot. It's a great team sport, without contact that depends a lot on proper technique. I also enjoy skating when I can, although not as often. I am an avid supporter of Manchester United (the soccer team) although they break my heart regularly. I also love watching movies and love to discuss them with people.
 Scarlet: I was told you were an avid fan of all types of movies. So, you're not going to like me for this question, but if you had to choose one movie that is your favorite what would it be?
 Gyani: That is also a very hard question. I personally don't believe in any one movie being my favorite, because every movie isn't trying to do the same thing. I'd definitely say that certain films resonate with me more than others. A film that really changed my outlook on movies and life, in general, was Alfonso Cuarón's Roma. Based on Cuarón's childhood memories of life in Mexico City in the 70s, Roma starts out quietly before gradually crescendoing into an explosive portrayal of domestic life, set against the violent student protests of the time. Roma is the kind of film I want to be able to make and share. Another film that I absolutely have to let people know about is the 2021 Palme D'Or recipient Titane.
 Scarlet: Thank you so much for sharing about yourself!
 Gyani: Yes, anytime! I also want to provide you with my YoutTube channel, where people can view my short films, and see what I do! Here are some of my recent works that I'm proud of (The Box, Urine Hell, The Birds Were Singin)