Sadie's Sweet Shoppe Interview
Sadie Kaim ('24), the owner of Sadie's Sweet Shoppe, is one of the most dedicated people you will ever meet.  She is talented, fun, and just a generally cool person. As per Sadie's Sweet Shoppe bio on Instagram, "(Sadie's Sweet Shoppe is a) student-owned bakery cooking up colorful and sweet recipes distinctly baked with love based in Worcester, MA". The Scarlet had the opportunity to sit down with Sadie and talk about her and her business. Sadie is originally from Longmeadow, MA.
Scarlet: Hey Sadie, thanks for sitting down with me. First and foremost, introduce yourself. Who are you and what do you do? 
Sadie: Hi I am Sadie! I am a junior at Clark University studying economics and minoring in entrepreneurship. I am from Western Massachusetts; specifically Longmeadow which is right next to Springfield.  I run my own little bakery called "Sadie's Sweet Shop" where I sell each week at the Collective pop-ups in Red Square. On top of that, I do personal orders for professors and students. Back home, I also have friends and family who order from me. 
Scarlet: How did you get involved with baking? 
Sadie: I guess it would go back to my family and my grandmother who instilled the love for baking in me. My grandmother was always cooking and baking so I grew up loving the same things. After she passed, we went through and cleaned her home. While doing that, we found a bunch of her old recipes. I started going through them and trying them out. That really grew my passion even more and I haven't stopped since.
Scarlet: How did you start your own business?
Sadie: When I took my first entrepreneurship class we had to come up with a business, I knew immediately that I wanted to make a bakery because it had been a dream of mine. I know how to bake but it is obviously very different if you sell versus if you just make it yourself. The class was a good way to get into selling.
Scarlet: Tell me more about the entrepreneurship class you took.
Sadie: So I took Entrepreneurship 115 with Professor Dobson. He is very much about throwing yourself out there in the world and finding something that sticks. 
Scarlet: Tell me about the Clark Collective–  how did you get involved with it? How is it?
Sadie: So it was kind of fostered by the entrepreneurship class but I reached out to the collective and Sonny, the person who started it. The collective was a good way to take the lessons from Dobson's class and take it to the real world. Some other people's companies in Dobson's class were more online-based and were not as sales-focused. I knew the collective would be the best way for me to get my name out there. Also, I had to have this business for class credit. Also with the collective, I can keep all the money I make. 
I signed up and just started selling. My first week I sold maybe two things and it was not great but I did not want to give up. I slowly sold more and more and by the end of the semester I was at maybe 100 or 120 followers. 
Currently, I have met a bunch of cool people from the collective and became friends with a lot of people that sell. 
Scarlet: Was it hard to find where to bake since you started baking while living on campus? 
Sadie: Last semester, I lived in Dodd which conveniently had two kitchens on every floor. I was mostly baking there and then this year I am living in Blackstone. I have my own apartment and kitchen and do not have to schlep all my stuff to the kitchens (like I had to in Dodd). 
Scarlet: What is your favorite recipe, something you like to bake, and what is a fan favorite? 
Sadie: My favorite recipe, dang. Okay. I would have to say my favorite recipe is my grandmother's chocolate chip oatmeal cookies. It was one of the first recipes that we found and was one of the first I tried out. It is also a family and friend's favorite. What I love to do is frosting cakes and cupcakes. I like frosting and all of that. I like piping all the pretty flowers and different things. It is really fun for me and a creative outlet. A fan favorite are definitely the brownies. Everyone loves brownies. They are very rich and chocolatey and fudgy. People love them. 
I try different things all the time. Since it is fall, I did this pumpkin snickerdoodle thing that sold out. I had three left before the pop-up even started because people were DMing me and saying save one for me. So I bought them again next week and they were sold out.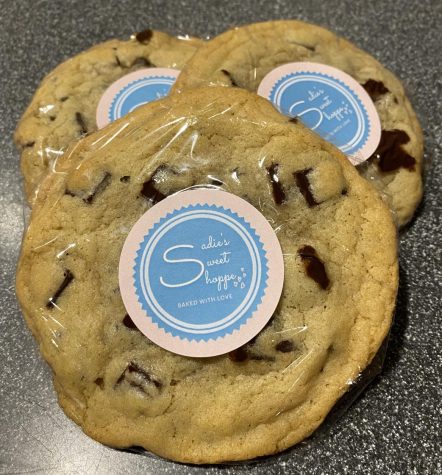 Scarlet: Did you come into Clark knowing you wanted to start a business? 
Sadie: I had a faint idea coming into Clark but it was not thought out. I basically had an Instagram name and that was it. I did not have any following or anything. I started selling last semester but had been posting on my Instagram since May 2021. As of right now, I have almost 200 followers. 
Scarlet: Did you learn your skills yourself or were asking people for help? Was it a lot of just trying stuff out? Especially within the social media realm (I know I struggle with that)
Sadie: I learned a few of my skills from my grandma and then a lot of it was trial and error. A lot of it was learning online. I got this really good recipe book from Magnolia Bakery which is a famous bakery in New York City. The cookbook has been a blessing and I love all of the recipes. They are really structured which helped me learn a lot. Also I know my techniques now and know what to do which is really fun. 
My marketing is something that I struggle with so that is why I take so many entrepreneurship classes because they help you market. I recently did a campaign for the past few weeks where I was supposed to be posting every single day. It has really helped because it just pushed me to do it. I am still learning analytics and feedback. 
Scarlet: Where do you see yourself going with this? Would you want to make a larger business out of your small business? 
Sadie: It is something I have been playing around with recently. I really want to open up a storefront. I was not sure if I wanted to find a job outta college that would be something with my econ major and do something in the 9 to 5 world. Or if I wanted to immediately jump in and try to find something within the baking industry and grow my business from there if possible. I would love to open up a bakery in a storefront at some point. 
Scarlet: What is something you would have told yourself when you first started?
Sadie: I would have told myself to not get discouraged, be patient, and keep pushing. I mean it is just baked goods and at the end of the day, it is something you love. As long as you continue doing what you love, it will all work out. Even if it does not seem like it, success will come and I feel awesome. 
I am still learning and my business is growing. I am learning that time management is important and still focusing on that. I am also learning that things take time. I look back and I feel like dang. I was that girl that sold two things at the pop-up the first time and now I am selling out every time I sell. 
Scarlet: Well thank you for sitting down with us! I guess my last point is: are there any last words?
Sadie: I want to thank everyone who has been there supporting me. New followers and old ones as well. I love all the support and really appreciate it because it keeps me going!
Make sure to follow @sadiessweetshoppe on Instagram and message her with any baking requests! You can also  find her at the Clark Collective pop-up that happens every Wednesday.