WPI's New Center for Well-Being Raises Questions About Mental Health Resources at Clark
This past January, a new facility known as the Center for Well-Being opened at nearby Worcester Polytechnic Institute – an entire building located in the center of their campus housing its new Student Development and Counseling Center, Student Health Services, and the Office of Accessibility Services. According to a press release on the WPI website, the Center for Well-Being was created "to help foster a more holistic approach to student health and well-being." 
In an article for the Worcester Telegram and Gazette, WPI senior Theron Howe said, "When I was going through my own mental health struggles… there weren't very many available resources, the center didn't exist. I barely figured out what health services was during my first year here, so it sort of is empowering for me." Empowering! As described in the press release, along with providing a safe space to "relax, reflect, and recharge," the Center for Well-Being will "apply evidence-based practices that promote well-being for students and the broader campus community," such as Koru mindfulness meditations, individual appointments, and broader mental health education.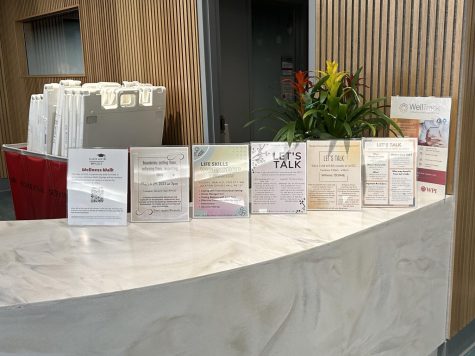 The Center for Well-Being raises questions about the present state of mental health resources available at Clark, and what our university can do to effectively improve the mental health of its students. Currently, the Center for Counseling and Personal Growth offers a range of services, including counselors on staff, a part time psychiatrist, crisis intervention, and support groups. But when it comes to their accessibility and visibility, many students would agree that there is room for improvement. A Clark senior who has chosen to remain anonymous had a similar experience to Howe her freshman year. "I think they should advertise where they are on campus more clearly because it took me until Spring semester of my first year to figure out where they were. I knew it was a thing, but I had no idea where to find it." This is likely due to limited advertising of the Center for Counseling and Personal Growth on campus, as well as its out of the way location. In contrast to the Center for Well-Being's central location on the WPI campus, Clark's Center for Counseling and Personal Growth sits off to the side on Woodland Street, forcing students to walk up a hill to get the support they need. 
The Center for Counseling and Personal Growth is also cramped on the inside with small rooms, and the room where many of the support groups are held requires some maneuvering to get around the table in the center. The paint doesn't appear fresh, nor is the driveway well paved. The building itself is an old house, which though at one point may have made for an inviting atmosphere, now feels a bit antiquated in comparison to the Center for Well-Being's state of the art design.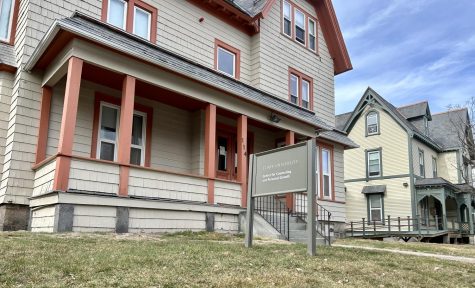 As described in the press release, the rest and recovery room at WPI features a zero-gravity chair, compression boots, and red-light therapy, and most impressively, the building even boasts an indoor waterfall. Along with rooms for hosting wellness activities such as meditation and yoga, when visitors enter, they are greeted at the welcome desk by students trained as Peer Well-Being Ambassadors, surrounded by a "wellness hub," with comfortable seating intended for student relaxation. The center itself can be a good place to connect with students.
In contrast to the Center for Well-Being's comprehensive offerings, many Clark students are concerned that the Center for Counseling and Personal Growth is not equipped to support students in need of long-term therapy. According to Clark student Rory Carrara, "The counseling center can help, but it may not be reliable." Clark student Amanda Brown attributes the counseling center's unreliability to the way that it is advertised and marketed. Although weekly therapy sessions are listed as an available service on the Center for Counseling and Personal Growth's web page, Brown says, "They are mis-marketed, and not intended for weekly long therapy. They're better for a short-term crisis, they need to do a better job advertising what they're for." 
When asked what would be a positive addition to Clark's counseling center, Carrara said, "I'd like to see a licensed social worker on call even though the Center for Counseling and Personal Growth had after hours. Availability during after-hours would be beneficial, because I've seen instances where it would've helped if someone with credentials had been there in person." Currently, therapists are on staff during business hours, and a phone number is listed which students can call who are at risk of hurting themselves. Virtual walk-ins are available during certain hours, for students unable to wait for a regular appointment. However, because it is available on a first-come-first-serve basis, the time allotted to students may be limited, depending on how many others are scheduled for the same day. Furthermore, little attention is given to crisis prevention itself.
Professors and faculty can play a role in crisis prevention through alleviating the impacts of burnout in their students. Another Clark student who chose to comment anonymously said, "I would like to see more help communicating with professors during periods of burnout. I'm definitely experiencing burnout this semester. My motivation has definitely decreased, and a lot of the work feels pointless." When asked specifically how professors can help, he says, "Willingness to be accommodating would be the biggest help. Relaxing on due dates would help, and adjusting assignments."
For neurodivergent students, among whom burnout is particularly pervasive due to the accompanying academic and social challenges, having people to turn to for support is critical. Clark sophomore Mo Cercy says, "Because I'm on the autism spectrum, but super high masking, it's been hard for me to be able to find the resources I need. Last year, I was a freshman, and I struggled a lot particularly with executive function and regulating my own routine, and my second semester, I ended up having to drop a class and take an incomplete. But if I'd understood the resources available to me, I would've been able to stay in those classes and catch up." 
Resources here at Clark are available, but they're hard to find. In order to receive accommodations, students must contact Student Accessibility Services directly, typically through an email, in which they self-disclose their disability. That's not easy to do when under a lot of stress. Furthermore, to be eligible for accommodations, a formal diagnosis is needed, which is inaccessible to many students. But despite Mo's struggles, she doesn't hesitate to acknowledge the positive aspects of her experience at Clark, and resources she's found particularly helpful. She says, "The accommodations and faculty here are really understanding, and they've been a genuinely great resource for me over the past couple of months. It would be helpful if there was more outreach for students that struggle, because it's hard for me to ask for help. It would be helpful if there were more visible resources, just like any outreach for people who weren't as willing to seek help for themselves." 
Hopefully, WPI's Center for Well-Being will facilitate an atmosphere on their campus in which asking for help, regardless of diagnosis, is normalized. This year, Theron Howe will be employed as a peer well-being ambassador. Along with several other WPI students, as described on the Center for Well-Being's web page, he will be trained in skills such as group facilitation, community outreach, communication, and knowledge related to public health promotion and wellness. Howe will work with students who are struggling with their mental health much in the way that he was at the beginning of his time in college, directing them to available resources and acting as a mental health coach to students who need support. While much improvement is needed when it comes to mental health resources here at Clark, WPI has demonstrated that coming together to provide more integrated, well-rounded support for students is possible.
Leave a Comment