The Corner: a New, Small Clarkie-Owned Business
Clarissa Ko and Nish Patelare ('25) are co-owners of the small business "The Corner" (@the_corner_clark on Instagram). Clark is home to countless amazing artists, and these two sophomores are some of them. The pair work together selling their artwork and can be seen around campus promoting their talents. Nish focuses on creating masterful henna designs on candles, while Clarissa produces her art in several creative mediums. As their Instagram states, there's something for everyone at The Corner! I was granted the wonderful opportunity to interview the pair and discuss a little about what inspired their business, and what the process looks like for them. 
Morgan: So, let's start by telling me a little about yourself.
Nish: I'm Nish Patel, a management major, maybe a sociology minor, and a marketing minor.
Clarissa: I'm Clarissa Ko, I am a sophomore, I'm a management major and I'm minoring in marketing and entrepreneurship. 
Morgan: Can you tell me a little about your business? 
Clarissa: Our business is The Corner. Essentially me and Nish started this [business] because we are very passionate about art, but we have very different art forms. Nish can talk more in-depth about his background with henna, but for me, I've always been very interested and involved in art.
For Clarissa, her passion in art began at a young age. Clarissa reflected on going to the dollar store with her grandma and making crafts with her using materials they found in the store. 
Clarissa: We bought mini paper napkin things that held tissues. They always had little cartoons on them like Tweety Bird, the Looney Tunes character. I would always just love looking at them and I started drawing from there… I've been learning, self-taught, and just have been trying different mediums. Right now I'm doing more painting. I've done markers, a lot more hand-written stuff or hand-drawn things in comparison [to other forms of artwork].
Nish: So for me, [my experience] was different. I learned henna from my mom. She was a henna artist, and she taught me how to do henna. Then I just took the henna art that I had learned, and I just wanted to do it in another way. I didn't want to leave it at just that; I didn't want to leave it as just tattooing. I wanted to use it in different manners, so I decided to do it on candles, and the rest from there. 
Clarissa: Yeah, and me and Nish have just been friends for a minute. Since the end of last year, we thought it would be cool [to begin the business] because we both enjoy art.
Morgan: What are the products that you sell specifically?
Nish: I sell candles; small, medium, and large.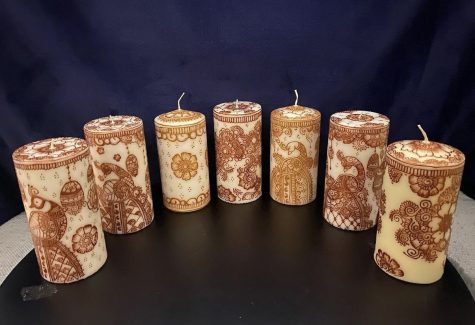 Clarissa: More recently, I've been doing paintings. I started off with mini little sculpture things, but I've sort of pivoted from that. What I've mainly been doing right now is watercolors and pastels. 
Morgan: When did you decide to make The Corner, what was that process like?
Clarissa: It happened because the Clark Thrift Store was looking for different businesses to showcase there so, the deadline was literally that night…. We didn't get in because we didn't really have a business at that point. But after that, we just started building from the bottom up. Trying to build followers and different connections. I think our inspiration for the name itself is just the typical corner store that has a little bit of everything or just things you didn't even know you needed.
Morgan: How do you sell the product? 
Nish: I think our main one is the popup, at least to get out in person, like for people to see our products in person and hold on to them and see if they want it or not. We've been mainly posting about it on Instagram, and we have reached other accounts- just learning as we go. 
Clarissa: So the majority is in person, right now we are working on figuring out how to ship and using a website, but that is something we are slowly transitioning to.
Morgan:  Can you speak a little on the process for making the products you sell?
Nish: So for me, I have to decide which surface of a candle I can use, like I can't use candles with ridges on them. My main source of candles are the ones from Target, the white blank pillar candles. Once I acquire those I go on to the next step of having to finish out my henna cones, that can be like finding anyone I can do henna on. Once those cones are finished, I reuse them and fill them with paint which I apply to the candles. I also film videos of those so I can post them on our Instagram, which then people can see the process of how they are made as well.
Clarissa: I think for me it's a lot about just enjoying the process and not taking it super seriously in some ways. Cause I feel like when you get into the nitty gritty and the details, you kind of lose the purpose of making art. So usually when I start the process of the work I currently do – because it usually varies a lot – I usually go to the craft studio. The craft studio is a great resource. I just start doing watercolors and painting a sort of background and base color and from there I sort of just start doodling and sketching with pastels, trying to blend things in. I'm very hands-on with my work, so I love smudging and just being able to feel the various textures. Like I said, it's important to just take a step back and remember that this art is supposed to be a relaxing thing. I'm actually teaching a class, collaborating a class, with Splash on Sunday on doodling and leadership; kind of like how you have to stay true with yourself overall and remember to not always take yourself too seriously. 
Morgan: Do you have any personal goals for your business?
Nish: I think for now, we're just trying to grab people's attention and gain more followers. So I think right now our main goal is just to reach people. 
Clarissa: I think for me, I am very involved in entrepreneurship and there are a lot of businesses I am doing. So, I kind of see this more as something that is a business but is something to learn and experiment with. I think overall I'm just looking to gain a bigger outreach to people but also be able to grow and [further] my understanding of entrepreneurship.
Morgan: When did you realize your skills were profitable?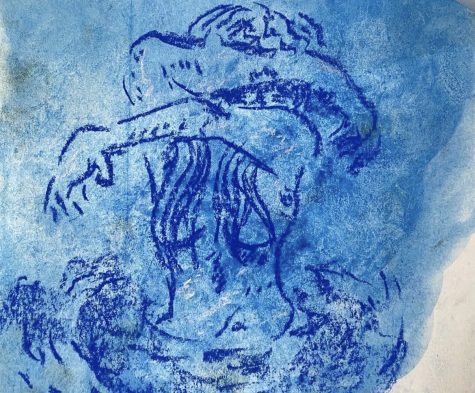 Nish: I think for me, it was always profitable because henna was always some sort of trend.  People always want to test like: "Oh, what if I want to get this tattooed? What is a non-permanent way that I can keep a tattoo on long enough without committing to it?" So I used that. I was always making money from henna but I realized I could use it in another way. I saw at one of my friend's houses a design on their candle, and I thought, "I have never thought about using henna in that pattern or that way," so then I just started experimenting after. I'm still learning how to expand these skills. I don't think I have reached my full potential with henna yet.
Clarissa: 
I think for me, I realized that usually when I go abroad to various places I always try to have a piece of that with me as well as the people I meet. I always try to collect art or instruments or whatever, and I realized that art is really so much about getting a piece of the artist. So, I was like oh maybe people would be interested in buying our art and having that physical representation of us. 
Make sure to check out The Corner! You can find the duo on Instagram @the_corner_clark, or at the Clark Collective pop-up that happens every Wednesday and has recently made its return to the Red Square! Nish and Clarissa also do custom-art pieces, so don't hesitate to reach out for any of your art desires! 
Leave a Comment