Swinging into the 2023 Clark Softball Season
The Clark softball team is excited to be playing again and "supporting each other fiercely", as they begin competing in the NEWMAC conference this year
Spring has officially sprung and with that, spring athletics are finally here! The softball team began their season in Naples, Florida, playing multiple games during their spring training trip. Due to COVID-19, this once-annual trip had been canceled the past two years, meaning it was many of the players' very first trip to Florida for training. 
"I am a fifth-year grad student, so this is my third time going to Florida. We were all really excited, especially after the COVID year. Last year we were trying to go to Florida, and had everything planned and then the big COVID spike-like the second wave-came and canceled our trip and we were all really bummed about it. This year, having planned it and then being able to go was actually really, really exciting for all of us. A majority of the team had never been to Florida before, so we were all just really, really excited."
 – Kaylee Gibson (Captain)
"It was super exciting because I'd never been and that's something a lot of like spring athletes, especially if you play like softball or baseball, something you really look forward to when you go to college is your spring trip. And finally getting that was great and the weather was nice." – Samantha Crowley (Junior, Captain)
The spring training trip allows the team to not only re-enhance their skills on the diamond but also become closer as a collective. For Captain Kaylee Gibson, the trip stood out from previous years' trips that she has been able to attend. The team was able to take the opportunity of being in Florida together to partake in many group-building activities that did not necessarily revolve around softball. 
"I guess this trip specifically was different just because we all really had a chance to come together. We planned a lot of activities outside of games around the team. We really wanted it to be a team-focused trip because that's something that, again with COVID, we've just really missed out on… Especially this year, there's so many of us… there's so many people, and we really wanted that whole week to be focused on spending time as the group of 20. I think in previous years there have been like 'oh, like you can choose to go to a Red Sox game or like some of the team is going to go do this'.- and this year, we really wanted [to] focus on being a team. Like, we fed alligators as a team. One of our things after practice is we always say 'team first' and like we're really trying to emphasize that. I think that came through in Florida."  – Gibson 
As for the games in Florida- the Cougars were, unfortunately, unable to produce many wins during their spring trip. The Cougars won two games of the ten played, collecting victories against Anna Maria (6-1) and Potsdam (4-1). Despite the losses in the games played, the captains reflected nothing but positive attitudes regarding their experiences playing down South. 
"[About] half of our team are first-year students, but everyone got a chance to play down in Florida and that was great. Really, just like getting them used to college softball or like, you know, getting their toes in the water and calming down the nerves of everyone. Really getting ready for the season and for NEWMAC play was one of our goals." 
– Crowley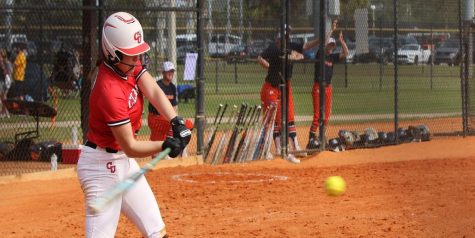 Outlook for the season:
 Now that the team is back in the Northeast, they hope to continue the optimism and "team first" essence that they emphasized while in Florida. One of the main goals for the season that the captains shared is to maintain good communication and keep up the cohesiveness of the team. 
 "Unlike previous years, I feel like we've had really great communication and like that's just evident in our cheering in the dugout or like how we're picking up our teammates as we're coming in, like that kind of stuff. That's something that we have all commented on as being a positive from previous years and we just want to see that keep growing." – Gibson
"Like what does Kelly [assistant coach] always say? Support each other fiercely. That's also been a big thing this season, too". – Reilly Bronson (Senior, Captain)
The team kicked off NEWMAC conference play on April 1 with a pair of games against Wheaton. The Cougars fell short in both games, with a final score of 6-3 for the first game and 7-4 for the second. Even though the Cougars did not come home with a win against Wheaton, the team continues to have an optimistic outlook on the season. The team's optimistic outlook was especially strong when it came to their home-opener games that took place only a few days after their loss.  
"Yes, we might have lost both games yesterday, but we played really, really good softball and did amazing plays that I don't think I've ever seen our team or teams in general do. I was just really, really proud of that. That alone just shows that we are here to compete in the NEWMAC, and we are here to play…Everybody from yesterday had something to add to their highlight reel. That's something that we can bring into tomorrow. And I think that that's really, really good confidence for every single person on our team."- Gibson
"We had two like really good games and I don't think the score reflected like how well we did. I was very proud of everybody out there…So I think tomorrow, like, we're ready, we're going to go out. "- Bronson
"I think with how we played yesterday, if we just keep that up we definitely can beat anyone. So I'm just excited and I want to get after and play."- Crowley
RECAP OF THE HOME OPENER
The softball team welcomed Fitchburg State at their home field, O'Brien Softball Field, for their 2023 home-opener on April 4. The Cougars played two games against Fitchburg State, splitting the series. The Cougars took game one 10-7 but fell short in game two with a final score of 13-8. 
Game one began with Brooke Buzzeo taking the mound, producing a scoreless inning. Felicia Salvatti singled through the right side plating Eliza Lindberg in the bottom of the first and granting the Cougars a 1-0 lead against the Falcons. The Falcons came back in the top of the third, tying the game 1-1. Lindberg and Rebecca Mauro each singled in the bottom of the third, but were unable to return to home plate. The Falcons plated six runs between the fourth and fifth, leading the Cougars 7-1. The Cougars shortened that lead however as Gibson hit a three-RBI double to left center, plating Mauro, Lindberg, and Crowley. Bronson then doubled to left center, allowing Gibson to return to home plate,making it a 7-5 game. Clark rallied back in the bottom of the sixth, scoring five runs and taking a 10-7 lead as Mauro belted an RBI double to right center, plating Spence and advancing Lindberg to third. Salvatti then hit an RBI single to the shortstop, advancing Mauro to third and plating Lindberg. Gibson hit an RBI single, plating Mauro. Finally first-year Maggdalena Barthel hit a two-RBI single to right field. Senior Nicole Buckley retired the Falcons in the top of the seventh, finishing off the game with a victorious final score of 10-7 for the Cougars. 
Game two started off rough for the Cougars as Fitchburg state plated five runs in the top of the first. The Cougars did not give up however, as Gibson recorded an RBI walk and Lindberg scored on a passed ball in the bottom of the first- making it a 5-2 game. The Cougars were able to plate two runs in the bottom of the fourth as Mauro belted a double to left field, allowing Crowley and first-year Emilie Spence to score, making it a 5-4 game. The Cougars took the lead in the bottom of the fifth when first-year Barthel singled to the left side, allowing Salvatti to score. Bronson scored on a wild pitch, and Spence singled up the middle to plate Barthel, producing a 7-5 advantage against Fitchburg State. The Falcons batted strongly in the top of the sixth and seventh, scoring a collective seven runs and making the score 13-7. Feeling the pressure, the Cougars continued to fight against the Falcons as Crowley launched a double to right center, plating graduate student Jessica Martin.This hit produced the final score of the game: 13-8. 
The season has only just begun, and there is so much more to see from the Clark softball team as they continue competing in the NEWMAC this year. The team hopes to continue producing wins and improving their gameplay. Massive thank you to the softball coaches, Linda Wage, Steve Ginese and Callie Andrews. Another huge thank you to the captains Kaylee Gibson, Reilly Bronson and Samantha Crowley for allowing me to interview them and for granting some insight to the season. I think it is fair to say that we are all looking forward to seeing what the rest of the season entails for the Clark Softball team!
Leave a Comment