When I first moved into Wright Hall, in fall of 2020, there wasn't much to do on campus. I made it my mission to get out and see the city – and, at that time, the safest way to do that was to visit its parks. I started by looking for good vantage points from which I could see Worcester's skyline, and kept going from there. Exploring Worcester's greenspaces shaped my first year, and my relationship with the city. It still does. There are many more spots to visit than just these, of course (my list is biased, as I have filled it only with places I have visited), so get out there and get back to me on where to go next! 
In Our Neighborhood
A centerpiece of Main South and a part of Clark culture from the very beginning – the city started its purchase of the property in 1887. Anchored by Crystal Pond, the park is perfect for year-round use, hosting basketball and volleyball courts, and a great hill for sledding. Improvements are slated for UP soon thanks to a $1 million grant from the National Parks Service, including a new spray park. Fun fact: Crystal Pond was the site of the long-discontinued annual sophomore-freshman rope pull. If the freshmen won, contemporary documents say, they would be freed early from their extra "obligations" as new Clarkies.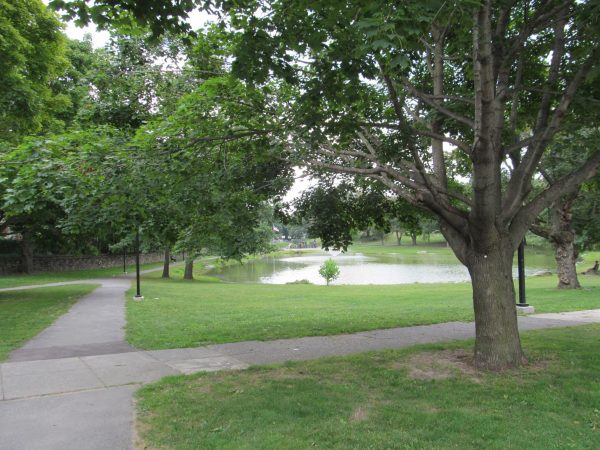 Just a short walk from campus, this 26-acre tree sanctuary is arguably the gem of Clark's properties. The Arboretum is crisscrossed with walking paths, and bisected by the citywide East-West Trail. Willed to the University in 1907, the space is home to a spectacular diversity of flora, a community garden, and is used regularly for research. Certain classes, in fact, will likely take you here. Fun fact: catch a game at Clark's O'Brien Softball Field, contained on-site near Knowles Rd.
Being the closest swimming spot to the University outside of the Kneller, the beach at Coes Reservoir is a popular spot for Clarkies to cool down. With a playground on the south shore and a new boardwalk hugging the perimeter of the east shore, Coes has something for everyone. Fun fact: the trail around the Reservoir is connected to Hadwen Arboretum by the East-West Trail via Knights of Columbus Park.
Tucked quietly behind Main Street by a curtain of trees and historic row houses, this small community park was recently refurbished with basketball courts and a new playground. Ely Street, just a few steps to the north from this park, offers an unparalleled view of downtown Worcester that makes any visit here worthwhile. Fun fact: this park was once the site of the Oread Institute (1849-1881), an early women's college, housed in a gothic castle. The University of Kansas sits atop Mt. Oread, named after Worcester's Institute.
Transit & Walking Distance 
Distinguished as the second oldest public park in the country and by its design from the landscape firm of Frederick Law Olmsted, Worcester's Elm Park is the centerpiece of its neighborhood. Surrounded by picturesque triple-deckers and public art, this park is a short distance from the former campus of Becker College. The adjacent Newton Hill property allows Elm Park to offer everything one could want from an urban park in every season. Fun fact: don't miss stART on the Street, the art, music and performance festival hosted on Park Ave. along Elm Park every September!
With a concert stage, plenty of field space, and walking trails around Salisbury Pond, Institute Park is much more than WPI's front lawn. A perfect stop on a walking tour of this side of the city, home to a number of cultural destinations. Fun fact: this park is just across the street from the Worcester Rural Cemetery, another nice spot for a walk – and the site of Jonas Clark's grave, if that interests you. 
Salisbury Park (Bancroft Tower)
Atop one of Worcester's hilliest hills is one of its most recognizable landmarks: Bancroft Tower, built in 1900 for Stephen Salisbury III (a dominant name in Worcester in his time; cofounder of the Worcester Art Museum, among other institutions). Though Salisbury Park itself is small – and to my knowledge, the general public cannot enter the tower without permission – the tower itself is a celebrity worth visiting, thanks especially to the views its perch offers of WPI and downtown Worcester. Fun fact: the tower is dedicated to George Bancroft, a friend of Salisbury's father. Bancroft was a well-regarded politician: he was Secretary of the Navy, and founded the U.S. Naval Academy.  
Further Afield
Middle River Park and the Blackstone River Greenway
Situated between the Providence Turnpike and Holy Cross, this park – a single trail, mostly of bridges crisscrossing the Blackstone River – is a quiet spot to birdwatch and stroll. It also offers a convenient connection to the Blackstone River Greenway and Bikeway, which is grade-separated for almost three miles, offering cyclists an off-street path to make it (nearly) to downtown Millbury. Fun fact: when I brought my friends to this park, we discovered that walking over the bridges generated lots of static electricity, which we could use to shock each other. 
At nearly 500 acres, this park is the city's "largest and most diverse," according to the Parks Department. Green Hill has unmatched scale, with sweeping views of the city and of the park itself from the peaks of its rolling hills. There are forest trails, memorials, an 18-hole golf course (I played the back nine, just not very well), and a farm that is free to visit. This is a crown jewel of Worcester's parks system, and should not be missed. Fun fact: though I have not tried it myself yet, Green Hill Park seems to be the best sledding spot in the city.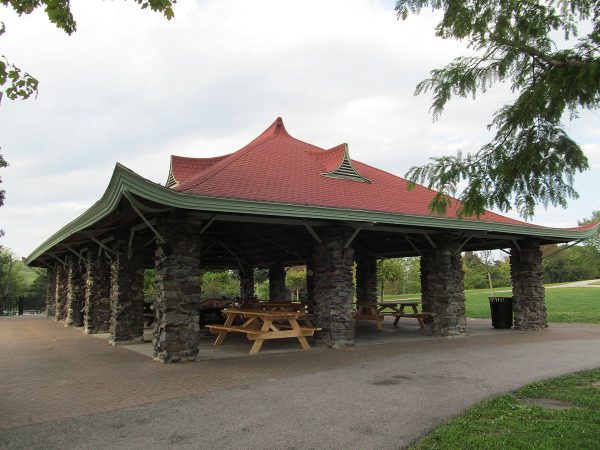 Tetasset Ridge (God's Acre)
If you, like me, should ever find yourself staring at Worcester's western hills from the upper floors of the library, you are probably staring at this Greater Worcester Land Trust property. My mission to find the best view of Worcester was at last complete when I reached the top of God's Acre – the overlook is just beneath the Worcester Airport. The trails here are the closest to a "true" hike in the city that I have found so far – these trails are not as regularly managed, so pay close attention to the blazes! Fun fact: this property gets its name from Soloman Parsons, who in the 1800s purchased land here to prepare for rapture. Parsons deeded the land to God; you can still find this agreement chiseled on "Deed Rock," on your way to the ridge. 
Beyond Worcester
Wachusett Mountain State Reservation, Princeton
Just over a 30-minute drive from Clark, this DCR site has over 3,000 acres of forested area to explore by trail. In the summer, the summit is accessible by car; hiking is great here year-round. On a good day, the skylines of both Worcester and Boston are clearly visible, as well as the mountains of southern New Hampshire and Vermont. Wachusett is also famous in its own right to Bay Staters as a snow sports destination, so be sure to check out everything this mountain has to offer! Fun fact: Wachusett is home to one of the largest crops of old growth forest in the region. 
Purgatory Chasm State Reservation, Sutton
Purgatory Chasm was one of the first "finds" among my friends, and we now frequent it for a walk between its 70-foot-high walls, exploring its small caves. It's the perfect spot for a shorter trip, being relatively close to Worcester – but if you do have time to spare, the tops of the cliffs are perfect for watching an afternoon go by. Fun fact: the leading theory on the chasm's formation is that it was carved by the rushing waters of a melting glacier.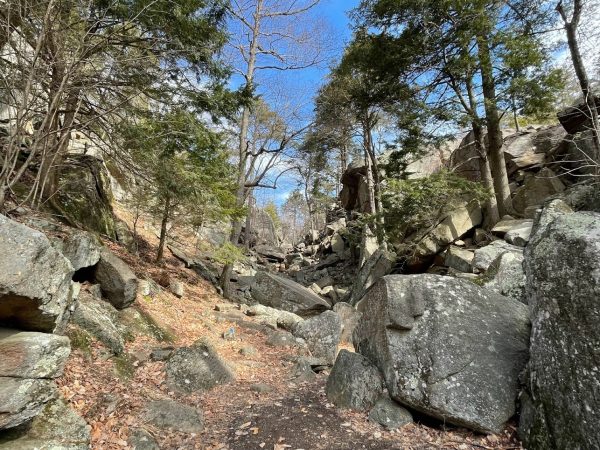 A visit to the 205-foot-high Wachusett Dam offers several unique views: of the Wachusett Reservoir, one of Boston's primary water sources; of the dam itself, a marvel of engineering; and of the small park below, complete with a powerful fountain. I like making the trip around the reservoir, and up to Clinton, when I feel the need to get a change of scenery. Fun fact: when it was completed in 1905, the Wachusett Reservoir and its dam were the largest of their kinds on Earth, per the MWRA.