The excitement of starting college often comes hand-in-hand with a series of challenges. For many first-year students, one big adjustment has been living in forced triples. While the intention of Residential Life and Housing is to maximize limited housing resources, there is no denying that these crowded living situations are taking a toll on students in many ways.
Forced triples, where three students are squeezed into a space designed for just two, are more normal this academic year, following an increase in the number of first-year students. 
The Class of 2027 is at least 15 percent larger than last year's record-breaking first-year class. In 2022, ClarkNOW declared that the Class of 2026 was the largest in university history at 705 students; the current first-years number at 817 in total, according to Clark's "Fast Facts" webpage. 
Clark reported to the Worcester Historical Commission over the summer that the University was at 103% of its housing capacity last academic year, according to a well-publicized application for a Demolition Delay Waiver to start work on a new residential building with more than 500 beds. 
So when first-year students placed in forced triples showed up on this year's move in day, they had to divide up the room three ways instead of two. This was not made easy by what the university had provided. One room offers a loft bed and a bunk bed along with three different desks. This arrangement typically involves shared closet space, limited personal space and limited room to move around.
"Me and the person who got the other floor bunk share a closet and the shelves, and because the roommate who got the top bunk had last pick, she gets a whole closet and shelves to herself," said first-year Lucy Bonat. Because the room is designed as a double, it only has two closets. The other option provided for storage was a dresser with two drawers. The dimensions of a Bullock triple room are 15.33 x 14.50 feet, which seems big enough, but once you add beds, desks, closets, a micro-fridge and students, the room gets a lot smaller.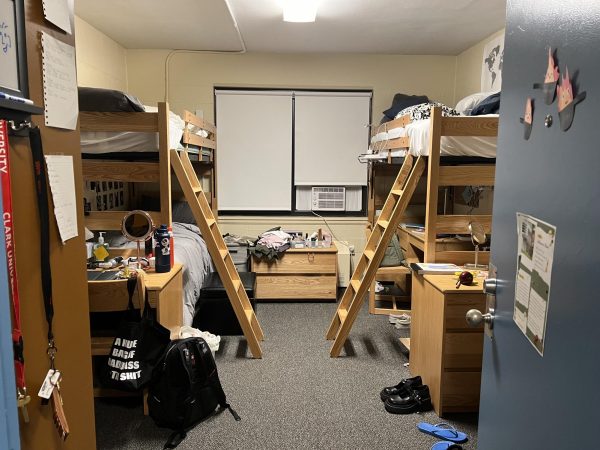 Even with the prominence of bunk and loft beds, ladders have been irregularly provided to residents. Triple-dormers are expected to clamber up onto their bed by way of their desk and the end railings of the bed frame.
"I like to say I have decent night vision. So, it wasn't terrible, it was just very annoying to get down, which was mostly the problem," said first-year Sophia Wall. "Because I'm on a top bunk, I had to climb on someone else's desk to get on my bed. And I had to lunge myself up or launch myself up. And it was kind of awkward. But after a while, I got used to it. But now we have ladders." 
Though the climb may be manageable, students do not always feel comfortable and safe climbing up on the beds. "Oh, no, no, I didn't," said Wall. "Every time I got down, I felt like I might break an ankle today, we'll see. It's like a little roulette." 
Not everyone wants or gets a ladder. The limited space in a triple is limited further by the addition of two ladders. 
MORE THAN 30 STANDARD-DOUBLE DORMS DESIGNATED AS TRIPLES
This academic year, first-year students are living in Bullock, Wright, Dana, Hughes, and Dodd halls. According to Residential Life and Housing floor plans, Bullock Hall has 14 triples, 48 doubles and seven singles, Hughes has two triples, 59 doubles and 24 singles, and in Dana there are three triples, 63 doubles and 22 singles. In Wright Hall, there are 14 triples, 65 doubles, and 13 singles. As the basement and first floor of Dodd Hall are exclusively first-year students, that is where the count happened. In Dodd, there is one triple, 12 doubles, and 14 singles. 
From the data, the bulk of the forced triples in first-year dorms are in Bullock and Wright halls where air conditioning units have been installed for this fall. Due to unavailable floor plans for Wright and Dodd, the number of triples had to be counted independently based on the name signs created by residential advisors, which may make the data slightly skewed, as students have a habit of taking their name tags off the doors. 
When asked if she requested a triple on her housing form, Sophia Wall said, "No, that was one of my last choices, actually. I requested a double and then I requested a single and then I requested a suite and then I requested a triple," she said. 
Many students are in the same situation as Wall, seemingly because the large number of freshmen may not have been accounted for in the housing request process. Interviews with students about on-campus housing revealed that it was much easier to be assigned a double if you found a roommate before filling out the housing request form. 
First-year Logan Breen and his roommates connected prior to filling out the housing request form. Breen and his friends actually requested a triple, expecting that the room would be designed for three people. It wasn't. 
"Well, I mean, I was a little annoyed, right?" said Breen. "I feel like since I specifically requested a triple, we should have gotten priority over the people that were forced into triples, but at the same time, what am I going to do about it?" he said. "You know, it works, and I like my roommates, which helps a lot. So, it's not a huge deal, but it's definitely annoying."
Though an understanding may exist among first-years about the necessity of triples, it is harder to understand and accept how Clark's Office of Residential Life and Housing got to this breaking point. 
"I understand that the university can't predict how many people are actually going to accept admission offers," said first-year Connor Dunham. "It's not like there's one or two forced triples," Dunham said. "There's a lot of forced triples… that indicates to me that maybe they need to be more selective if they don't have the housing. Because it's a forced triple, it's not meant to be a triple," he said.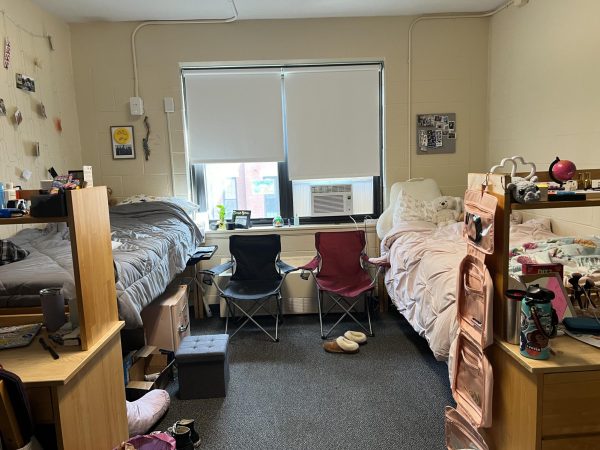 Many of those interviewed that live in both triples and doubles agreed with Dunham. "I think it's stupid," said Sophia Wall. "I think that if we have a certain number of dorms and a certain amount of space for each student… why would you let in even more to make your students way more uncomfortable than they have to be already, in like a new adjustment?" Wall suggested that other classes, and not just first-years, should have to bear the burdens of Clark's limited housing.
"I don't think it's necessarily fair at all," said Danielle Kwasniewski, a first-year living in a standard double. Kwasniewski said he understands that some students actually request triples, but knows that virtually none of Clark's dorm rooms can realistically support three people. He said he "can't imagine" adding a third person to his room.