Meet The 2020-2021 Student-Athlete Advisory Committee E-Board
This year we have seen a major shift in Clark Athletics. With all sports teams facing mass cancellations due to the NCAA ruling, many student-athletes have sought to hear the ideas of the incoming e-board for Clark's Student-Athlete Advisory Committee (SAAC). This week, SAAC e-board members sat down with us to discuss plans to support and represent student-athletes in this time of uncertainty.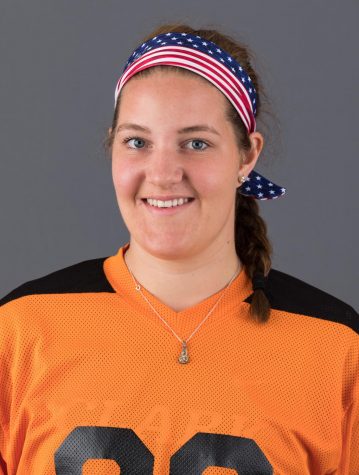 President: Katie Crowley
Scarlet: How did you get involved in SAAC?
Katie: I got involved in SAAC during my freshman year at Clark. Our team (field hockey) encourages everyone to participate in SAAC so that we can create change on campus and give back to the community. From there, I joined the E-Board Junior year and now I am serving as President.
Scarlet: As President of SAAC, what kind of initiatives is your team looking at implementing for this current Semester and beyond?
Katie: This semester we are trying to make impacts on the community even in light of the COVID-19 situation. We are going to be pen pals with local seniors and youth athletes. We are also working on the mask up initiative and handwashing initiative to spread awareness during the pandemic. Finally, we are working on getting 100% voter registration in the department. We are working with the men's basketball team to spread information on how to register.
Scarlet: Has the Clark Fitness 1.0 project taken on by SAAC, met your goals and expectations going into that project?
Katie: Yes, I think the Clark Fitness 1.0 project has been a great way to engage and increase fitness awareness. I have received lots of positive feedback on the project.
Scarlet: As President, what is the number one issue you plan to work on, in representing student-athletes here at Clark?
Katie: The number one issue I believe we are facing currently is mental health awareness. I believe there is a stigma around mental health that makes people feel uncomfortable in addressing their issues. Over the past several years, student-athletes have spoken out about mental health awareness, and last year on SAAC we did the #breakthestigma campaign. We have a mental health sub-committee on SAAC led by a women's soccer player, Mo Small. We are also working with Allison Elber who is a sports psychologist to learn tactics to manage mental health struggles. I believe that during the COVID-19 pandemic more people are facing struggles with their mental health and that this is a critically important subject to give people resources.
Scarlet: How have past SAAC projects like the Beaver Street Clean-Up, inspired you in planning projects for this Semester?
This year we are limited by COVID, but we are trying to do our part in still having impactful projects. We believe still connecting to the community virtually or in a socially distanced manner is an important part of SAAC this year. To engage with the community, we are doing many initiatives to spread awareness on social media. We are also trying to put together a pen pal system with the student-athletes as a fun way to engage with the community. I believe that these kinds of projects are vital in forming an inclusive environment and bringing awareness to how important athletics are.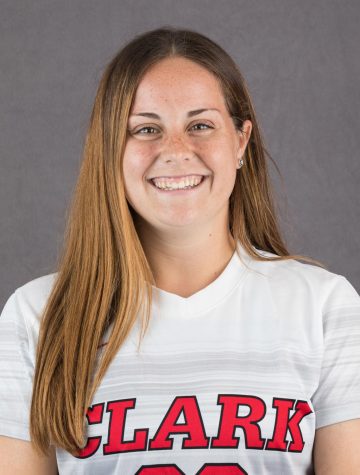 Vice President: Abby Sousa
Scarlet: How did you get involved in SAAC?
Abby: I got involved with SAAC my freshman year at Clark and started off as a delegate. I really loved the initiatives SAAC was involved with, especially SAAC's initiative to get involved with the Worcester community and partner with Columbus Park Elementary school. By my junior year, I knew I wanted to be a part of the e-board and I was eventually elected as Co-Community Outreach Director. Much of my responsibilities included communicating with our contact at Columbus Park, as well as organizing different events focused on athletics to put on for these students. This year, I am the Vice President of Clark and much of my responsibilities include supporting our President and taking charge of new initiatives. 
Scarlet: What inspired you to become Vice President of SAAC, and what are your number one priorities for this upcoming Semester in this e-board position?
Abby: I wanted to become Vice President of SAAC because I wanted to take on more of a leadership role within the E-board. I loved the work I did as a Community Outreach Director, but I wanted to try something new for my senior year. My priorities for this semester are coming up with creative ways to shift our events to a virtual format and to come up with new initiatives to keep our athletes involved and engaged during these unusual times. 
Scarlet: What do you believe SAAC will look like this year, in light of the COVID-19 pandemic?
Abby: I think SAAC is going to involve a lot of social media engagement and virtual events this year. Some of the initiatives we have planned include a voter registration initiative where we are looking to get the whole athletics department registered to vote, a hand washing and mask up initiative, and a pen pal initiative where we would become pen pals with Worcester residents living in nursing homes and local Worcester children.
Scarlet: What is your message to first-year athletes joining SAAC and Clark Athletics this year?
Abby: My message to first years in terms of SAAC is to get involved as much as you can! SAAC offers plenty of opportunities to get involved that represent a wide range of interests such as mental health, social justice, Covid-19 risk mitigation, and social media just to name a few. In terms of joining athletics, my advice is to enjoy every minute of it! College flies by so it is important to make the most of your time as an athlete and enjoy your sport and your teammates while you can. 
Secretary: Jess Martin
Scarlet: How did you get involved in SAAC?
Jess: I've been involved with SAAC through the general committee since freshman year after one of the seniors on my team got me to come to the meetings. I got involved in SAAC eboard as another eboard member suggested I ran for secretary to get more
Scarlet: What was your favorite event that SAAC hosted in prior years?
Jess: Something that SAAC is involved in/hosts is having the teams go to Columbus Park and show their sports to the students. The students love when we go to their school and get them involved in a variety of different sports. All around it's a really fun experience for both the students and college athletes.
Scarlet: What is one initiative you would like to implement within SAAC in this current school year?
Jess: An initiative I'm excited about this year is the #maskupegodown posts. These posts are being created to show why us athletes are wearing masks around campus and how we are following the Clark Commitment. These posts are meant to spread awareness around campus as a reminder to wear masks and social distance.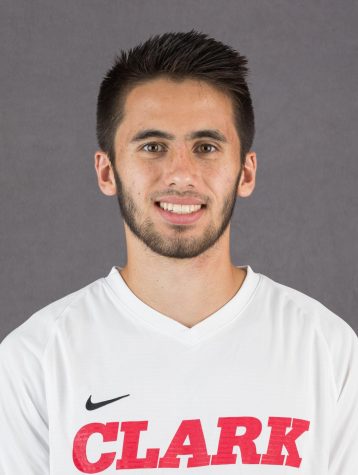 Treasurer: Greg Amador
Scarlet: How did you get involved in SAAC?
Greg: I am a junior biochemistry and molecular biology major on the men's soccer team here. I got involved in SAAC as a sophomore because I wanted to become more involved as a leader on campus for the athletic community. This past year I was elected as the treasurer for the eboard, and I am excited to be able to have a bigger impact on the community.
Scarlet: What does budgeting look like for SAAC this upcoming Semester and year?
Greg: In terms of budgeting, what SAAC is looking to do is maintain a feeling of community during these strange times. Obviously we can't reach out and use our budget in ways that previously we had, so for this year it will mainly be used to make our athletes feel more connected, such as athletic wear and things like that.
Scarlet: Has SAAC planned any events at Columbus Park this Semester, and if so are there any details you can talk about regarding community our-reach this year?
Greg: Community outreach this year will look a bit different, as we have limitations due to COVID-19. However, we still want to have an impact and are still determining how best to do that. For example, we are looking to get involved through zoom to provide mentorship to kids and possibly senior citizens in nursing homes. Besides that, mostly looking to make sure we are supporting COVID-19 precaution efforts in our community.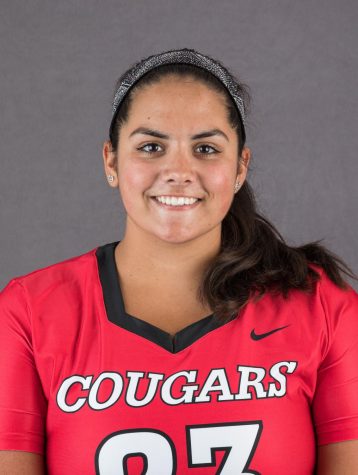 Community Outreach Chair: Sophia Poulin
Scarlet: How did you get involved in SAAC?
Sophia: I am a senior on the field hockey team this year and am in my second year as the co-community outreach director on the SAAC eboard. I have been part of SAAC since my freshman year at Clark because I was interested in helping the Worcester community while also representing my team. I am currently majoring in Community, Youth, and Education Studies at Clark and am doing my fifth year in the Masters of Arts in Teaching. Because of my passion for education, I'm particularly invested in my position on this board  due to our close relationship with both administration and students at Columbus Park Preparatory Elementary School.
Scarlet: Amid the COVID-19 pandemic, how does SAAC plan to reach out and provide support to the Worcester community?
Sophia: We are currently in communications with Columbus Park (CP) administration in order to establish ways in which we can still assist them amongst the pandemic. Some of our preliminary ideas include instituting a pen pal project where our athletes will be paired with a student to write to, having our athletes make short videos introducing themselves to students for teachers to play for their classrooms, and reaching out to different restaurants in Worcester to attempt to get vouchers for CP to use to reward their students for their hard work and effort. Outside of our work with CP, Sawyer Kindel, the other co-community outreach director, is working with his team to organize a gear drive where our athletes donate their lightly used/old equipment to give to students who need them in Worcester.
Community Outreach Chair: Sawyer Kindel
Scarlet: How did you get involved in SAAC?
Sawyer: I got involved in SAAC my freshman year, when my captain at the time told me to attend a meeting so that our team could be represented. After that meeting, I began attending every one after because of the work that SAAC put into giving back to the community. My Sophomore year, I decided to run for Community Outreach Director so that I could get more involved with new community initiatives.
Scarlet: Amid the COVID-19 pandemic, what do you believe community service efforts by SAAC will look like for this upcoming Semester?
Sawyer: Because of COVID much of the community, especially the children in school, are still quarantined. Many of the programs SAAC had set up in the past are no longer possible, such as Columbus Park play days. I think, though, that the SAAC board is being very active in coming up with new ways to reach out to the Worcester community, especially those living in Main South. I am very confident, going forward, that COVID will have a positive result on our community efforts because it has forced us to think outside the box.