"Not Just Simone Biles, But Simone:" The GOAT Sets a New Kind of Example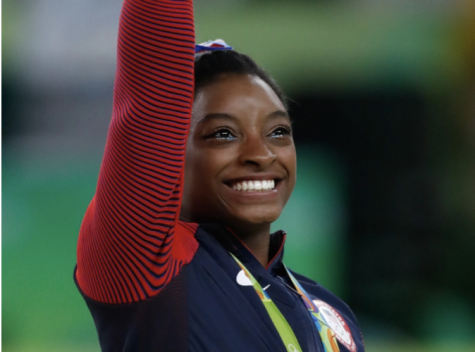 Simone Biles at the 2016 Rio Olympics (credit: Caribbean Times)
On Tuesday, July 27th, Team USA Gymnast Simone Biles withdrew from the all-around competition at the 2020 Tokyo Olympics.
USA Gymnastics released a statement following Biles's decision to remove herself from the competition: "Simone Biles has withdrawn from the team final competition due to a medical issue," they wrote. "She will be assessed daily to determine medical clearance for future competitions. Thinking of you, Simone!"
According to CNN, Biles performed the Amanar vault during the first rotation but only managed one-and-a-half rotations before landing shakily. She withdrew directly following this event but went back to the gymnasium before the second rotation to watch and support her teammates.
Following a medical evaluation, it was concluded that Biles was suffering from the "twisties", a phenomenon that causes disorientation midair. While the name may sound cute, the condition can be dangerous or even deadly.
According to Insider, a gymnast with twisties cannot tell which way is up, making it especially difficult to execute flips and stick landings. A Psychology Today article elaborates on the condition, saying that when people are overwhelmed by stress and anxiety, the body has a more challenging time determining where it is in space.
Citing the persistence of the twisties in addition to mental health concerns, Biles withdrew from the uneven bars and all-around events. "I usually persevere and push through things," Simone said in an interview for CNN. "But not to cost the team a medal."
Fellow Team USA Gymnast Jordan Chiles replaced Biles in the uneven bars event. Jade Carey, a Team USA Gymnast who finished ninth overall and third for the United States in the Olympic qualifying rounds, took Biles's place in the all-around.
Biles won two medals at the Tokyo Olympics: a bronze medal on the balance beam and a silver medal for the Olympic team finals. Team USA won the silver medal in the all-around competition, and the Russian Olympic Committee won gold.
Biles, widely regarded as the world's best gymnast, had been dealing with the stress and anxiety of being on the world's stage long before the Tokyo Olympics. She is the only self-identified survivor of former national team doctor Larry Nassar's sexual abuse crimes who still competes at the Olympic level. 
"I came here, and I felt like I was still doing it for other people," Biles said in an interview for the Washington Post. "So that just hurts my heart that doing what I love has been kind of taken away from me to please other people."
"We want to walk out of here," Biles continued. "Not be dragged out of here on a stretcher or anything. So it's like, got to do what's best for me, and that was what was best for the team."
According to an AthletaWell video, Biles spoke to her coaches and Team USA sports psychologists. Both Justin Beiber and Demi Lovato had reached out to her over social media to offer support. "We're not seen as normal people walking around," Biles said. "People…praised me for what I've done in the gym and not really outside."
"We wholeheartedly support Simone's decision and applaud her bravery in prioritizing her well-being. Her courage shows, yet again, why she is a role model for so many," USA Gymnastics said.
Biles is not the only athlete who has made national news for advocating for their mental health. Naomi Osaka, the number-two ranked tennis player in the world and member of Team USA, took a two-month mental health break before the Tokyo Olympics. According to NBC, she withdrew from the French Open and Wimbledon as a result of anxiety and a desire to avoid highly-televised media interviews.
According to NPR, Osaka won the French Open at the beginning of the year but had been struggling with feelings of anxiety and depression. She was fined for skipping tennis-related news conferences leading up to the Wimbledon tournament, and as a result, she withdrew from Wimbledon due to mental health concerns.
In 2018, Osaka beat Serena Williams in the 2018 U.S Open, which launched intense controversy in the U.S media. This caused her to suffer from "long bouts of depression."
"The best thing for everyone, the other players and my well-being is that I withdraw so that everyone can get back to focusing on the tennis going on in Paris," she said in May.
Osaka lost in her third round to Marketa Vondrousova of the Czech Republic in the Tokyo Olympics, effectively removing her from the competition. During a press conference on Friday following a loss in the U.S Open, Osaka announced that she may take an "indefinite break" from tennis.
"I feel like for me, recently, like when I win, I don't feel happy," Osaka said in the interview. I feel more like a relief and then when I lose, I feel very sad."
Both athlete's decisions to step back from these highly-televised events have thrust the issue of self-advocacy in athletics to the forefront of social media. Celebrities such as Max Whitlock, Kira Kosarim, and Sooz Kemper posted their support of Biles on Twitter.
Biles was welcomed back to her home in Houston by her family in addition to a mass of cheering fans. KHOU Anchor Xavier Walton posted a video of a parade of fans and supporters, waving signs and posters as Biles drove home.
"I know that I helped a lot of people and athletes speak out about mental health and saying no, because I knew I couldn't go out there and compete," she said in an interview.
Referring to withdrawing from the all-around, she said, "that's the first time I felt, like, human.
Besides Simone Biles, I was Simone, and people respected that."
The coronavirus has exacerbated mental health struggles, especially for teens and young adults. It is in no way shameful to speak up and seek help; in fact, it is extremely brave. Readers seeking mental health support or looking for tools to advocate for themselves can find resources at Clark University's Center for Counseling and Personal Growth: Center for Counseling and Personal Growth.