"ABBA: Here we go again in 2021"
Let me hear you sing once more like you did before, ABBA! On September 2, after four decades, the Swedish pop band known as "ABBA," surprised the world with the announcement of an upcoming album. The album, dropping on November 5, is to be titled Voyage. Along with this album, two new singles have been released, "I Still Have Faith In You," and "Don't Shut Me Out," which, as of September 12, have already gathered over 21 million streams on Spotify alone. There is no way you can deny it; ABBA is back.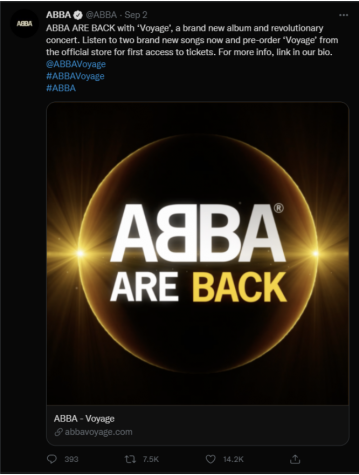 (Source: @ABBA on Twitter)
You might think that's the end of it, ABBA having reunited and gifted us with new music after 40 years of silence, but you'd be wrong.

(Source: @ABBA on Twitter; Twitter Header)
In a collaborative effort with a team made up of 850 workers from George Lucas's Industrial Light and Magic, ABBA now has digital avatars of their younger selves to star in a concert at Queen Elizabeth Olympic Park in London on 27 May through 2 October, 2022. Designed by STUFISH Entertainment Architects, the ABBA Arena is a venue created specifically for ABBA Voyage, which is transportable and will appear in a tour of other cities after the set dates in London. No updates have been given on specific locations yet.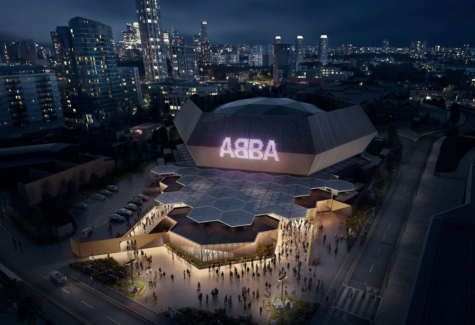 (Source: https://abbavoyage.com/thearena ; Artist Impression: STUFISH Entertainment Architects)
Ethics of generating younger versions of artists aside, this is all very exciting from a technological and fan point of view. After all, it isn't everyday you get to see an old band come back with pixelated younger versions of themselves. With the current looming presence of COVID-19, it's hard to tell whether this event could be dangerous by May of 2022, but my guess would be that this could launch another spike of cases in the London area—and beyond, for travelers attending—if necessary precautions aren't taken into account. Introducing the ABBAtars (yes, that's the actual term for the ABBA avatars) is one step closer to introducing fully digitalized concerts, with a digital audience and a digital stage. This isn't a completely new concept; a famous example of an online live concert would be Travis Scott's 2020 Fortnite performance for Astronomical. For artists looking into new and creative ways to perform their music, this is definitely an eye-catching option. 
However, this trend of taking away the in-person aspect of live concerts is equally interesting and troubling to me. Whether it be the actual performers, the crowd, or even both, it's been happening more often in recent times. The rise of a certain virus is no doubt a factor, but another factor would also have to be the rise of having the required technology at hand to make these events happen. New technology is constantly being engineered, while old technology is constantly being improved. The questions I'll leave you with are this:
Is the future for live concerts going digital? And is that really such a bad thing?