Clark Soccer Teams "Kick Off" Their Seasons
This season, both Clark's men's and women's soccer teams have won most of their games. The men's team is currently 4-2 and the women's team is 3-1. Both teams have incredible players who love the team and have nothing negative to say about their experiences. Not only are they successful in their games, but they are also successful in their team relationships.
I have talked to players on both the men's and women's teams and all of them raved about the incredibly supportive environment present on the team, delving into how this positive atmosphere sets them up for future wins. Listening to the players talk about their teams was incredibly eye opening and shed light on both team's overall structure and how they function.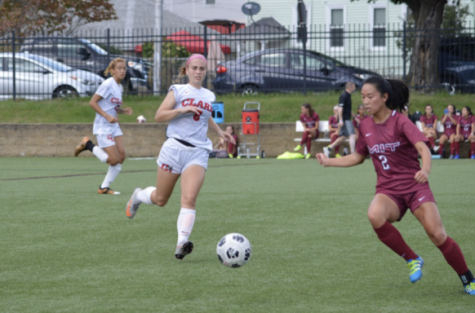 To start off, let's talk about the women's team. I asked a few of their players some questions about their sport.
When asked what it's like being a freshman on the team, Andrea Mortimer said,"it's definitely tough, but I feel supported by the team and I have resources to reach out to if I need them. I have to work hard to make myself known. It's also nice knowing upperclassmen and being able to say hi to them." When asked what the most important part of playing soccer is, she said, "having a positive attitude. It makes or breaks games and practices. If I'm not in a good state of mind, I won't be able to practice. Being in a good mood makes a difference when I play.
Senior captain, Jamie Joseph, said about being a senior on the team, "I just feel really lucky to be having a somewhat normal senior season this fall. As a senior captain, I'm excited to build off the legacy of seniors who came before me as they worked so hard to make Clark University Women's Soccer not only a competitive program, but such a close-knit family. I really think we have a super special group this year and can't wait to see what we accomplish in conference!"
About handling good and bad games as a team, Jamie said, "we definitely all have our own individual ways of handling bad games. However, something we've collectively decided on this year is this idea of short-term memory. As a team, we believe it's bad to dwell on the bad games and even the good games so we can approach each new day with a fresh mindset. We understand that we can't let a win or a loss dictate our next game because it's a new day and new team."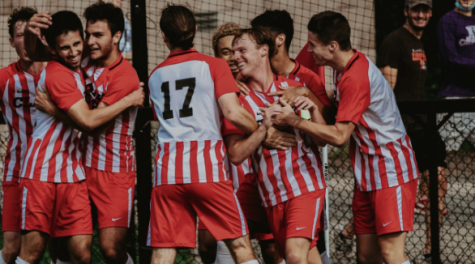 A few of the freshmen, Luke Thomas, Zach Kratz and Tyler Manley answered a few questions. Like Andrea, they talked about what it's like being a freshman. They mentioned how all of the upperclassmen are welcoming and accepting of them as they enter a new  environment. When asked about how much they think attitude affects how they play, Tyler said, "75% of playing is attitude and 25% is the game." Luke then corrected Tyler and said that the statistic is actually 80/20. 
When asked if there was anything they didn't like, there was nothing that they could think of. However, Zach did say that he doesn't like the fruit check…
Later I talked to one of the seniors, Javier Amezcua, who said that playing as a senior is "nerve-wracking. You don't want to end the last season with regrets." Luke, Tyler, and Zach appreciated Javier's words of wisdom and complemented how smart he sounded. After the praise, Javier went on about how he needs to answer the  next question in the form of a haiku. 
When I asked Javier what the most important thing about soccer is, he said "strict system and practice. Everyone is focused on buying into the system. When we have holes in games, fixing them is what losing them is about." I also asked what the freshmen had to say on the topic.  Luke, Tyler, and Zach each said that the team treats all games, good and bad, with the same ideology. Taking the pros and cons and using them to improve as a team. 
Both teams are incredibly supportive of each other and the members on their team. It is very clear that both teams have their own unique relationships and memories, but altogether they are a family on the field!
Support both teams and go to their upcoming games!