Cougars Volleyball: a Superb Start to Fall Play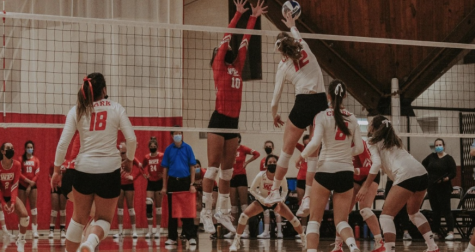 Athletics have made their glorious return to Clark University, with the volleyball team already off to a scorching start to their season. With a record of eight wins and only two losses, this is one of the hottest beginnings to a season in recent memory. Reminiscent of the outstanding 2015 season, during which the team won their first twelve games, Cougars volleyball is primed to finish near the top of the New England Women's and Men's Athletic Conference (NEWMAC) standings. Let's see what has happened so far this season, why the team is doing so well, and how they aim to continue their hot streak. 
The Cougars opened up their season on September 2nd with a victory over crosstown opponent Worcester State; in a game that went to five sets, the Cougars closed out a victory with a score of 15 to 9 in the final frame. Moving on to the JWU Invitational, the squad won all three games slated to be played, including two wins on Saturday, September 4th. On September 8th, Cougars volleyball advanced their record to 5-0 with a home-opener triumph over UMass Dartmouth. After a game scheduled for September 10th at Connecticut College was postponed, the Cougars split their Saturday doubleheader, thrashing Fitchburg State 3-0 but dropping a close match against Vassar College. The first intraconference game of the year ended with a colossal 3-1 conquest over Worcester rival Worcester Polytechnic Institute. Finally, as of September 18th, our most recent games played ended in yet another double header split, beating Roger Williams but suffering a loss to Williams College.
Now that we know where the team stands, let's examine what led to such a successful season start. One aspect that can not be overlooked is the team's great handling of the fall 2020 season (or lack thereof due to Covid). I spoke with head Coach Mickey Cahoon and a few members of the team on this subject and beyond. Coach Cahoon, who is entering his 14th year at the helm for Clark volleyball, said that the team was able to practice outside to keep skills sharp. Perhaps more important however were the meetings held over zoom; in these gatherings, the team discussed topics covering diversity, equity, and inclusion. This helped foster the strong bonds members of the team share with one another. According to head Coach Cahoon, the 2020 fall season was "not a lost year", impressive considering they did not play a single game during that time. 
Moving forward, there was one sentiment that everyone I interviewed shared: team closeness. Coach Cahoon stated that team chemistry is one aspect that has led to their early success. All of the players get along with each other very well and care about each other as though they were family; this shared attitude allows the Cougars to be in sync with one another both on and off the court. The ideas of closeness and exceptional chemistry were echoed by all three players I spoke to. Sophia Torino is a senior and team captain from Los Angeles, California. Torino spoke about the squad agreeing upon a team word at the start of the season, and that word is "trust". Trusting your coaches and teammates is paramount for success on a sports team; without it, you just have individuals on a court, not a team. You can feel the trust each player has— they know their teammates and coaches are there for them. Again this positive environment allows the team to focus on improving their skills and flourishing on the court. Torino, who is a setter, also talked about keeping in touch; the team shares a group chat where they can motivate each other, even if they are back at home. 
On a similar note to strong team bonds, Coach Cahoon has fostered a culture around the team that is caring and supportive. When I asked about Clark's victory over WPI, Coach Cahoon did not immediately speak about the win or anything related to the game; he spoke about WPI volleyball head Coach Greg Poole, who had suffered a stroke and was not with the team. Cahoon talked about how Greg Poole was on everyone's mind and his recovery is of the utmost importance. I did not know of Coach Poole's condition before this interview, however it spoke volumes about the type of team Cahoon wants the Cougars to be. Above all else, caring not just for each other but for everyone. This is the right thing to do, and it can also help the team perform on the court, knowing that the environment around them is so positive. 
Another factor that has certainly boosted the volleyball team's performance is fan attendance. At home games, attendance has been quite high so far! Friends and family have shown up in droves! In addition, Clarkies who just want to show their support for the team have also arrived in strong numbers. Outside hitter Claudia Rivera vocalized how much fan attendance means to the team. The Junior from Guaynabo, Puerto Rico said that the team wants to keep winning so fans will keep coming, and so even more new fans will show up! This positive feedback loop between winning and fan attendance is a strong motivator for the Cougars to keep their hot start alive. Perhaps the best part about fan attendance is the fact that you can have an impact on it, yes you, the person reading this right now. All you have to do is head to the Kneller for the Cougar's next home game, cheer as loud as you can, and watch our volleyball stars claim victory! 
Gazing to the future, one question I had for the team was how can they maintain momentum heading into the middle of the season. Sophomore middle hitter from Bloomfield, New Jersey, Sheyenne Williams, touched on an aspect this team can sure up in order to obtain even more victories. Making sure that this team does not get in their own heads, moving past mistakes, and improving mental gaffes will go a long way to help this team win more games. Coach Cahoon agreed with this, saying that the team is chock full with skilled players, but is also quite young; with there being no season last year, the sophomores are playing in their first full college games alongside the first years. Typically, it would only be first year students who are experiencing their rookie season. With that being said, as the highly skilled players continue to gain experience with every game played, the Cougars are likely to get even better as time goes on!
So far, Clark's volleyball team has had some standouts who not only lead the team, but also the entire conference. Claudia Rivera and Sheyenne Williams each lead the entire NEWMAC in at least one statistical category; Rivera has excelled on offense, accumulating 127 kills and totaling 143.0 points. On the defensive side of the ball, Williams leads the conference with eight block solo and is third in block tallying 28. Marimo Oka has also been exceptional, the senior libero from Fukuoka, Japan sits atop the NEWMAC with 153 digs. With these three leaders, and the rest of an exemplary Cougars squad, our school is sure to enjoy even more great wins. Be sure to show up at home games and revel in the team's winning ways, and remember, ROLL COUGZ!