Love, On Exhibit: Exploring 500 Years of Love with the Worcester Art Museum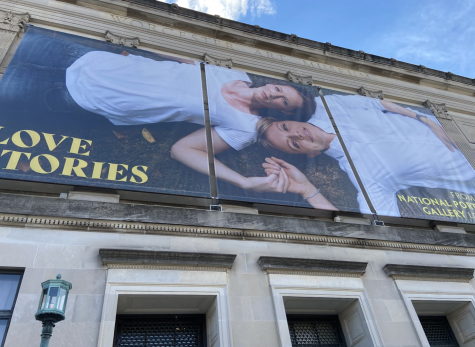 Photo Courtesy: Peyton Dauley
"That which loves, is never wrong." This message is just one of hundreds handwritten on paper hearts that decorate a wall in the Worcester Art Museum, a display celebrating their newest temporary installation titled Love Stories from the National Portrait Gallery in London. 
This collection, containing over one hundred works dating from the Renaissance era to today, asks viewers to consider love in the art form, and how it has been defined across centuries. How has it changed, and how has it stayed the same? A press release from the Worcester Art Museum regarding the exhibition, dated September 28, 2021, states that the exhibit records "the diverse expressions of human affection and attachment. Through these paintings, sculptures, photographs, and drawings–created over a span of five hundred years–we can see that love and the relationships it forges takes many different forms." 
Upon entering the exhibit, viewers are welcomed to an open-floor, expansive gallery: where the portraits of nineteenth-century Shakespearean actresses coexist alongside photographs of couples from Old Hollywood, and where Renaissance-era works are only feet away from modern depictions of celebrities and politicians. It is through this sense of cohesive, yet diverse love that the exhibit is perhaps its strongest–and this is a theme that continues to contribute toward the effectiveness of Love Stories. To best convey this sense of love across time, works are separated into five key categories: "The Artist and the Muse," "Love and Creativity," "Portraying Partnership," "The Trials of Love," and "Love and the Lens." 
The use of themes, rather than eras, is notable. Photographs of Oscar Wilde and Lord Alfred Douglass exist alongside those of John Lennon and Yoko Ono in "The Trials of Love"; whereas "Love and the Lens" displays Meghan Markle and Prince Harry alongside Prince Charles and Princess Diana, Elizabeth Taylor and Richard Burton, and Mick Jagger with Bianca Jagger and Jerry Hall. Although certainly unlikely pairings (and some more than others), these couples are united by their depiction in art–allowing viewers to anchor themselves in the stories of known romantic icons and connect them across time to a diverse portrayal of love.
This idea is also emphasized in "The Artist and the Muse," as viewers learn how the conceptualization of the muse has been challenged and changed over time. The early view of the muse, as defined by the exhibit, was as "a beautiful but passive woman with whom a male artist has become obsessed." This is depicted in the gallery by a portrait of Emma Hamilton, painted by George Romney–the pair notable for having "appeared to exemplify the traditional artist-muse relationship."
Yet, across the way from Hamilton's portraiture, a section regarding the redefinition and reclamation of the muse is where Love Stories draws significant connection across time, in its paralleling of Hamilton and other historical muses with Audrey Hepburn and Naomi Campbell. "In the age of mass media, the power of the muse has been turned outwards, no longer a private fantasy, but a powerful force in commercially circulated and mass-consumed portraiture," one placard reads. 
Connections like these are drawn all throughout the exhibit, and never cease to successfully convince the viewer of their likelihood. Rather, one finds themselves enthralled by the exhibit's ability to weave eighteenth-century oil paintings together with modern photography so seamlessly: resulting in a near-philosophic experience regarding the individual conception of love over time. Additionally, viewers are exposed to the development of love in the public eye (perhaps most significantly through the inclusion of photography), and how figures like the muse and the artist have been adapted to modern convention and protest.
Love Stories also hopes to convey an array of emotions to its viewers–of love, heartbreak, and scandal, though all overlaid by a sense of defiant progress throughout history. Perhaps this is most apparent in the "Trials of Love" section, where a painting titled Peter Pears and Benjamin Britten (1943) depicts two men leaning on each other in an act of subtle, defiant intimacy–with the painting's placard stating notably that this work represents a practice in which "couples unable to get married have used the double format of the marriage portrait to represent the sincerity of their relationship." The use of art as a device to rebel against societal, racial, sexual, and gendered norms persists throughout the gallery–and this is represented alongside the notion of love as protest, progress, and community, across five hundred years.
One could spend hours in Love Stories, taking in every brushstroke, photograph, and placard. Scheduled tours with museum docents offer even more information in regard to individual works–for example, one offered on February 12, 2022 analyzed the personal history and use of Victorian flower symbolism in Ellen Terry ('Choosing') (1864) and connected this symbolism to historical Valentine's Day cards produced right here in Worcester. Upon leaving the gallery, perhaps visitors will even offer their own definition of love to the wall of paper hearts–creating yet another experience of love spanning generations. 
Love Stories is on tour and will be leaving the Worcester Art Museum on March 13, 2022. All Clark University students have free admittance to the Worcester Art Museum, provided they show their Clark ID and proof of vaccination.