The WooSox Experience
Our News Editor spends a night at Polar Park. 
I arrive at Polar Park in the late afternoon, a good half-hour before the first pitch, scheduled for 6:45 PM. Shadows are growing at the main entrance on Madison Street as I fumble to empty my pockets and pass through the metal detector. I'm struggling to hold my phone and car keys in one hand with my notepad, pencil, and media pass in another. I was, without good reason, concerned that I would be inexplicably denied entry with my laminated pass. I was doubting if I could look the part of sports journalist.   
I've asked three of my friends – Daina, Bella, and Will – to join me today. They've already passed through the line easily, and seem justifiably entertained as I juggle my belongings. When the time comes to show my ticket, I get waved through. I'm reminded of two things: the media pass is not a big deal, and I'm not here to be a sports journalist, anyway. Once we're through the doors, Bella takes a sharp left into the street-level team store to buy a hat. 
Worcester officially plays as the Red Sox in the Triple-A class of Minor League Baseball, making them Boston's highest-level development team – one step below the big leagues. Like the Pawtucket "PawSox" before them (the franchise was based in Rhode Island from 1970 to 2020), Worcester's team is referred to by their catchier nickname, the WooSox. The game we saw, on a Thursday, was one of the last of their second season in Worcester. 
I had visited Polar Park once before, about a year ago, with Will and another friend. We got there the same way we did last time. I drove everyone in my Subaru to the city parking lot behind the main branch of the Worcester Public Library, on Salem Street. It's an awkward walk to get to the East side of McGrath Boulevard and the train tracks from the West. The best way is across a busy street, through another parking lot, and then under both sets of bridges to get to the park's front entrance. There are closer lots to park in, but we were set to solidify what had so far been a one-time practice into tradition (with $15 event parking, no less). 
Alternatively, from Clark's campus, it's a short (and free!) WRTA bus ride to the corner of Main and Madison Streets, giving you a straight-shot walk to Polar Park that Google estimates should take all of 12 minutes. And for the especially enterprising, if you choose to go on a weekend, the Clark Shuttle can get you to the Canal District and back. The last bus leaves Green Street, near Kelley Square, at 8:45 PM.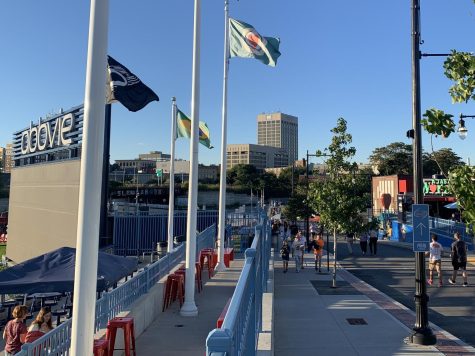 When Bella finishes with her hat at the register, we head up the stairs to the main concourse behind home plate. Stepping through the doors, we're offered a commanding view of the entire field, and the Worcester skyline beyond the walls.  
Will darts towards our section, while Daina and Bella start to think about food. I decide to follow Will first, heading up the first baseline, and down to the third row from the WooSox dugout – a perfect view of the diamond. Unlike Fenway, so far as I can tell, Polar Park has no "bad seats" obstructed by poles or stuck into corners. I take an unsold seat next to my friends, who arranged for their tickets separately from myself. 
"Will, how are you feeling?" I ask. "About being at the game, I mean." I flip out my notebook, ready to capture the moment. 
"I'm happy," he declares. That's enough reporting for now. Time to look for food, we decide.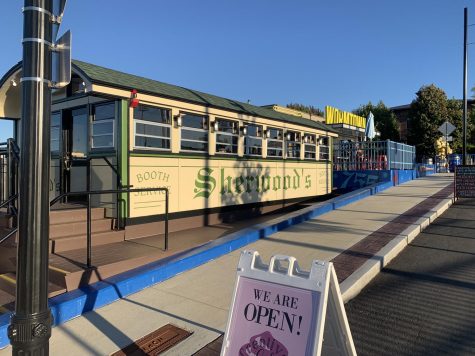 The Food
Polar Park's dining is one of its greatest strengths, being host to a number of satellite stands for local businesses. There are two with permanent locations behind the plate: Wonder Bar Pizza, and city staple for hot dogs, George's Coney Island. Well-known Massachusetts brands like Hood – for ice cream, of course – and Fenway favorite, The Sausage Guy, are featured as well. In far right field, there's BT's Smokehouse, of Park Avenue.  
The many unique dining options are easy to access, thanks to Polar Park's navigable design. Completed for the 2022 season, a restored Summit Street forms the outfield edge of the ballpark. The street is distinctly within the property, completing a pedestrian loop around the stadium, making it simple to walk around the entire field. Summit Street has been decorated with important parts of local history, including two restored artifacts: a traditional lunch car called Sherwood's, and a retired Boston Duck Boat called "Beantown Betty," used for several years as a parade float for championship homecomings.   
We made our first circuit around the park clockwise. Halfway, behind the far center field wall, there's a sizable playground, itself the shape of a small baseball diamond. We found that it was very popular during the length of the entire game, but especially now, just a few minutes before the first pitch, it was crowded. Here, opposite home plate, we found Sherwood's and made it our first stop. 
It was empty, so we got a good look: fully restored wooden interior, with a beautiful counter and stools. This season, the lunch car is home to Creative Cakes Café, whose primary location is at the Worcester Public Market. Daina, recognizing the brand, tried an in-house Arnold Palmer served with a peach flavor shot. 
"What would you rate that out of ten?" I ask. "7/10," she replies, after contemplating for a while. "Be sure to mention the flavor shot," she says. As we round the bases towards first, I spot BT's. Determined to get some BBQ, I tried a Brisket mini-sandwich. Though certainly one of the pricier options – pushing above $10 for a relatively small item – I found it worth the cost, and gave it an 8/10. To offer our readers a complete review, here's our entire trial menu:
Water St. Deli:

Hot pastrami on rye, with a pickle and a bag of chips (6.5/10), Bella

Water St.

Deli

: Chicken nuggets (7/10) and fries (6/10), Daina

Wonder Bar

: Pepperoni pizza (8/10), William

"Foldable. Good hold, good cheese," Will said. "Big fan. Definitely a must-have."

Hood / Nachos:

Helmet nachos (4/10), shared

Wormtown Brewery Kitchen:

Poutine (9.5/10), shared
The evening's biggest culinary disappointment were the helmet nachos, which Will and I had hyped up to our friends, making promises about its quality. Last time, we were impressed with it. But on this visit, we were surprised to find ourselves complaining about a lack of toppings. There's cheese, corn, salsa, guacamole, and more in there. Much to our chagrin, in short order, there were only bare chips. 
Feeling defeated, we determined to try the poutine from that month's guest vendor, Wormtown Brewery Kitchen. They were out behind center field, at one of the ballpark's most interesting venues: Taste of Worcester, which hosts different local restaurants that aren't otherwise featured. Wormtown is already a permanent fixture for alcohol at the park – earlier, Bella had bought a Mass Spiked Woo-rita which she thought was average, and the rest of us couldn't try. Later, she gave a glowing review to a tall can of Bud Light, rating it 9/10.
"Better than Wormtown?" I asked, surprised. 
"Not necessarily. I just like it because I'm having a cold beer at a baseball game," which she'd never done before. She explained this to me as I returned with the poutine, which we quickly agreed was fantastic. There was no shortage of fixings, earning it our highest rating of the night. Daina gave it an enthusiastic 10/10.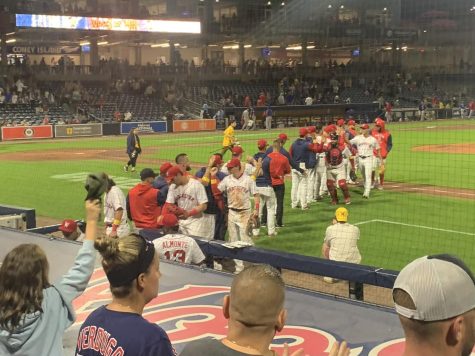 The Game
The evening's challengers were the Buffalo Bison, the Triple-A affiliate of the Toronto Blue Jays. The game began slowly, with both teams putting up a good showing on defense. Buffalo seemed to struggle in finding a comfortable pitcher. By the end of the night, six different Bison had taken the mound. 
It's not until the bottom of the fifth inning that the game gets exciting, when Worcester's Triston Casas scores off a home run. Casas was a top prospect for Boston all season, and following this game, his hard work was rewarded. The first baseman was promoted to the major leagues just two days later, on September 3. It was a reminder that the game played in Worcester is not far removed from the standards of the MLB. At a WooSox game, Boston's brightest prospects are given a chance to shine. Like Pedro Castellanos, who with two outs hit another home run out of the park in the bottom of the sixth, earning Worcester two more runs. 
Will was focused on catching fly balls, and being the first to shoot up out of his seat during the half-inning switch. Placing us intentionally behind the home dugout, he towered over the children who had chosen to sit in the empty row behind us, themselves looking for baseballs. At the end of the night, Will had caught two balls. The first, which successfully ended a dangerous inning for the WooSox through a timely double play, was thrown over the netting by a player headed for the dugout. The second was a foul ball that landed right in our section, which Will handed over to one of the kids. 
At the top of the eighth, Buffalo scored twice, but Worcester still led, 4-3. In the next inning, Buffalo failed to score, and the WooSox walked away victorious.  
The Experience
A baseball game can become a long, drawn-out affair, even in the minor leagues. I'll admit that I have a hard time following the game on television, though I've always enjoyed a trip to the ballpark. At Polar Park, though, I have never been moved to leave early. Worcester benefits from two things: a good team, and a great park. On visiting, it's obvious that the WooSox organization spent a great deal of time and money on the park experience. We found that it paid off: Polar Park is a prominent destination in the Canal District, one of the city's fastest-growing neighborhoods. The stadium fits snugly between the elevated train tracks (a favorite feature of mine, as several trains went past during the game) and nearby Kelley Square. It's such a tight fit, in fact, that the park has its own formidable boundary walls, like Fenway. The Worcester Wall, however, is located in right field, colored blue, and significantly shorter than the Green Monster.  
The park has been utilized for a variety of purposes, from college football to high school graduation ceremonies, and more. You'd be hard-pressed to find any Worcester home game that isn't host to a special event or promotion. When we went, many guests had come for Childhood Cancer Awareness Night, a fundraising event for the team's charitable foundation. The same night, being a Thursday, was host to WooU College Night. It's a weekly event where college students participating in their student loyalty program can purchase tickets for just $8. We didn't participate in the program, but I met with some students from the College of the Holy Cross who were.
Most of the undergraduates were bunched up in the right field terrace, drinks in hand. They formed a thick crowd, numbering at least fifty. When I made my way though the sea of students, I saw a face that I recognized: Chris, a summer workplace friend from home. I took a moment to catch up with him, and then asked him his opinion of the park.
Chris is a sophomore. Coming down from College Hill was "an awesome way to start the year," he said. Holy Cross had just completed their move-in weekend, same as Clark. Chris had visited Polar Park last year, to attend the Holy Cross – Colgate football game that was hosted here. He added that he appreciated the park's location "in the middle of the city near all the schools," and that it offers "great deals for students." Nick, a friend and fellow sophomore, said "it's a great space," that he enjoys visiting.   
When the game was won, we rated our trip a success as we walked out of the stadium. We collected our free can of Polar Seltzer at the gate, scored for every guest by a Fitchburg State graduate that won an inter-inning minigame. The WooSox put on a great show, offering something for everyone, even those who aren't big fans of baseball. Polar Park is absolutely worth the visit before you graduate, and will open again for its third season of home games in March of 2023.