January 6th Committee Hearings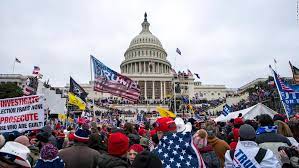 On January 6th, 2021–while Congress was in session confirming Joe Biden's electoral vote win–a swarm of more than 2,000 of Donald Trump's followers stormed the Capitol in protest. His supporters broke through into the Capitol, forcing their way into lawmakers' offices with violent intent. Across the country, other state capitols had protestors outside and the buildings were evacuated. Five people died because of this attack, and four officers who responded to the insurrection died via suicide several months later. Following this ambush, there had been eight public hearings about how to proceed. The ninth public hearing is soon to be rescheduled, and this will be the last hearing before the committee files their final report. 
Over the course of the summer, there were eight hearings discussing the events that took place on January 6th. The hearings' purposes were to provide evidence and witnesses that could prove how Donald Trump played a large role in inspiring his supporters to storm the Capitol. From these public hearings, people across the globe were able to witness what happened during the attack, including unseen footage and witness testimonies. The footage shows the movie-like brutality that ensued, proving that the protestors came with intent to incite violence. The instigator of the insurrection is believed to be Donald Trump, as very openly expressed how he felt the election was unfair and that the presidential position was rightfully his; not Joe Biden's. 
Before the riots began, Donald Trump was giving a speech near the White House to a rally, stating that "we will never give up. We will never concede." Shortly after this rally, the Capitol was swarmed by thousands of his supporters who also believed the election was manipulated. While this was happening, Trump continued making fake claims about the election results via Twitter, not doing anything to stop his angry followers. His supporters then broke into the Capitol with violent intent, and eventually the National Guard was ordered to stop the riot. Following the terrorist attack, Trump did not make any public statement on television, but instead posted a video to his Twitter. In the video he stated: "I know your pain. I know your hurt. We love you. You're very special. You've seen what happens. You've seen the way others are treated. I know how you feel, but go home, and go home in peace."
Since before, after, and during the insurrection, it is very clear that Donald Trump had a prominent role in inspiring his supporters to "take back" what they thought was theirs. The past eight hearings have only supported this idea, and the evidence and witness testimonies have been overwhelming in favor of accusing Trump of fueling election conspiracy. A few Republicans believe that these hearings are just retaliation from radical leftists that are targeting conservatives, but many Republican politicians believe Trump is guilty for encouraging the January 6th riots. 
The ninth and supposed final hearing for January 6th will be the first one since July 21st. The hearing has been postponed due to Hurricane Ian, and is set to soon be rescheduled. Even though there have been eight public hearings already, committee chair Bennie Thompson claims that there will be plenty of unseen footage from that day. He also said that there was a lot of unused witness testimonies that could be used in this final hearing. The final report is predicted to be released closer to the end of the year. 
Due to the overwhelming evidence going against Trump, the final report will most likely conclude that former president Donald Trump is guilty of election conspiracy. Many conservatives have gone against him and spoken out about what happened on January 6th, including his daughter Ivanka Trump. Donald Trump and his followers are outnumbered in this hearing, and this final one will presumably wrap up what was assumed to be true during the first hearing.