Clark Athletics and NEWMAC Weekly Round-Up (10/10/22-10/17/22)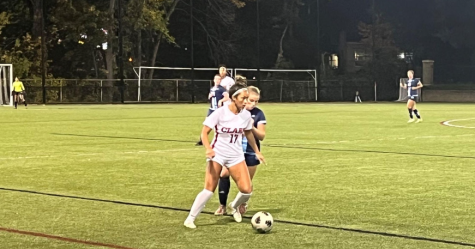 Greetings to all for this third edition of the Clark Athletics and NEWMAC weekly sports recap. This past week contained many exhilarating matches from around Clark and beyond, so let's jump right in!
As per usual, athletic events for the week started on Tuesday rather than Monday, thus on Oct. 11 there were two Clark matchups. Women's volleyball traveled east to Cambridge for a match against MIT, sadly ending with a zero to three loss. The other Tuesday competition was between Clark field hockey and Nichols College, with the Cougars returning home from Dudley victorious after a three to two double overtime thriller. This extra-time win was fueled by a shootout victory by a score of two to zero.
Moving on to Wednesday Oct. 12, there were two more games for the Cougars: both soccer teams played at home. The men's soccer team fell to Tufts University zero to six, but the women's team pulled it back with a two-nil victory over the Mount Holyoke Lyons. I was in attendance for the first half of this game, able to catch the first of Clark's two goals; graduate midfielder Jamie Joseph put on a show, netting the first goal of the match and putting on an overall dominant performance on both sides of the pitch. In the second half, Joseph was able to remain on the score sheet, tallying an assist on the second Cougars goal. 
The matches continued Friday Oct. 14 where fans saw one matchup for the Cougz: women's volleyball. Clark ended up losing zero to three in a road match with the RIT Tigers. 
We have reached the finale of the week for Clark Athletics: Saturday Oct. 15. This fateful day would see first place finishes, nail-biting finishes and records broken. First up is men's and women's cross country, with both competing at the Connecticut College Invitational. The men's XC team finished after a well-raced 8K and placed 14th in the competition. The women's cross country team saw an outstanding performance with sophomore Ruby Krasnow breaking both her personal best time, as well as the school's record, in route to a first place victory in the women's 6k white. The women's team overall did well, bolstered by a ninth place finish as well, finishing seventh overall out of a field of 14 teams. More on this later! Moving on to rowing, Clark saw another first place finish, with the collegiate novice 8 finishing in first place. The collegiate 8 also performed exceptionally, placing fourth out of 23 teams racing. Following their loss on Friday, Women's volleyball stayed Rochester, NY for two neutral-site matches against Saint John Fisher and Nazareth. Clark dropped both games of the doubleheader, losing zero to three and two to three respectively. Field hockey also competed on Saturday failing to capture victory against Springfield College at home (0-2). Finally, to cap off an exciting Clark sports day, both soccer teams participated in NEWMAC play. The men's team lost a close match at Emerson College zero to one. Women's soccer extended their unbeaten streak to seven straight matches, ending with a nil-nil draw against Smith College. There were no competitions Sunday or Monday so this wraps up the recap portion of this week's edition. 
Moving on to some notable performances and matches from Clark this week, I should introduce two new segments in the weekly recap: game of the week and Clark athlete of the week. Henceforth, each week I will ordain one game with the honor if it stands out as a particularly fascinating or large Cougz victory. Same goes for athlete of the week, the most stellar performance will earn the honor. The first recipients of these (prestigious) awards are the field hockey team's performance against Nichols College and cross country runner Ruby Krasnow! First up: field hockey. Not only did this game keep fans on the edge of their seat, ending in a shootout, but the Cougars pulled out a victory as well. Throughout the game the Cougars applied high offensive pressure on the Bison, tallying 23 shots with 18 landing on goal. Goals in the second and third quarters from Juniors Rachael Romain and Greer McCarty pushed Clark ahead of Nichols (2-1). This marked Romain's first goal of her Clark Career and McCarty's eighth goal scored this season. The Bison were able to knot the game up two all mere seconds before Clark victory, sending the game to overtime. Both teams' defenses would remain strong, allowing no scores during either overtime period. Finally, the Cougars pulled out a two-nothing shootout victory, with goals from Kopec and Lamothe sealing the deal. First year goalie Loren Root also stopped all four shots faced during the shootout.
As for Clark athlete of the week, none deserved it more than Huntsville, AL native Ruby Krasnow. While competing at the Conn. College Invitational, Krasnow finished with a time of 22:03.80, crossing the finish line over 30 seconds before the next runner. This time set a personal best for the 6k event, and broke the standing Clark record. Krasnow's outstanding race also puts her in contention to compete at nationals. Overall, the biology student won a race that saw 113 competitors, making her a no-doubt choice for the first Clark athlete of the week. 
Now let's widen our scope, taking a look at the NEWMAC as a whole. Wednesday Oct. 12 saw a ranked inter-conference men's soccer matchup between Conn. College (22) and NEWMAC member Babson (15). Babson ended up losing the clash of titans zero to three, proving that the Conn. College Camels have quite a strong lineup. Despite this Babson still remains atop the NEWMAC standings, undefeated in conference play. Moving on to Saturday Oct. 15 to football, the Springfield College Pride decimated Norwich 69 to 20. This was led by NEWMAC offensive player of the week, quarterback David Wells. The run-first QB passed only three times, Rushing for 135 yards and three touchdowns. The team as a whole racked up 605 yards of total offense, including 468 on the ground. Not to entirely discredit Norwich, wide receiver Tykell Stewart stood out by hauling in three touchdowns on just three receptions. Stewart totaled 219 yards on the day, equating to a mind boggling 73 yards per reception average, truly Randy Moss-esque numbers. 
Finally we should take a look ahead to this upcoming week, and who the Cougz are set to face on their schedule. Tuesday Oct. 18 will see Clark traveling to WPI for a 4 p.m. field hockey matchup. Women's volleyball will be hosting Emerson later that night at 7 p.m., hoping to bounce back after last week. Women's soccer will also face off against Emerson, visiting the Lions on Wednesday Oct. 19. Here the Cougz will look to extend their unbeaten streak to eight games in a row. There will be no Clark Athletics affairs on Thursday Oct. 20 or Friday Oct. 21. As for Saturday Oct. 22, Clark field hockey will host Babson College for the Cougars' senior day game. Also on Saturday, men's soccer will be at Springfield College, women's soccer will be visiting Wheaton College, and women's volleyball will be on the road matched with Conn. College. Finally, to end this upcoming week, the various Clark rowing squads will be competing at the prestigious Head of the Charles event in Boston on the Charles River. 
This wraps up yet another great week in Clark Athletics, fans got a taste of everything this week. Congratulations on a job well done to all Clark teams and we'll see you here next week, as always: roll Cougz!