Clark Rowers Experience the Head of the Charles Regatta
On Oct. 23, the Clark University Rowing Team traveled to Cambridge, Mass. to compete in the Head of the Charles Regatta (HOCR), the world's largest 3-day rowing competition. Clark entered two boats in the Women's Collegiate 8+s event. The first varsity boat came in 13th place with a time of 17:16, while the second varsity boatcame in 34th with a time of 18:43.
The first varsity boat lineup was Apple Gould-Schultz, Maddie Hincher, Charlotte Bedford, Cate Brown, Rose Delogu, Emma McClellan, Josie Fitzgerald, Mia Frank, and Anna Tinklenberg. The second boat held Julia Kennedy, Megan Hill, Gwyn Sonneveldt, Tessa Allen, Sydney Gruneiro, Matt O'Connel-Vale, Lily Bufalino, Robbie Southall, and Brianna Bodner.
The team was accompanied by parents, roommates, partners, and dogs. They welcomed back alumni Cora Flynn '22 and Hannah Honig '21 as spectators, and graduate student Elena Sissell '22 as an assistant coach. Many of Clark's rowers who were not racing still traveled to the event to support their teammates. They visited the Rowing in Color tent and received advice on making their voices heard from activists on the leading edge of inclusion in rowing.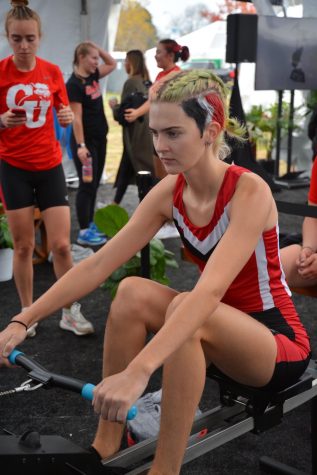 The HOCR contains events for different ages, experience levels, genders, disabilities, and boat classes. This year, the regatta celebrated having the most-ever entries in its Para Rowing events, and several new course records in the Championship events. Locals joke that so many rowers flock to this event that for these three days, the average height in the city of Cambridge increases by several inches. Shopping for merchandise is a big draw, and companies that sell boats, rowing machines, and athletic clothing have large tents set up along the riverbank. Clark's team took advantage of this by warming up on rowing machines in the immersive Rowcave tent.
Lily Bufalino '22 spent the bus ride to the HOCR painting her teammate Gwyn Sonneveldt '24 undercut with the pattern on Clark's oars. The athletes also build team spirit by writing each other "boat notes" with personalized encouragement on index cards. Bufalino emphasized the importance of team building events, saying, "We had a boat pasta dinner last night. We went over the racecourse together. We spend every weekend at races together. That's team bonding right there."
For Josie Fitzgerald '23, returning to the HOCR represents a huge improvement on the seasons earlier in her career that were restricted by the COVID-19 pandemic. In the fall of 2020, she said, "we did the length of the Charles in masks on the [rowing machine]. It was awful, and motivating to never do that again, and to actually appreciate being here in person."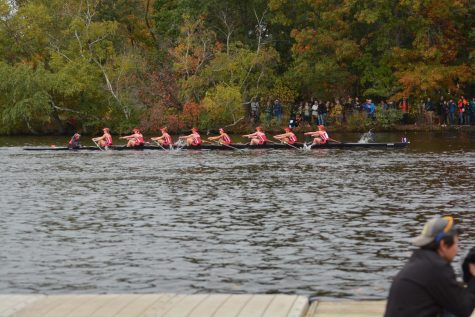 Fitzgerald, and all but two of the other athletes in her boat, raced in the HOCR together last year. They placed 9th, the program's best showing ever. Before the race, Fitzgerald described this year as "a lot less stressful because we know we're capable of doing really well. We proved it to ourselves last year so this year, we're gonna do it again except a little bit better."
The HOCR is often called a coxswain's race because the course is extremely crowded and marked by six bridges and five major turns. Coxswains are responsible for steering and communicating with other crews to keep everyone safe. A coxswain's mistake can ruin a race and land a crew in a video compilation of boat destruction like this one. Clark University is lucky to have skilled coxswains Apple Gould-Schultz '23 and Julia Kennedy '22, who navigated the course without any collisions.
Sydney Gruneiro '24, rower and team social media co-coordinator, said that having a trustworthy coxswain "lets me worry about rowing. I see how much work and time and energy [Kennedy] put into this race specifically. She has been living, eating, breathing Head of the Charles this entire week and it's definitely had me go into focus mode and make sure that I'm in the right headspace and focused throughout the entire week. It's very motivating."
Part of the appeal of the Head of the Charles is that it brings the entire rowing world together. Clark athletes rubbed shoulders with athletes from England, the Netherlands, Canada, and Ukraine. At the Cambridge Boat Club, the headquarters of the entire regatta, Olympic gold medalist Bill Becklean stood next to a high schooler who was explaining lineups to her mother in Amharic. Across the river, the Leander Club women's championship 8+, who flew in from England and won their event, ran along a crowded, muddy path wearing socks but no shoes.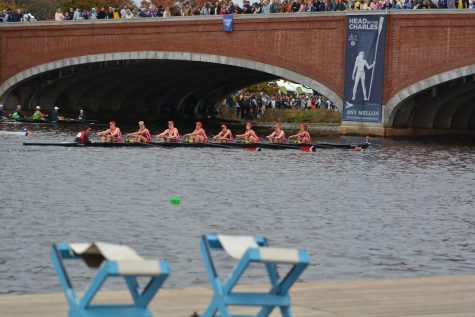 After debriefing their races, eating Halloween candy, and loading their equipment onto the trailer to drive back to Worcester, Clark athletes shopped and watched the final races of the day (including the crowd-favorite Octogenarian Eight). Next weekend, they will end their fall season on their home course at Lake Quinsigamond by competing in the Wormtown Chase.
Gruneiro lit up with excitement when asked what this race means for the future of the team. "The novices are killing it," she said. "It's so nice to see people coming into the sport and already being so dedicated. Being able to see good crews, both 1v and 2v, in the Head of the Charles has the goal set up to be even higher. I can't wait to see what happens next."