Having Social Anxiety in a Marketing Class
The Struggles of a Socially Anxious Artist
For more info about Benji's art, please check out their Linktree!
Greetings guys, gals, and pals! My name is Benji and for context, I have autism, ADHD, depression, and social anxiety! Yippee! /s
I've been doing art since kindergarten, but it wasn't until middle school that I started to look at it through a business lens. As such, I've discovered that being a successful artist online goes hand-in-hand with successful marketing. Marketing, as you may know, takes many forms, largely involving social interaction, which I suck at.
I was in DECA (formerly Distributive Education Clubs of America, one of the premier groups for young entrepreneurs) during my senior year of high school. We traveled to Boston for the statewide competition. I went through the effort of packing a bunch of old paintings I wanted to sell, but when I was there, it was a hopeless endeavor. I never even had the nerve to set up shop, there were just so many people. How could I hope to reach out to them with my small voice? How could I even think of talking to a stranger at a business event to ask them to give my paintings a glance? As you could expect, I didn't make a single sale.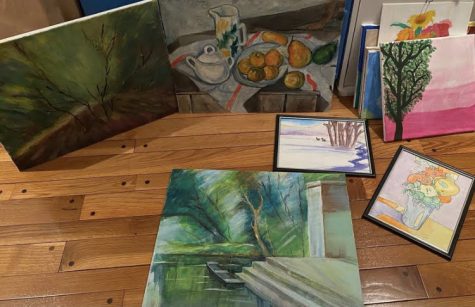 I'm currently enrolled in an Entrepreneurship & Marketing class at Clark and I'd like to think I'm doing better, but I may be lying to myself. Early into the semester, we were put into small groups so we could introduce ourselves and our businesses. I ended up avoiding talking to my group mates outside of brief responses, turning my back on them to continue drawing while holding in tears. It might be ironic but I think my social skills have improved because I'm part of a wonderful friend group, but I would also say that my mental health has tumbled significantly since the beginning of the school year. That particular day where we had to talk to each other was one of the bad days, and I simply couldn't handle talking to strangers at that moment.
Sadly social anxiety affects my experience in the marketing class through more ways than one . One of the assignments requires us to find an industry expert to interview, and let me tell you, I am dying inside. For all my fellow Undertale fans out there, you might be familiar with a popular artist named Zarla, well-known for her alternate universe comic "Handplates" based on the game. Reaching out to her was awkward enough, but she has yet to confirm her willingness to let me interview her, and I'm praying that I don't have to contact another person I look up to, because at this point I could melt. I also feel bad trying to insist because I know this is probably weird for her too, and I don't want to overstep my boundaries as a fan. God help me, I'm willing to take a zero on this assignment, I don't want to do this.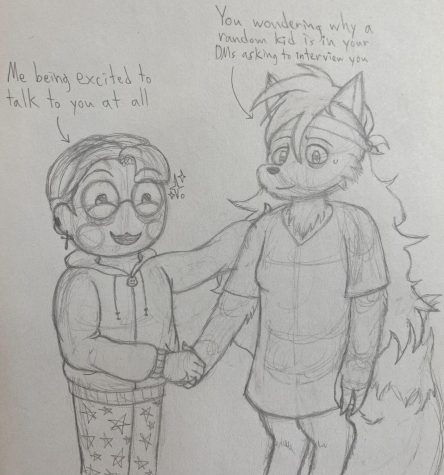 There's been times where I look at my friend's personal accounts and wonder how they could possibly have over 100 followers, while my art accounts can't even break 30. The answer is networking, which is once again hard to do on the days where you just want to curl up in a ball forever because you have to work with people you don't know. The reason why I keep saying bad days is because on good days, I can be one of the chattiest people in the room. I've had lovely conversations when sharing my table with a stranger at the pop-up, I can engage with strangers on Discord servers, and I'll even say hello or compliment people in my dorm. The contrast just makes me sad.
Advertising is hard because you really have to put yourself out there. You'll feel awkward because you feel like you're wasting their time, you're worried people will dislike you, maybe you feel like you're exploiting them or something, but I just want to say that as long as it's not hurting anyone, please don't be afraid to show your stuff.
I've found that what's been helpful to me is just putting ads for my Etsy and RedBubble after the art in my Instagram posts, because it's more subtle rather than in-your-face. You can also try creating fanart for other artists, since you're at least giving them something in return for any publicity they give you. We live in a time where money makes our world go round and the rich try to make us think it can't buy happiness. It sure makes me happy when I get to eat food and sleep in a house, and I think you deserve to make money too if your product makes people happy in a non-harmful way. So set up your blogs, prepare all your shops, interact with other people, and don't forget…
TO CHECK OUT MY STUFF AT THE POP-UP! HI I SEE YOU AND BY THE WAY THIS WAS AN ASSIGNMENT FOR MY MARKETING CLASS! I'M SORRY TO YOU ALL, I'LL LEAVE NOW! GOOD LUCK TO MY FELLOW SOCIALLY ANXIOUS PEOPLE AND MY FELLOW ARTISTS, HANG IN THERE! OK BYE!
Leave a Comment