SCARING THE HOES – JPEGMAFIA and Danny Brown Review
The highly anticipated collaboration album from the two most popular active experimental rappers came out on March 24th… Did it meet its high expectations?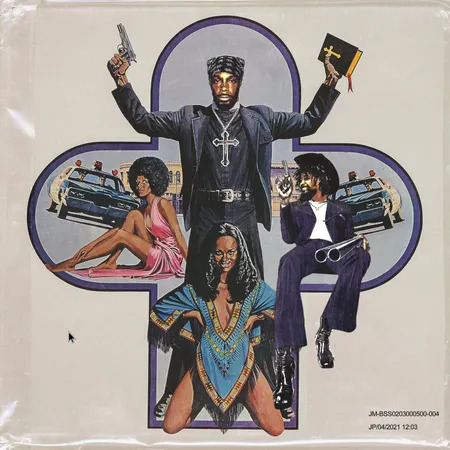 JPEGMAFIA and Danny Brown are prolific artists in the underground rap scene. Being the most accessible and popular experimental rappers, their collaboration is a huge deal for music-lovers. (For more context, read my article "Experimental Hip Hop Fans are getting the Collab Album of their Dreams.") They teased this album heavily on JPEGMAFIA's Twitter and Danny Brown's podcast, and when it finally came out on March 24th, fans and critics alike were anticipating a well-made project. So, did they deliver?
To start off let us examine the lyrical content, JPEGMAFIA (also known as Peggy) and Danny maintain their status as some of the best rappers out right now. As characteristic for the hip hop genre as a whole, they talk extensively about sex and drugs, but in a refreshing way that brings both humor and a light-heartedness to the topics. For example, in the first verse of "God Loves You," Danny alludes to his sexual endeavors with religious references saying, "That p*ssy on my face, I'ma talk in tongues/Legs in the air, scream hallelujah/Make her squirt that holy water." He takes the stereotype of rappers talking about sex and makes it, frankly, really funny. Peggy also maintains his distinctive sense of political humor on the project, calling himself both "Black AOC" and "Black Marjorie Taylor Greene." He borders on the offensive often, but successively portrays his left-wing politics, as per usual. Both rappers also take shots at the current state of rap, again conveying it in a comedic sense. On "Garbage Pale Kids," for instance, Danny Brown says, "N***** don't rap no more, they just sell clothes/So I should probably quit and start a line of bathrobes." 
Danny and Peggy joking around on the album is not surprising, as the project title itself is a meme. JPEGMAFIA actually quoted the joke himself on Twitter in June of 2022, saying "people who say shit like 'u scaring the hoes' don't actually have sex & pretend to be black online." While I think the lyrical content is strong and successful in its humor on most songs, the title track fell short for me. The whole "scaring the hoes" joke feels a bit outdated at this point. I  was not pleased that they named the whole album after this singular old meme, but I find the title track's hook especially corny: "Stop scarin' the hoes/Play that sh*t'll have them touch they toes/'We don't wanna hear that weird shit no mo'/'What the fuck is that? Give me back my aux cord.'" Something about the near rhyme of "mo'" and "cord" and Peggy's inflection of these bars makes me cringe. I've heard of a good amount of people disliking this track for other reasons, however. The beat is challenging, to say the least. It starts off with a jazzy atonal saxophone sample and clapping, which admittedly doesn't sound great to the ears, but I would argue that once the distorted, hard-hitting drums come in, I can see the vision of the song and appreciate it, and maybe even head-bop along.
Most of the production contains astonishing drum patterns similar to that of the title track – my favorite moment is the Drum n Bass style drum break on "Lean Beef Patty." JPEGMAFIA produced the album entirely, and these beat switches happen very often (on average, once every 56 seconds) and are always impressive. 
Peggy has a unique ability as a producer to find great samples and transform them into amazing beats. One of the most obscure samples used is a 1985 commercial for a Japanese meat packing company on "Garbage Pale Kids." Some sample uses end up falling under the subgenre of avant-garde jazz rap, specifically "Kingdom Hearts Key," "Jack Harlow Combo Meal" and "Orange Juice Jones." The way these industrial hip hop veterans flow so smoothly over jazzier beats is an incredible show of their technical abilities.
The only issue with the production is the mixing. Fans seem to be split on this criticism, as many have pointed out how Danny's voice is hard to hear clearly in some songs, while others make fun of the pretentious nature of criticizing this specific aspect of the album. Unfortunately, I think because Peggy is used to mixing only his own voice, and the timbre of his voice and vocal delivery style is so different from that of Danny's, he's sometimes unsuccessful at highlighting Danny's voice, which gets especially lost in the mix on the singles released before the project, "Lean Beef Patty" and "SCARING THE HOES."
In my opinion, the shining star of this album is "Kingdom Hearts Key." As mentioned before, the beat falls more under the avant-garde jazz rap subgenre rather than industrial hiphop, and its dreamy, beautiful sample gives the album variety. The track is orchestral – not in the way "Burfict!" is braggadocious and grand – but almost delicate, while still having hard-hitting bass and drum patterns. I was excited when I saw one of my favorite up-and-coming avant garde jazz rappers, Redveil, was going to be featured on the album, and he absolutely held his own on this track. My only complaint is that I wish he was highlighted more, and that his verse was longer.
Other than "Kingdom Hearts Key," my favorite tracks are "Steppa Pig," "Burfict," and "Where Ya Get Ya Coke From?" but there are no songs that I did not enjoy. "SCARING THE HOES" most definitely met its high expectations, and while it has its flaws, overall, the pair absolutely delivered on this project.
Leave a Comment