What is going on with Goddard?
April showers bring May scaffolding?
The construction of Goddard Library came back, drills and all. To find out why, I interviewed head librarian Laura Robinson and researched its history. 
Goddard was designed by Harvard Five architect John M. Johansen. Johansen studied at Harvard under the Bauhaus founder Walter Gropius.
Prior to Goddard's completion in 1969, Clark hired Gropius's firm, TAC, to build the Fuller and Alden Quadrangle to build more student housing. Johansen being a former student of Gropius meant Goddard and the Quadrangles share design parallels. They depict two eras of Brutalist design. 
Function over form defines brutalist design. Post World War Two American campuses had to build quickly to deal with the sharp increase in student population. These structures had to be functional and go up quickly. 
Here are some of brutalist's design benefits. Lack of detail decreases building time, and purely functional materials cut down cost. Concrete's affordability and flexibility made it the top choice.
Raw concrete was meant to give an industrial feel and engage visitors with the normally unseen parts of the structure. Goddard is no exception to brutalism's rocky love affair –concrete is king.
One issue with using a lot of concrete is that the material is rather sensitive; freeze and thaw cycles from East Coast winters cause cracking. According to Robinson, "That (water issues) has actually been the case with this building ever since the seventies because you can look back at records and there were already water issues."
Damages are most visible to students on Goddard's fifth floor. Every few feet lies a trash can containing active leaks. Paint under desks peel and brown streaks run across walls and ceilings.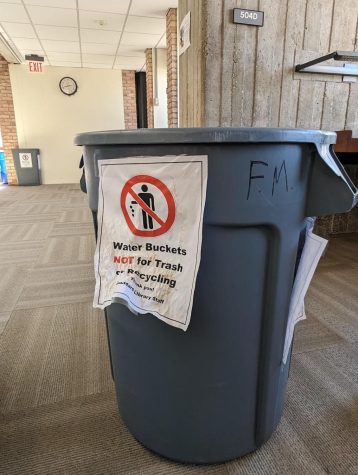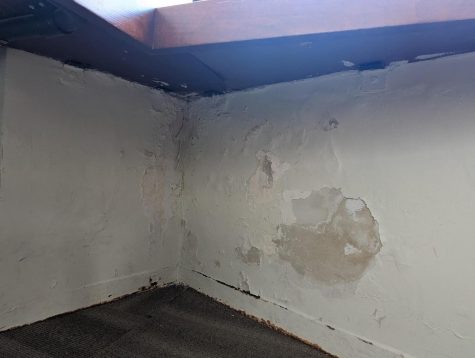 This does not deter Robinson, someone well-versed in the world of collegiate libraries. Robinson began at Clark in Feb. 2020 after 14 years at WPI's Gordon Library. 
She offered insight on library construction, saying, "This is, like I said, the fourth library I've worked at and I also was, you know, was undergraduate and graduate student at two different places and libraries are always under construction." Considering this is the first exterior since Goddard opened, it was time to fix a few things. 
Right now, the focus is on making the building watertight, energy efficient, and repairing the exterior to prevent further deterioration. 50 years of exposure to the elements takes a long time to fix. A timeline for the repairs exists, but is only an approximation. Rarely does construction follow a given timeline, especially one with an extensive job to complete. 
So what's the plan for Goddard after the building is water-tight? Robinson shared her plans for the next few years, stating, "We actually have a few plans that we are hoping to be able to implement in 2025 around creating more, like a grand reading room space on the second floor." Having learned about architecture, layout, and design herself, Robinson wants to design a space with student interaction in mind. 
One aspect Robinson hopes to create is more spaces with the beloved tables. She has noticed that the most popular spots in the library are the tables. "The most popular spots are the big broad tables because we want everything around us." 
Even after the scaffolding comes down, the building will not remain static. Goddard will continue to shift into a space to better suit what students need.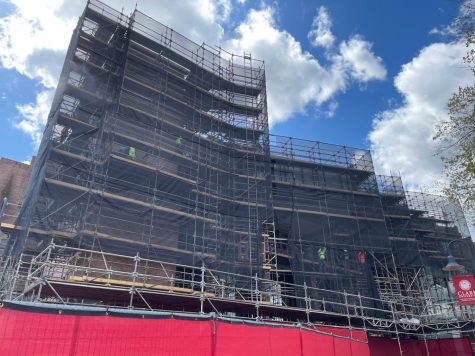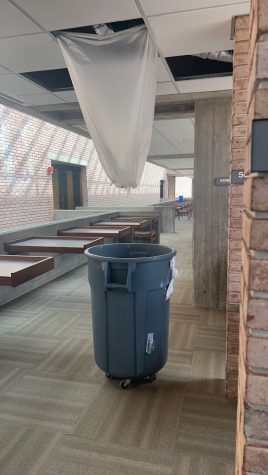 Leave a Comment