On June 20th, The Scarlet published an article regarding the transphobia within the Clark University Athletic Department. Since the publication of this article, authored by myself, I have been contacted by the Athletic Department multiple times. In the spirit of transparency and information, I would like to share the full extent of these correspondences, as well as a slightly wider scope of transphobia at Clark University.
I was initially contacted by Kamahl Walker, an administrator for Clark Athletics. According to Mr. Walker's LinkedIn profile, as Clark's Athletic Administrator he is responsible for "Gameday OPS" (game scheduling, transportation arrangements, etc.…) and "Administrative" tasks (student employment, billing, NCAA paperwork, etc.…). In the email announcing the installation of the Kneller Athletic Center's gender neutral changing room, Mr. Walker is cited as the person to contact with "concerns or questions."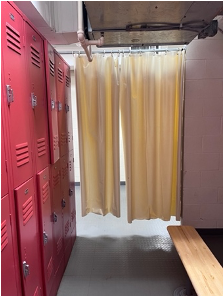 On May 30th, I reached out to Mr. Walker asking about the poor state of the new gender neutral changing area, pictured left. The area, according to the Athletic Department, is intended to "[foster] an inclusive environment that's empathetic, encouraging, and enjoyable for all groups." As stated in my original article, the area is little more than its description of "curtained-off area with signage." The curtains (two old rubbery shower curtains) are too stiff to overlap, leaving a large gap either in the middle or side of the partition. No privacy, inclusivity, or empathy is offered by this space. After receiving no response to my email whatsoever I reached out to Clark Athletics again on June 9th as a follow up, this time Cc-ing Athletic Director Trish Cronin and Associate Athletic Director Kirsten Clark. The same day I received a short response from Kirsten Clark that stated the issue with the changing room was being taken care of.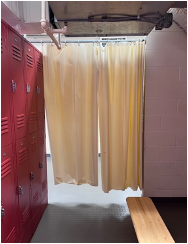 On July 24th, almost two months after Associate Director Clark's email, I returned to the Kneller to see what had been done to upgrade the area per Clark's promise. What I found was a space almost identical to what I had seen upon my initial investigation. After fiddling with the curtain for a few minutes, I was only able to cover most of the opening. The curtains still had large gaps on the middle and sides, and still had the same eight-inch gap at the bottom as well. I say almost identical, as there was one change I noticed: the appearance of several small mysterious stains within the creases of the curtain. I am unsure what substance the stains are, though it is hard to assume a crusty brown stain in the men's locker room is anything other than what we are all thinking it is.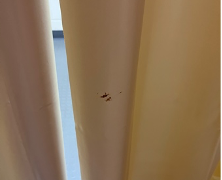 I did not receive any reply from Mr. Walker, the point person for this project, regarding the original state of the changing area until June 16th—17 days after my initial correspondence—in which he stated the following:
Truly sorry for the late respond to your inquiry. Our Gender-Inclusive Changing Areas are in place to allow our guest to feel comfortable and welcomed within our facility, so I do appreciate you bringing up this concern. It is something we been trying to communicate with other outlets around the university into getting it fixed so our curtains close complete or allow another blockage.
We brought in additional voices such as "ISEA" and the Gender and Sexuality Task Force to help create other ways to resolve the issue. If you would like, we can set up a time to meet and I can see if ISEA would be available as well.
In addition to this email containing several major typos, it is incredibly vague. What exactly have they been communicating with other outlets around the university? Who even are these other outlets? Why must we burden ISEA with the resolution of this when the issue and its solution are clearly laid out? There is also no clear explanation to why these changing areas were poorly installed in the first place. Just another redistribution of burden to avoid addressing the topic at hand.
Despite the somewhat unprofessional email, I wrote the Athletic Department's late responses off to limited summer working hours. Imagine my surprise, then, to find a new email from Mr. Walker promptly sent to my inbox three days after the publication of my article on the Athletic Department's transphobia:
Good Afternoon,
I hope all is well. I wanted to follow up and check to see if you would like to come to our department and meet with our Athletic Director and discuss our mission and vision regarding trans inclusivity within Athletics.
While the department did not have enough time to acknowledge my initial request for trans inclusivity, they had plenty of time to read and respond to my article regarding their transphobia promptly. I responded to Mr. Walker by telling him I appreciated his follow up, but had already received the requested comment for my article from Clark Athletics via Associate Director Kirsten Clark. I added that any other members of the department with questions are free to reach out to me directly. Mr. Walker, who seemingly did not read my email at all, responded with the following:
Richard,
That's fantastic. Was there a date and time already set and planned or would you like me to try and schedule a time?
I would like to stop for a moment to highlight that my first name is not Richard, and I have signed all my emails thus far only with Thatcher, my chosen and legal first name. How can Clark's Administrators expect to move forward with trans inclusivity when they are failing to address transgender students by their names–even when they are literally written down in front of them? They are struggling to meet what is literally the bare minimum. I digress.
In my subsequent correspondence to Mr. Walker I once again Cc-ed Athletic Director Trish Cronin and Associate Director Kirsten Clark, as they had not been included in the original email chain. I had already spoken with both Kirsten Clark and Trish Cronin extensively about transphobia at Clark the previous year when we served on a Health and Wellness Taskforce together. This chain of emails was not the first dialogue I have had with the Director and Associate Director on the topic of transphobia in Clark Athletics, and it felt important to acknowledge that in my correspondence with the department.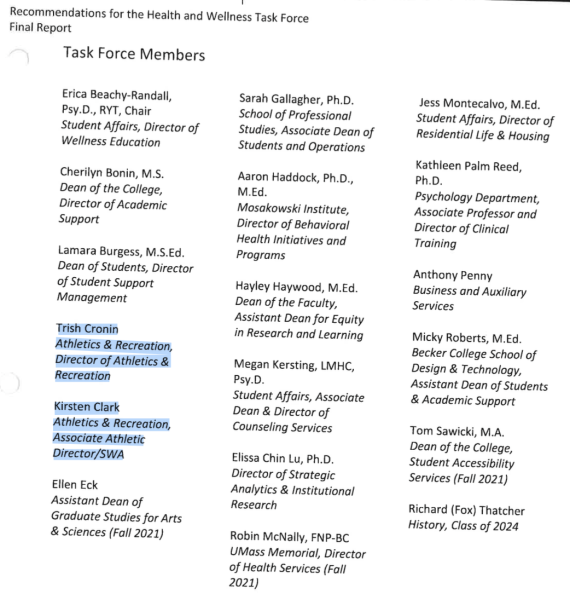 During the 2021-2022 academic year I served as a student liaison for Clark University's Health and Wellness Taskforce. This taskforce was made up of representatives from a myriad of Clark departments such as Residential Life, Mental Health Counseling, Health Services, etc…. The task force's report also cites Director Trish Cronin and Associate Director Kirsten Clark as representatives from the Athletic Department. As a trans student, much of my time on this task force was spent speaking on the health and wellness of trans students. Much of that advocacy fell on deaf ears, including the ears of Director Trish Cronin and Associate Director Kirsten Clark.
The final 152 page report, which was never made public and submitted only to Provost Sebastian Royo, sought to "compile findings to make a recommendation(s) about how Clark's health and wellness services and programs could be organized in a comprehensive and coherent way…" After a yearlong dialogue on trans rights at Clark, this 152 page report mentions the word transgender one single time:

I attended approximately 16 meetings on this taskforce in which I spoke on a myriad of trans topics including ways to better collect students' preferred names, trans students' fears of utilizing health services due to constant misgendering and transphobic remarks, health services expanding to offer better gender affirming care, and many more action items which were pushed aside, save the one sentence on gender affirming care. 
Additionally, none of the recommendations I made to mediate this issue, namely offering a wider scope of gender affirming care such as hormones and surgery referrals, made it into the paragraph. In fact, the trans issue mentioned in the report does not even receive an acknowledgement in the recommendation at the end of the paragraph. They call for a wider scope of LGBT healthcare. Not gender-affirming care. While trans people may require LGBT healthcare (ie: contraception, STD testing, PrEP, sex education, etc.) there are a myriad of unique medical requirements for trans people which do not coincide with LGBT healthcare. Things such as hormone therapy, surgery referrals, even mental healthcare.
While this may seem like a menial difference, everything written in these reports are intentional, and typically go through multiple layers of editing before a final copy is drafted—especially if it is being sent to the Provost. In other words: it is no mistake that the expansion of gender affirming care is not recommended in this report.
What's more, after 16 meetings with this taskforce including Clark Athletics, in which trans advocacy at Clark was talked about, the Athletic Department is asking me once again if I would like to meet and discuss a "vision for trans inclusivity at Clark." 
I have spent the greater part of my college experience speaking in front of Clark's administration on behalf of myself and other trans students at Clark. These meetings have been incredibly frustrating, patronizing and fruitless discussions which perpetually lead back to a request by Clark administrators for more dialogue.
On Clark's website it states that Clark "values and supports its LGBTQIA+ community members—students, faculty, and staff." If that is true, then how many more meetings will I need to defend my identity before the result of my candor is action?
Unfortunately, I still have yet to hear of their vision, as the last correspondence I received from Clark Athletics regarding our meeting date was via Kamahl Walker on June 28th:
Good morning Richard…
I will talk it over with Trish and Kirsten today and see if we can pull together a better [meeting] date…
I have not heard from Clark Athletics since this email, sent 43 days ago. Perhaps they are still pondering their vision for trans inclusivity… or how to spell my first name.