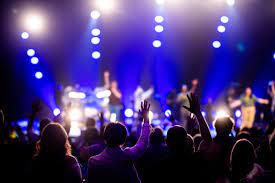 One thing that will always be true about Clarkies is their love for good music. This list of concerts happening in the 2023 fall semester summarizes upcoming must-see concerts in Worcester, Cambridge and Boston that the Clark community will love!
Saturday, Sept. 9th: Yung Gravy
5 pm at The Palladium (Worcester)
Yung Gravy is an artist well known for his light-hearted, comedic rap music. If you want to have a fun night at a local venue, check out this show!
Sunday, Sept. 10th: Godspeed You! Black Emperor
7 pm at The Palladium (Worcester)
The music of Godspeed You! Black Emperor is essential for any fan of post-rock and their live shows are known to be ethereal and almost spiritual. This show is also at The Palladium, which is a local Worcester gem worth checking out.
Wednesday, September 13th: Digable Planets
Opening act: Kassa Overall
8 pm at Royale (Boston)
Digable Planets is a quintessential jazz rap groups. For a concert with positive vibes, laid-back flows and groovy beats, buy tickets for this show at the Royale in Boston.
Sunday, September 17th: Black Country, New Road
Opening act: Daneshevskaya
8:15 pm at The Sinclair (Cambridge)
One of the most well-known active Art Rock bands, Black Country, New Road, is playing nearby in Cambridge. Even after losing its lead singer, the band has continued to create cinematic music and grow a cult following.
Monday, September 18th: Chat Pile
Opening acts: Nerver and Intercourse
8 pm at The Sinclair (Cambridge)
For a heavy, noisy show, consider checking out sludge metal band Chat Pile's upcoming concert at The Sinclair. With intelligent, highly political lyrics and instrumentals that make you feel like you are drowning in thick concrete, this band is a must-see.
Wednesday, September 20th: Death Grips
Doors at 7 pm, show at 8 pm at MGM Music Hall at Fenway (Boston)
If you are a fan of hip-hop and have not yet checked out Death Grips, you should hop on the train now! They are a great entry point into experimental music and are often cited as "your favorite band's favorite band" (for example, they inspired David Bowie's "Blackstar" and Kanye West's "Yeezus").
Monday, September 25th: Slowdive
8 pm at Citizens House of Blues (Boston)
Slowdive was one of the main pioneers of the dream pop and shoegaze genres, so most who are fans of indie rock already know this band quite well. Their sound is authentic and unique and seeing them live is sure to be an incredible experience.
Thursday, October 5th: Yves Tumor
Opening act: Crack Cloud
8 pm at Roadrunner (Boston)
Genre descriptors: Neo-Psychedelia, Post-Punk, Art Rock
Yves Tumor continues to grow a following due to their interesting take on the Art Rock and Neo-Psychedelia genres. Their unique vocal style paired with their funky yet emotional instrumentals creates a killer combination that stuns listeners.
Saturday, October 7th: Playboi Carti
Opening acts: Destroy Lonely, Ken Carson, Homixide Gang
7:30 pm at TD Garden (Boston)
This concert's lineup is compiled of the most popular and fresh trap artists and any fan of trap music is certain to know at least one act of this concert. This crowd will be very fun and intense, so go at your own risk.
Sunday, October 15th: Thundercat
8 pm at MGM Music Hall at Fenway (Boston)
One of the best bassists on the current Nu Jazz scene, Thundercat, is stopping at Boston once again on a tour. This man is an incredible talent, a master of funk and groove and just a hilarious person.
Friday, October 20th: Faye Webster
8 pm at Roadrunner (Boston)
Fun fact: this alt-country singer-songwriter performed for Clark's Pub Entertainment Committee just a few years ago. We are lucky we got her before she blew up: the only tickets available for this show are on resale.
Friday, October 20th: Jordana
Opening act: Dev Lemons
8 pm at Brighton Music Hall (Boston)
Both acts in this concert, Jordana and Dev Lemons, are bedroom indie pop artists who just cannot seem to stop growing their fanbases. Their distinct sounds in this oversaturated genre make them worth checking out.
Sunday, November 19th: Men I Trust
8 pm at Roadrunner (Boston)
Funnily enough, this indie pop band's most current project is titled "Untourable Album," yet they are going to be in Boston on their tour. Go and see this band live for the absolute chillest concert vibes imaginable. 
Of course, there are a lot more concerts happening this semester that were not listed here and surely many others will be announced as time goes on, so do your research and see if any of your favorite bands are playing in the area. Supporting artists you love through the medium of live music is an incredible and unreal experience, so have fun and stay safe on your musical endeavors this semester, Clarkies!