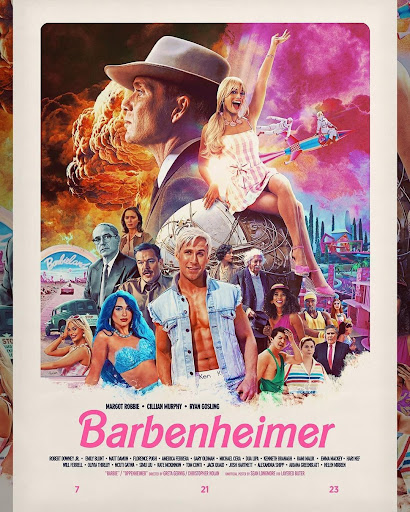 The moment the lights went down in the theater was the moment a certain fear started gripping me, and all of the other elaborately-dressed spectators in the crowd all at once: what if this is not good? Can two movies with so many different tones possibly work out? Sitting there in my pink Hawaiian shirt and dark fedora, all my fears melted away, as I watched one mind-boggling film about the intensity of mankind's inventions, the role of women in an industrial society, and just how much one man's ocean-blue eyes stand out in a world of pink. This is Barbenheimer.
It is set during World War 2, and is anachronistic in the sense that it predates the blonde doll-shell's very existence. We first meet Barbie enjoying her beautiful pink life. It is so happy and sing-songy that one nearly forgets that this is only what half the film is about. But after a jubilant dance party goes wrong, Barbie finds herself stuck in a world that can no longer remember her, where the radiation-imbued members of society cannot help but live in a post-apocalyptic, patriarchal landscape and society. She, along with her "boyfriend," (read: male companion) Ken, must take a hop, skip, and jump into a conveniently placed nearby telephone booth which can rocket them to the distant path so they can figure out how to best avoid a future lacking female empowerment. Then, we meet Oppenheimer. With the help of Barbie's Ken-do attitude, and plenty of bold fashion choices, the two leads finish building the bomb so that Ken and Barbie can finally make it home. Along the way, they discover the meaning of female empowerment (as it relates to the real modern world), some core values of the Hindu texts and just how important it is to look deeply into the camera with your baby-blue eyes. By the end, Oppenheimer must choose between a life full of fears and deep-rooted desires, or a life of brightness and no threat of nuclear annihilation, which is a choice that ends up being far harder than it initially seems.
It is a film that is nearly impossible to describe. Partially ultra-realistic, grounded and stark in its portrayal of mankind's folly. But it is also half bright and colorful, with few serious moments not partnered with a song and dance number or well-placed humorous satire at the expense of the patriarchal systems of the world. There is a courtroom subplot, a corporate control subplot, a subplot involving a dickish president or two, and even a car commercial stuck in between. In a word, it is psychotic. And that is why it is so perfect. The story of the building of the bomb could not have been more perfectly told without the deep-rooted themes of societal control that accompany it. Barbie's quest to find her "real" self in the face of impending disaster could not work nearly as well without the threat to worldwide peace and humanity that the bomb inherently brings. The two portions of the film, as inherently separate as they may seem at a glance, actually tie together their themes and stories excellently. By the end of the movie, seeing Oppenheimer's grief as the world shakes around him and disrupts his last look at Barbieland, one cannot help but tear up as his promised land of happiness disappears to its own little pocket of the world.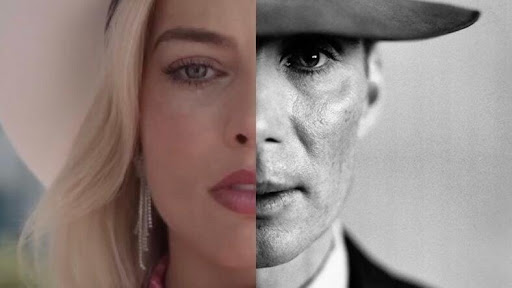 Looking at this film within a wider cultural landscape, it becomes impossible to ignore the fan-cosplay appeal that this film has garnered over the last few months. It almost reminds me of the cult appeal that the 1973 Martin Scorsese internet-theory of a film Goncharov received late last year, but this is even bigger. At each one of the 13 screenings I attended, the seats were packed with a plethora of pink and brown costumes. Overcoats and brimmed hats were common, but not nearly as much as the variety of pink shirts, skirts, pants, socks, hats and all manner of the like that I saw everywhere. This fan appeal has led to movie theater trips themselves coming back with a vengeance and has led to the films garnering a worldwide gross of over $2 billion in box-office receipts. If anybody had told me two years ago that a film featuring a Mad Max patriarchy, Alan, or a naked man reciting the Bhagavad Gita would rival the best superhero films in money earned, I would have told you to get off my beach!
Score: Ken out of Ken
Will Clarkies like it?: It'll Bomb!
Time to Dance!