Worcester Union Station is a failure. Once viewed with the potential to be a true intermodal terminal, serving all kinds of transit with grace, it has now become a hollow shell with few amenities for those who depend on it. While having almost hourly trains to Boston, daily trains to Chicago, and thousands passing through its doors daily, the building fails to embrace its community, and is symbolic of the priorities of Worcester's elected officials.
The intermodal hub has three distinct parts. There's the local bus hub, which serves Worcester Regional Transit Authority (WRTA) local buses – this is an outdoor bus carousel. The long-distance bus hub is next to this, serving intercity bus routes operated by private companies such as Greyhound and Peter Pan. The largest part of the complex is Worcester Union Station, which serves Amtrak and Massachusetts Bay Transit Authority (MBTA) commuter rail trains. Each section of the hub has differing levels of interoperability with the other parts, and achieves differing levels of success at serving their desired target population. None of them do this particularly well.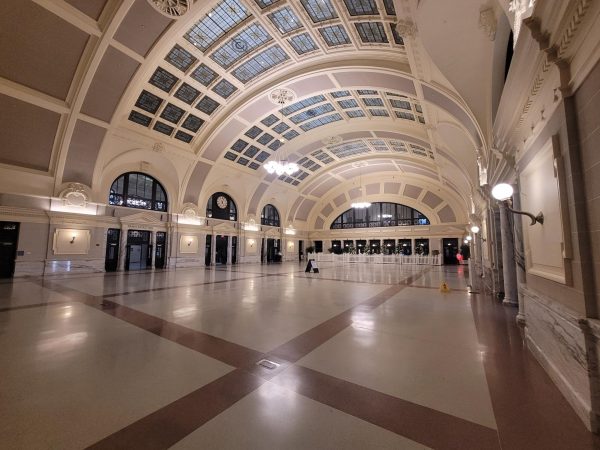 When one enters Union Station from the street, they find themselves immediately in a grand open space – the train hall – but they don't stay for long. This room, large as it is, has nothing to offer the rider. There is nowhere to sit and little to admire, let alone do, and no businesses to support. It is a space for no one and for nothing. 
Many train stations of equal or lesser size have cafes, other businesses or art built into the station building itself. Other than the stained glass ceiling, Union Station has none of these. The need for these crucial station amenities is heightened by the infrequent rail service Worcester receives. If you miss your train, you may have to wait over an hour for another. The station provides no way to fill this time, and nowhere to sit while you wait.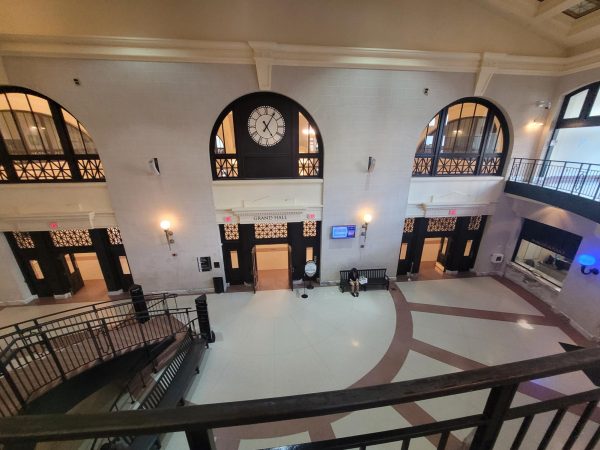 Passing through the doors at the far end of this cavernous room, the eager rider quickly finds themself in a strange space; forced to take the stairs or a slow elevator up to platform level. This second room is odd, simultaneously spacious and cramped, flooded with natural light, and dingy. Ringing with the bells of wealth long passed, much like the station itself, this room is rather depressing. It screams of missed potential and it is emblematic of the city government's refusal to capitalize on strong bones. The room is hollow, physically and socially.
The dual nature of this space – expansive and glorious while being cramped, liminal and largely empty – is illustrative of a municipal government that makes improvements for looks rather than practicality at Union Station. They elect to service those who wish to gawk at the station's magnitude rather than the disproportionately poor members of the city who depend on this public transport system. 
As with many stations across the nation, Worcester's Union Station had a tumultuous 20th century. It saw once-frequent rail service diminish along with the station's condition until it was closed completely in the 1970s. The station was revived in the early 2000s thanks to the Worcester Redevelopment Authority. The renovation the Redevelopment Authority advocated for cost $33 million dollars in 2000 ($67 million inflation adjusted dollars), as billed by architectural firm Finegold Alexander.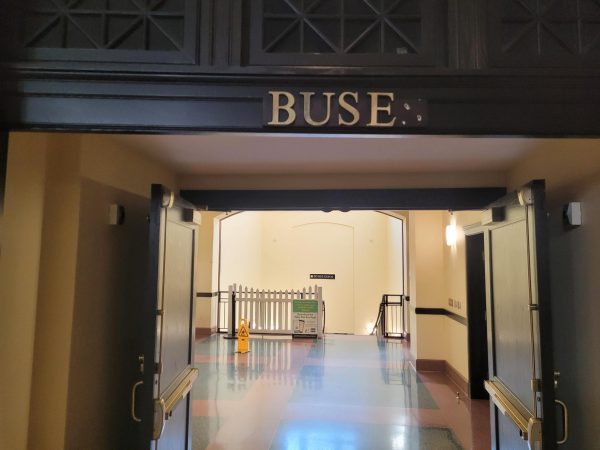 Before the renovation the interior of the station was falling apart; the roof was caving in, and debris was scattered throughout. The station itself served as a symbol of Worcester's urban decay, though even in this state the station had places to sit down. Extensive funding brought service back to the station, and saved the space from meeting the wrecking ball. What this funding did not do, however, was include anything that would have been practical for the users of the station.
Construction has returned to the station again, twenty years after the original overhaul. The MBTA is funding new accessible platforms and extensions to current platforms behind the station building to allow more services to stop here in Worcester. These improvements are excellent, and are fundamental for making Worcester a transit hub. 
New routes serving Worcester could include the state government-supported East-West Rail Link (from Boston to Springfield via Worcester), and a new "inland route" for Amtrak's busiest service, the Northeast Regional. Improvements to the station could even make room for reviving the Boston Surface Railroad Company, offering daily passenger service between Worcester and Providence, Rhode Island.
But the ongoing construction projects are all by the tracks behind the building itself, with no improvements coming to the concourse. The two projects combine for over $100 million spent, just for a relatively unappealing and still impractical station.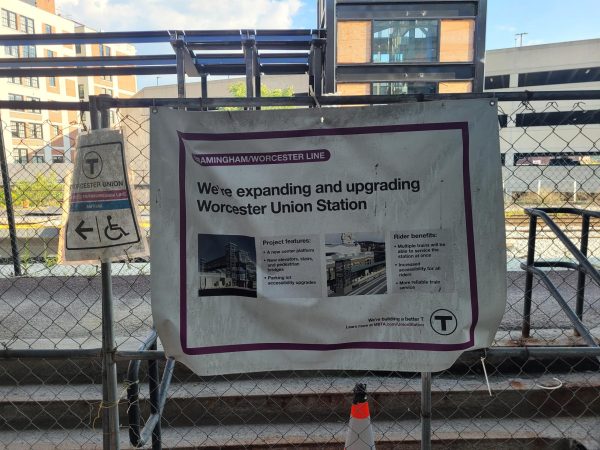 Rejecting riders in this way indicates that we have a city government that consistently prioritizes big flashy projects over developments that benefit the community. Although a beautiful structure, Polar Park sticks out as another example of this impractical mindset many civic leaders are beset with. A recent study conducted by Dr. Robert Baumann, professor at The College of the Holy Cross, showed that the Polar Park's positive economic impact on the city is much weaker than civic leaders predicted. 
Imagine what could be different if the renovation of Union Station was done cheaper, and with crucial revenue-providing businesses within it. With less funds for large scale public infrastructure, this would free up capital to be spent in and around at-risk and environmental justice communities in Worcester. The same communities that depend on the train to get to and from Boston.
Worcester Union Station is plagued by many of the same issues as Worcester itself. The city has such excellent bones, and could be a truly world-class city once again, but instead of using these structural advantages to create something even better, city officials consistently reject the kind of change that would bring Worcester into the kind of "Renaissance" many city administrators claim we are already experiencing. Instead, our elected officials, including City Manager Eric Batista and Mayor Joe Petty, pour hundreds of millions of dollars into large vanity projects that serve no purpose other than to build their resumes.