On Friday Oct. 13, I had the distinct honor of sitting down with men's basketball captain Mikey O'Brien for an interview on the team, his own basketball career, what the senior guard intends to do after graduation and so much more. One clear takeaway I had from our conversation is O'Brien's passion – not just for his team and the game of basketball, but also in personal interests like mental health awareness and community engagement. 
O'Brien is a native of New York City, N.Y. He attended The Beacon School in Manhattan, where he discovered Clark through a mutual connection – O'Brien's coach knew Tyler Simms, who had just taken a new job as head coach of Clark's men's basketball squad. Simms had been coaching college basketball since 2009, and was just coming off a job as Assistant Coach at Brown. 
O'Brien said he quickly signed on to Simms' vision for Clark's program in his new position. "I was really sold on [Simms,] everything about him. The way he presented himself, the type of program he wanted to build… I wanted to be a part of that foundation," said O'Brien. 
Finding his place at Clark
When O'Brien arrived at Clark in fall of 2020, the basketball program was at a crossroads – both in terms of the team itself, and because of the pandemic. Though Mikey's first season was canceled due to COVID-19, this first year was anything but a wash. O'Brien was able to learn key lessons on leadership both on and off the court during this time, despite not playing in a single collegiate game. O'Brien says older players like Biko Gayman were mentors to him, showing him that one needs to follow before he can lead. Those players also saw potential in O'Brien. "There was a couple people in the program who were all very big on making sure I understand that one day, I was going to be in this position – that I would be in command of the program," O'Brien said. The lessons O'Brien learned as a first-year were monumental in shaping both his leadership within the team and in the broader Clark community; now, as a senior and the captain of the men's basketball program, O'Brien uses many of the same teachings to help shape the next great generation of Clark leaders. 
As he developed into a leader on the floor, many of O'Brien's outside interests also came into form. O'Brien is a management major, an area of study he chose over time because of his multifaceted curiosity in how the world operates and how current events transpire. Studying management has led O'Brien down a path towards the Windy City – Chicago, where the senior already has a full-time job lined up for after graduation. Since his sophomore year, O'Brien has interned remotely with a legal firm in Chicago. That experience allowed him to gain confidence and learn more about work in the management field. After commencement, O'Brien plans to move full-time to Chicago for his job at the legal firm, with the help of fellow basketball players Isaiah Taylor and Bruce Saintilus. Despite the fact that O'Brien has never been to Chicago, he said he is beyond excited for the opportunity as a naturally adventurous person familiar with living in big cities. 
Outside of athletics and academics, O'Brien likes to practice reading and writing for recreation daily. Out of all his hobbies, though, one that stood out most: O'Brien's dedication to mental health. O'Brien is a fellow at Clark's Mosakowski Institute for Public Enterprise, and founder of his own club: Clark Reflects. The fellowship is a perfect fit for O'Brien – the Mosakowski Institute was founded to increase capacity at Clark for the development of behavioral health systems to help adolescents acquire the social and emotional skills needed for success. It is named for Clark alumni William and Jane Mosakowski, and focuses specifically on developing systems to support young men of color, according to the institute's webpage. That work struck a chord with O'Brien, who said that Dr. Nadia Ward – director of the Institute – has "played an integral part in my life and my development… through our kind of relationship, we figured out that [mental and behavioral health] is one of my passions."
O'Brien's time with the Mosakowski Institute inspired him to create Clark Reflects. The club meets monthly, bringing Clarkies together to tackle common issues students may face. This month's topic: burnout. Clark Reflects also provides resources like handouts and videos to students. 
"When I came in as a freshman, you know, everything was so fractured…" said O'Brien. "I felt that I was the only one experiencing these struggles about [mental health]… but as I got more comfortable knowing everybody, I was like alright, well, everybody is dealing with the same stuff," he said. O'Brien describes the club as "a community space where students can come and collaborate on topics that are relevant to their young adult lives."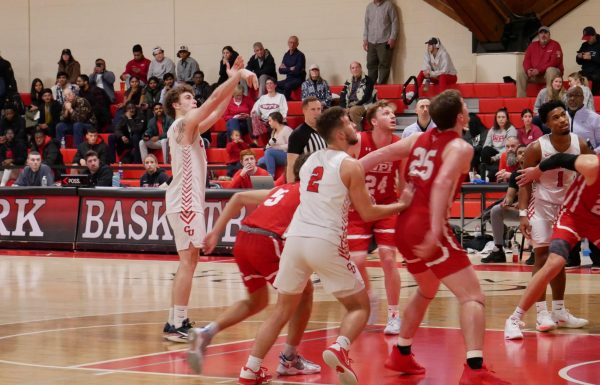 While covering mental health, O'Brien and I discussed what impacts playing basketball in college can have on your general wellbeing. Juggling the responsibilities of being on a varsity team makes time management all the more complicated, he said. There's an emotional component to athletics, too, like the impacts of trash talk. O'Brien said he's used to it, having grown up playing basketball in New York. O'Brien is not only accustomed to heckling from opponents and people on the sidelines – he says he feeds off their energy. "I'm an emotional player," said O'Brien. "I really appreciate getting to go head-to-head with not just the other team, but the entire crowd." That mentality makes away games easier, he said.
Even though he grew up with it, O'Brien said he's still had to learn how to "leave that stuff on the court." Over time, O'Brien has compartmentalized what he hears, working hard to ensure that what happens on the floor doesn't affect his everyday life. O'Brien believes that growing to use compartmentalization has helped him to become a better player and a better student.
Honing his skills
O'Brien is optimistic for his next year of play with the Cougars. He said that the program's culture of closeness – a culture he helped foster as an early leader under Simms – has made offseason adjustments straightforward. Players on the men's basketball team are always together. Whether team members are eating meals together, practicing with one another or simply hanging out, O'Brien said the team is constantly building vital cohesiveness. Being such a close unit has allowed the program to take in new offseason additions in stride. "We brought in some really good players," said O'Brien. Meeting them over the summer was easy, and they quickly adapted to the team's values. "We just kind of set the standard – 'yo, this just is what it is,'" O'Brien said. "From there it's just been a lot of fine tuning." 
O'Brien also highlighted a change in offseason practice rules that allowed the team to start working together three weeks earlier than normal, granting even more time for the squad to focus on key areas. In their style of play, the Cougars focus on speed and aggression, best observed in their utilization of the press when on defense. The team made adjustments to their press during the offseason, according to O'Brien. Focusing on that skill was important to help maintain a high defensive intensity throughout the upcoming season, he said. 
O'Brien believes his team's best strength is player versatility. "We love people who can play all positions – you know, versatility is our biggest weapon," he said. "Having a bunch of 6'3" guys who are athletic and can play one through four (point guard through power forward) is great, and then we got our big guy, Kekoa [McArdle,] who just holds it down for us," said O'Brien. 
O'Brien himself is the prototype for the team's versatile and athletic style of play: he stands at six foot three inches, and can pass with the grace of a point guard while possessing the strength to grab rebounds in the paint. Although O'Brien can be an everyman on the court, at the end of the day, he's a guard – and he prides himself on his innate passing ability. "It didn't occur to me until about halfway through the year that I was leading the conference in assists," O'Brien said. "My ability to pass and see the court and just make the right read" is an important strength, he said. According to the NEWMAC website, O'Brien ended last season on top of the conference in assists, after averaging 4.2 per contest. O'Brien's teammate, Isaiah Taylor, finished second in assists last year – meaning Clark may have the most elite passing duo in the entire conference.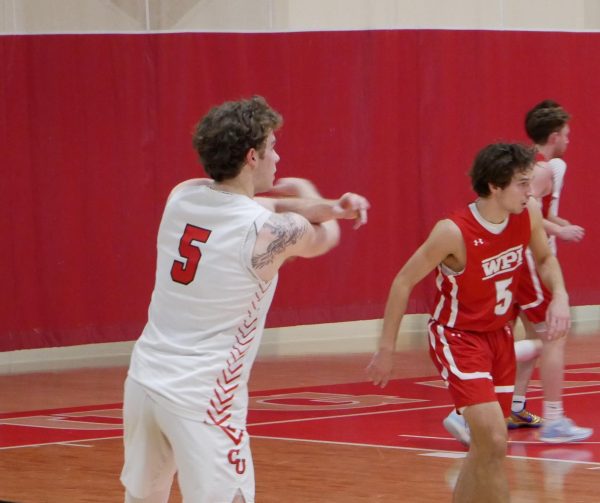 O'Brien said that one area he wants to focus on this upcoming season is taking more opportunities when they are given to him – not always passing when an open shot presents itself. O'Brien also said that the most underrated part of his game is his rebounding tenacity, especially given that he is a point guard. 
"We feel very confident"
For the Cougar basketball squad, dynamism is the name of the game. O'Brien believes that in his time at Clark, the unit has never been in better shape than it is now. "We want to win every game we go into, and truly we feel great about our chances with anybody in the country. We think we can go toe to toe with any team in Division III… we feel very confident in our abilities." Over the past four years, O'Brien has been the foundation of an ever-improving program, a program that has sky-high potential this season. The team's dynamic and aggressive style on defense paired with their up-tempo offense matches this squad up well with any opponent they may face. Alongside strong on-court play, a team culture that focuses on the now rather than the past or future creates a mindset for success.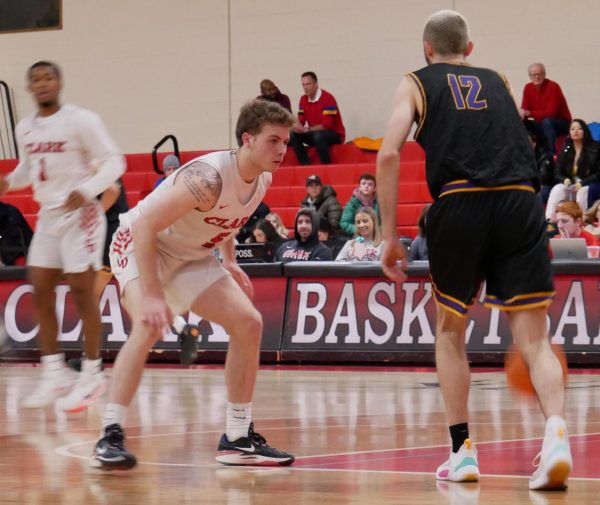 The preseason coaches' poll released by NEWMAC backs up O'Brien's confidence. Clark received one first place vote, and was ranked third overall. Coming in just under WPI and Babson, Clark will look to be a top contender in the conference this season, vying for a championship victory and tournament berth. 
Something to look out for during the upcoming season will be the team's trip to Las Vegas over winter break. Clark men's basketball will participate in this year's D3Hoops Classic – hosted in South Point Arena in Las Vegas, Nev. according to the D3Hoops website. The Cougars are set to face off against Trinity University of San Antonio, Texas, on Thursday, Dec. 29. Clark will play Case Western Reserve University the following day. Trinity and Case Western are among the best Division III teams nationwide, giving Clark's team a chance to hone their edge before facing off against the remaining schedule of conference opponents in the new year. O'Brien said, "we go head-to-head with a lot of extremely talented teams, and none more talented than the ones in Vegas… that will be a trip for us to prove what we want to prove," he said. "That challenge is going to be great for us." 
Closing out our interview, O'Brien touched on his favorite part of being captain of the men's basketball program. "I can't even tell you how much time we spend together, and they've [the team] taught me so much about myself and what I value as a human being," he said. mentoring younger players has been a joy for him, saying that their passion for the game of basketball is reinvigorating after multiple years at the collegiate level. O'Brien said that this year, he's most excited for his younger teammates to finally get a chance to compete – something they have been eagerly awaiting. "I'm so proud of where they've already come… seeing everybody's growth and getting the opportunity to show that growth is what I'm looking forward to the most," he said. Though O'Brien will be moving on to Chicago soon, his remarkable impact on the men's basketball program will shape future team leaders for seasons to come. He entered the basketball program at a time of great unease, when the team lacked a central identity and a global pandemic left the future obscured. Despite these uncertainties, O'Brien worked tirelessly towards becoming a great leader from the very start of his time here at Clark. Fast-forward four years later and Mikey has helped transform the men's basketball program into a well-oiled machine. Thanks to that leadership, the team not only excels on the court – they are a tight-knit community built on caring for one another. The limits for the upcoming season seem near endless, and I for one can't wait to see how far O'Brien and the team will go this year. 
Clark will tip off the season on Saturday, Nov. 11, hosting Bates College for a 2 p.m. game at the Kneller Athletic Center.